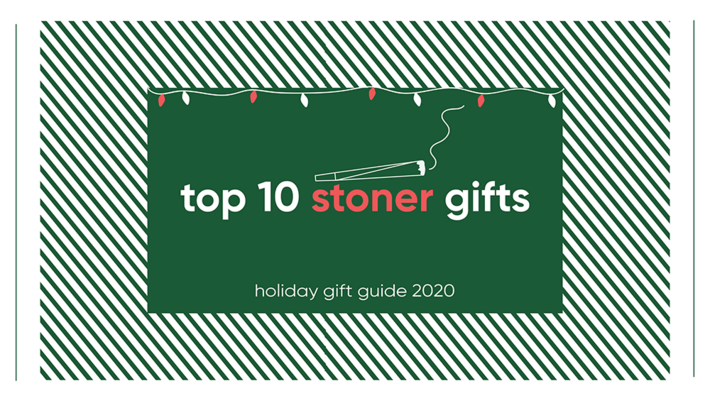 Holiday Gift Guide 2020: Top 10 Gifts for Stoners
With the holidays around the corner, many are scrambling to find the perfect gifts for loved ones. With countless email blasts, blaring advertisements and endless options, it always seems like it gets harder and harder to find the right gift. If you're struggling with what to buy, maybe it's time to turn to some fun, cannabis-related products. To help you out, we've compiled a few unique gift ideas below for your favorite stoner. Note that these gifts can be sent to anyone around the country as they do not contain any cannabis!
Need more gift ideas? Check out our other gift guides:

Price: $24.99
This card game was created for stoners, made by stoners and is the perfect stocking stuffer. With 110 cards containing easy categories such as trivia, truth or dare and a community puff card, you'll be able to play no matter how stoned you get. Printed on recycled joint paper, this game is perfect for elevating any smoke session with friends. How do you play? Shuffle the deck, take turns, take a few puffs and pass.

Price: $44
It wouldn't be a holiday gift guide for stoners without some papers- and the Shine Gift Box is great for treating your favorite smoker. Inside you'll find two handcrafted 24K gold rolling papers made with the finest edible gold and a hemp-blend base for the smoothest burn possible. The gift box also includes a king-size 24K gold cone accompanied by a Shine butane lighter. This gift is sure to make anyone feel like royalty during their next smoke session.

Price: $27.50
Action Bronson, a rapper, chef, television star and marijuana lover, wrote this entertaining book about his favorite plant. With over 100 stories and 35 recipes, it explores every aspect of the cannabis world and culture. From the study of marijuana's medicinal benefits to a guide of weed paraphernalia, there's a story for everyone. The readers and cannabis lovers in your life won't be able to put this one down.

Price: $55
This candle achieves the smell of a hazy, smokey room during a smoke session without the overpowering high that can accompany it. This nostalgic candle is hand-poured in Brooklyn with a natural wax blend for a clean, slow burn. It emits a rich, spicy and earthy aroma while being balanced out with soft floral notes of magnolia. Inhale deeply to transport yourself to a blurred, lazy time with old friends while listening to your favorite record.

Price: $96
Do you have a fashionista on your list who has everything? This vintage-inspired cannabis western shirt is sure to be one staple they won't have in their closet. As vintage apparel comes back into style, this unique item is perfectly on-trend. his shirt that has saddle stitching throughout, slit pockets, and an easy relaxed fit. With 100% gabardine twill and elaborate marijuana leaf embroidery flowing onto the back, this shirt is sure to make heads turn.

Price: $75
This beautiful stash box is made with inlaid hand-stained wood and features a vintage-inspired etching. With retro devil imagery, this box will attract the attention of every stoner on your list. It includes a removable rolling tray, two 4-ounce jars with etched lids and even an accessory drawer for item storage. Constructed from solid birch ply, this box is sure to be a solid place to store your favorite stoner's stash.

Price: $52
Produced by the renowned skincare company Kiehl's, this facial oil is inspired by their apothecary heritage to combat skin issues such as blemishes, visible redness and discomfort. Made for all skin types, this face oil was created with 100% naturally derived ingredients, such as cannabis sativa oil and green oregano oil. Gift this item to any skincare lover to aid in protecting their skin's barrier while delivering balanced hydration all over.

Price: $48
Melt Cosmetics created this palette with your favorite stoner in mind, making colors inspired by everything from the lush stems and leaves to the buds and trichomes of cannabis. Featuring eight individually crafted shades in both matte and metallic, the makeup lover and stoner in your life will be obsessed with these warm and cool-toned greens. Bonus: this palette is entirely vegan and cruelty-free.

Price: $48
This gift is perfect for any smoke session host or hostess. The beautiful tray is made from high-fired porcelain with blue and gold accents. With a gift box included, this trippy tray will expand your horizons through the dreamy third-eye mindscapes painted onto the tray. Elevate the recipient's next smoking experience with this tray that is sure to spark up a conversation.

Price: $14.99
Hemp alternatives are some of the hottest products out today that are offering sustainable solutions. With 200 feet of premium organic beeswax coated hemp twine containing no toxic chemicals, acids or pesticides, this gift is perfect for the eco-friendly stoner in your life. As a natural alternative to lighters, using a hemp wick allows the smoker to stop inhaling butane gas and other harmful chemicals while preserving the flavor to help taste those delightful terpenes. This product is also great for the crafter on your list, who can use this for candle making and bookbinding as well!
What do you think of our gift guide? Any there any fun cannabis-related gifts you've given or received? Let us know below in the comments!