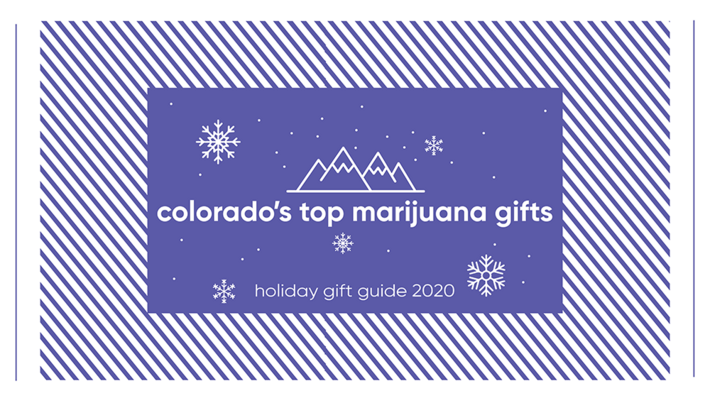 Holiday Gift Guide 2020: Colorado's Top Marijuana Gifts
Let's face it, 2020 has been an absolutely crazy year. With the COVID pandemic continuing to plague the country, an economic downturn and an election filled with turmoil, we want to make the holidays as fun as they can be. So, for those in Colorado, we've come up with a list of our favorite giftable cannabis products to give the stoner in your life.

Note that not all products are sold around the state, so be sure to check out the brand's website or head to Where's Weed to find the perfect gift at your local dispensary.
Need more gift ideas? Check out our other gift guides:
Easy Cannabis Pre-Roll Gifts

Willie's Reserve is an iconic brand founded by none other than the famed 420-friendly musician, Willie Nelson. Willie is famous for living with the philosophy of "my stash is your stash," and we couldn't agree more. These Ready Rolls come in a sativa, indica or hybrid and are perfectly rolled into a 1 gram joint or a pack of two half gram joints. For more pre-rolls from Willie, check out the Harvest Grown varieties.

If you're looking for top-shelf flower neatly packed into a crisp joint, Veritas is the brand for you. With a wide variety of strains available, you're sure to find a good gift for the joint lover in your life. Veritas cannabis is all grown, harvested, dried, trimmed and packaged in Denver, so you can be sure each pre-roll is made local and with the highest quality.

Want an extra boost to your typical joint? Look no further than Kaviar's pre-rolls. Packed with a massive 1.5-gram mix of flower, oil and kief, these joints will surely do the trick. Each joint has between 30-50% THC content, packing a potent punch. Kaviar also packs these joints with a custom glass tip, adding another level of luxury to these giftable pre-rolls.
The Best THC Edibles Gifts

We couldn't write about edibles without a tasty chocolate bar on the list. Based in Colorado and using only the highest quality and ethically sourced ingredients, Coda Signature is one of our favorite edible brands in the market. With delicious flavors ranging from coffee & doughnuts to fire & orange, you'll find it hard to choose just one. Most bars contain 100mg of THC with each serving at 5mg. A few flavors also have a 1:1 ratio of CBD and THC as well.

Stillwater's Ripple Dissolvables are consistent, fast-acting infused powders that mix right into your drink. These convenient edibles also come in three varieties of potencies: Pure, Balanced, and Relief. The Pure Ripple contains 10mg of THC, Balanced has 5mg of both CBD and THC, and Relief has 10mg of CBD. With 0 calories and limited ingredients, these infused dissolvables are perfect for the cannabis purist in your life!

Edibles that kick in after 5-15 minutes? We're sold. These tasty gummies from Wana are perfect for the edible lover in your life that wants a precise high. Coming in unique flavors like Peach Bellini sativa, Pina Colada indica and a Strawberry Margarita with a 1:1 THC to CBD ratio, Wana has something for everyone. Each gummy contains 5mg THC and has natural sweeteners with plenty of terpenes. Added bonus: these gummies are vegan and gluten-free!
Top Vape & Concentrate Gifts

For those looking to enjoy a pure, live resin experience, these pods from Green Dot Labs are the perfect gift. With no additives and no reintroduced terpenes, you can be sure to get a clean hit every time. Green Dot Labs is also well-known for its wide variety of strains, so you'll be able to find a pod for any desired effect. Just make sure that your loved one has a Pax Era pen as these pods are exclusively compatible with it.

If you want a unique blend of cannabinoids and botanicals such as ginseng and thyme, these disposable vapes from CBx are just what you need. With two unique varieties focusing on different effects, you may want to gift both for good measure. The first pen, Amplify, has a unique mix of energizing ginseng and green tea along with a 1:1 ratio sativa. Next up is Meditate, containing CBN, CBD, and THC with a blend of passion flower, thyme and sage for a zen high.

For the concentrate purist in your life, you can't go wrong with a fresh frozen solventless extract made by Concentrate Remedies. With fresh frozen bud straight from the amazing Natty Rems, they offer both full melt ice water hash and live rosin. Their full melt ice water hash is made to preserve the flavor packed trichomes from the bud (we don't blame you if you want to buy some for yourself). The live rosin from Concentrate Remedies is also made with a focus on keeping the terpenes and cannabinoids so you'll be sure to have a potent and tasty dab.

Another great solventless extract to add to your shopping list is Persy sauce from 710 Labs.This potent concentrate is a mix of liquid terpenes and crystallized THCA combined. With no solvents used in the extraction process, this persy sauce is a crisp and clean dab worth gifting. Note that the Persy sauce should be stored in a refrigerator, so be sure to do so before putting it under the tree this season!
What are your favorite Colorado cannabis gifts to give this season? Let us know in the comments below!