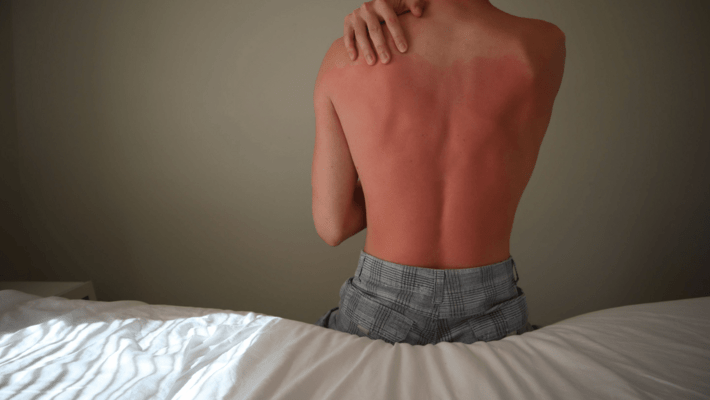 Can Cannabis & CBD Help With My Sunburn?
With the dog days of summer fast approaching, U.S. vaccine numbers steadily rising, and lockdowns here in the U.S. on the verge of being lifted ahead of summer 2021, people itching to get out and make up for the lost time. For those who are planning to get out and soak up the sun, however, they're likely to have to deal with a bad sunburn or two throughout the summer. That's where CBD comes in!
As cannabidiol, or CBD for short, has come into vogue over the past few years, consumers have seen it grow from a niche medical product to a multi-billion dollar juggernaut. It's more than likely that you've met someone who has used it in one way or another. Maybe it's your friend who's really into hiking who has recommended using a CBD topical salve cream to ease their sore muscles and feet after a long day on the trail. Maybe it's someone who swears by vaping a little bit of CBD oil to ease their anxiety, unwind after a long day, and get the restful sleep they need. Or maybe it's someone who happens to use topical CBD oil for the health of the largest organ on the human body, your skin?
This article is going to break down how CBD works to relieve the stringing and swelling pain associated with a bad sunburn, why it's a great choice to use CBD oil for burns, and how to get rid of sunburn fast so you can get out, about, and onto the beach or poolside in no time!
How Does CBD Oil Work?

So why and how exactly can CBD help with sunburns and relieving the discomfort associated with it? Well, that's where the hardcore science comes into play. While it's incredibly easy to get lost in the weeds (pun intended) when it comes to the benefits of CBD for sunburn, here are a few of the short and simple points that make CBD products so effective when it comes to treating even the nastiest sunburn.
Anti-Inflammatory Effects
Inflammation is the body's natural way of responding to the damage that's been done to the skin, like from a sunburn. That's why the sunburned skin appears to be puffed up and sore to the touch. CBD lotion, for example, sets to work at attacking a reducing that inflammation thanks to its powerful interactions with your body's built-in endocannabinoid system. Using topical CBD oil for sunburns is a great way to settle down that inflamed top layer of skin, reduce the swelling, and make the whole situation just a little bit less painful overall.
Antibacterial Effects
While it might not seem like a big deal for most people, a sunburn, as its name would suggest, is actually a mild burn. Now don't get us wrong, it's nowhere near as bad as something that would happen if you touch the wrong part of the pot while cooking or if your skin touches an open flame, but it's still a burn.
Burns are highly susceptible to infection, something that if happens can have devastating effects on your overall health. Thankfully, CBD sunscreens and topical oils have some desirable antibacterial properties. That means that not only will the topical CBD salve you're using to relieve some of the pain and swelling from that bad sunburn, it will also protect the exposed lower layers of skin by killing invading bacteria. Just another reason why CBD oil for burns is always a great idea!
Products to Try
So now that we know how and why topical CBD oil-infused products are perfect for treating, reducing the discomfort of, and helping a bad sunburn heal, let's break down some of the best of the best products that you should keep your eye out for!
Spyder CBD Sunscreen

Let's start out with something that's as simple as it is effective, some high-quality CBD-infused sunscreen. This SPF 50 CBD-infused sunscreen is crafted from top-notch protective ingredients like zinc, avocado oil, green tea, and aloe vera plus soothing CBD.
Coming in a refreshing and tropical mix of coconut and banana scents, every teaspoon of this special sunscreen contains about 14 mg of high-quality CBD. So you'll not only be protected by those damaging UVA and UVB rays that cause sunburns in the first place, but you'll be able to do so while staying relaxed and soothing your sunburnt skin.
Provacan CBD Sun Cream
Created by a UK-based brand that's well-known as one of the highest-quality CBD brands in the world, this Provacan CBD topical salve is a top-notch choice for those looking for high-end products.
This CBD lotion provides SPF 30 protection from damaging UV rays, is packed with laboratory-tested cannabinoids, active phytocannabinoid and phytochemical support, and contains 50 mg of ultra-pure CBD isolate for the most powerful and effective protection from and treatment to sunburns.
If you're looking for a high-end CBD sunscreen, you can't go wrong with a brand like Provacan.
Black Pearl CBD Sunscreen
A perfect choice for those who care about the environment as much as they do about their skin, this CBD sunscreen is the way to go. Designed for the most economically-minded among us, Black Pearl CBD sunscreen provides around 30 SPF that protects you from 97 percent of the sun's burning rays and provides a refreshing and soothing broad-spectrum kick.
On top of that, this product is made from all-natural ingredients that will never impact the oceans and reefs from the toxic and unnatural compounds found in other brands.
Uncle Bud's Hemp After Sunburn Smoother
If you're looking for a product that can help after you get sunburnt instead of before, then look no further than Uncle Bud's Hemp After Sunburn Smoother. This wonderful mix of hemp seed oil, aloe vera, and 100 percent certified hemp seed oil is a great way to soothe that stinging, red, burnt skin back to health.
Rich in vitamins like A, D, and E, fast-absorbing for when and where you need it most, and moisturizing without ever being greasy, this is the perfect cannabis-infused alternative for the typical aloe vera cream!
Have you tried CBD products to help you prevent or soothe sunburns? Share your experience in the comments below.