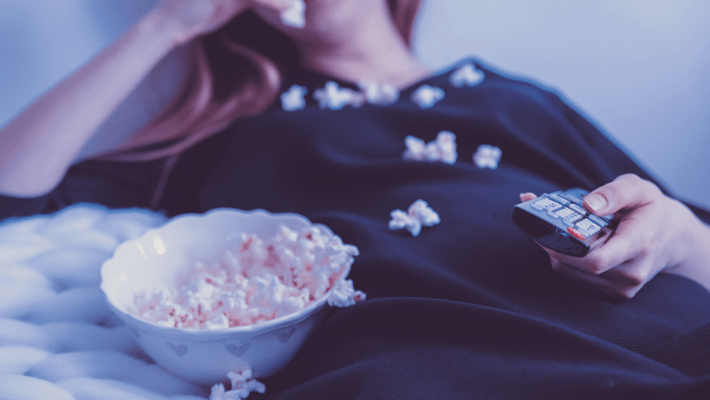 Top 7 Documentaries to Watch While High
We currently live in an era of information overload. Whether it's your favorite podcast to listen to on your commute or the tweets getting sent to your phone at high speed, we are getting inundated with information about every single miniscule thing you can imagine. One way to deliver information to the mass public in an enticing way is through documentaries, and the more controversial the topic, the better. When you want to learn something new but also mellow out at the same time, bringing in your favorite herb, weed, is always a recipe for a fun night ahead. We've made a list of the best movies to watch high, but now sit back and relax with the best documentaries to watch when stoned.
Tips for Having the Best Stoner Documentary Night
Set the Scene: You want to have the stoner viewing party in the comfiest, coziest space that you can find between you and your friends. Make sure there is enough room for everyone to lay down and get comfortable, with blankets and pillows on deck.
Get the Snacks Ready: No sort of movie night or viewing party is really prepared without the proper munchies to go with it. Get a consensus from all of your friends on what you'll need - we suggest an array of things to satisfy both the salty and sweet cravings. If you're feeling fancy create your own charcuterie board and stock up on your favorite cannabis-infused drink brands.
Choose the Right Strain: The age-old question circulates around indica vs. sativa, and which one is better? Having both on deck is never a bad idea, but make sure the mood and setting is right for whatever you so choose. Having the right strain is paramount, but make sure the accessories are ready, too. This means have your rolling papers, bong or bowl at the ready.
Best Documentaries to Watch High on Netflix

This docuseries, based on the hit podcast, takes a deep dive into the creative process of songwriting. You'll be able to get into the mind of your favorite artists, such as Dua Lipa or The Killers, as they describe the entire evolution of some of your favorite songs. This docuseries is easy to fly through with roughly 25-minute episodes, so grab one your favorite sativa strains such as Ghost Train Haze for a heavy-hitting euphoric feeling with a sense-heightening experience.
Needless to say, this is one of the trippiest documentaries on this list and interviews the likes of Nick Offerman, ASAP Rocky and Adam Scott on their experiences with hallucinogens. This documentary explores these substances through comedic elements and weighs in on the pros and cons of these hallucinogens, all while looking at the cultural and historical significance of it all. You'll want to sit back, relax and completely mellow out for this one. Grab our favorite brand of gluten-free edibles, the Wana gummies, in whatever THC profile and flavor you desire, to deliver the perfect experience for you.
We love a documentary that really causes us to look internally and think about our lives, and this is just that. It explores the idea of rejecting a timeless American ideal that material things bring happiness and looks at people from all walks of life who have abandoned this and are much happier with the "less is more" mantra. Grab one of our favorite sativa strains of all time, Blue Dream, to stay relaxed yet focused as you take in this completely new way of thinking.
Best Documentaries to Watch High on HBO Max
This documentary really hits home in today's society, as it explores the meaning of fame and influence in the digital age of social media. Follow three LA-based people buy their way into this fantastical world through purchasing "fake" followers and bots as director Nick Bilton unpacks our obsession with likes, followers and favorites. This documentary is definitely a bit spooky for all of us on social media, so you'll want to grab one of your trusty indica strains, such as Pennywise to unwind. Being high in CBD, you'll keep the anxiety away and the relaxation coming.
Personality tests are all seemingly harmless and fun to partake in, right? This HBO original looks at the origins of the obsession with personality tests and how it impacts everything from friendships, to landing a job and to dating. This documentary is pretty intense and may surprise you, so grab the hybrid strain Royal Gorilla to give you a nice cerebral buzz before you get locked into the couch for all the twists and turns of this documentary.
Best Documentaries to Watch High on Amazon Prime

This is one of those stories that is simply too good to be true. This doc follows Mark Landis, an art forger through his 30-year career of duping museums all over the country. Landis uses his incredible skills to dupe masterpieces and donate them to museums until one determined registrar sets out to take him down. Kick back and watch this con man at work with a nice THC Beer option such as the Lagunitas Hi-Fi Hops, with an assortment of flavors and THC contents to deliver a blissful night on the couch.
This German documentary takes a look at the current global refugee crisis. Filmed using a variety of technologies, such as drones and iPhones, this documentary examines over 20 countries to look deeper into human migration throughout the entire world. Not only does it look at this crisis, but it is also a call for a higher emphasis on human rights and compassion for one another. Grab a high-CBD strain such as Cannatonic, to keep the anxiety for the world's problems away.
What is your favorite documentary to watch while stoned? Have you seen any of these above? Tell us your favorite stoner documentary viewing party memories below.