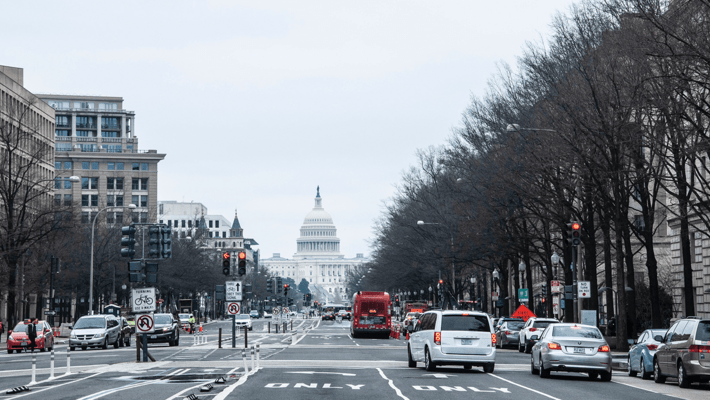 Top 5 Music Venues to Visit in DC While High
Washington DC is known for many things, but getting high and having yourself a day isn't always the first thing that may come to mind. Typically, it's a place known for all work and no play in the political realm. Nevertheless, the area is trying to change these stereotypes with recreational weed and some of the coolest music venues in the country. So, if you're looking to do something other than visiting the same monuments that you saw during that eighth-grade field trip, check out our favorite concert venues in DC.
Washington DC Cannabis Laws

So, what is Washington DC? Is it a state, or maybe a city? The answer here is actually neither because DC is actually a federal district and the capital of the United States. Interestingly enough, since 22% of the land is federal property, weed laws in the district are rather strange.
Cannabis is legal for both medical and recreational use in the District of Columbia after an affirmative vote by the residents on a 2014 ballot initiative. Medical marijuana was first legalized in 1998 through Initiative 59 and allowed those who were seriously ill to obtain and use marijuana for a variety of medical purposes. However, it wasn't until 2013 that the medicinal program truly got up and running, where today medical patients today can possess up to four ounces and grow up to six plants.
What About Recreational Weed?
Sure, it's legal to buy cannabis in DC. But there are many atypical laws that you won't find anywhere else. In 2014, DC passed Initiative 71: The Legalization of Possession of Minimal Amounts of Marijuana for Personal Use Initiative. This allowed adults 21+ to possess up to two ounces of the herb and may grow up to twelve plants, with six or fewer being mature, flowering plants.
Sounds simple, right? Think again. DC weed laws make it illegal to sell or buy marijuana recreationally. You can transfer without payment (but not sell) up to one ounce of cannabis to another person who is 21+.
How to Find Weed in DC
If there is no market for the product and is straight up illegal to sell or buy, how does one actually go about getting the chance to toke up in DC? Are there even recreational dispensaries in DC? In the wake of Initiative 71 there has been a blossoming, private market for marijuana gifting. Brands and smoke shops in the DC area get around this by selling a variety of products, whether it be t-shirts, hats, stickers and art, in return for a "gift" of your favorite, delicious cannabis product. Even though you won't see dispensaries as you do in many cities across the US, you'll find a variety of delivery services, online services and pop-up events to shop at.
The Best Washington DC Concert Venues

Of course, there are very few things in life that we love more than weed and live music. When we're visiting Washington DC, here are some of our favorite concert venues to check out.
Union Stage DC
This state-of-the-art venue doubles as both a venue and a taproom, with a cozy feel offering 7,500 square feet with a 450-person capacity. You'll find craft cocktails, delicious beer and decadent pizza with one of the best happy hours around before catching your favorite band. Located in the Wharf, this mile-long stretch along the Potomac is bustling with shops, restaurants and residences. Hit up Whiskey Charlie or Pearl Street Warehouse after the show at the venue that brings in emerging and classic acts alike.
Echostage
This venue located in Northeast Washington DC is a mecca for all things electronic dance music. You'll see some of the biggest names come through, such as David Guetta and Tiesto, giving the crowd the show of their lives in this 30,00 square foot dancehall that holds up to 3,000 people. Drawing inspiration from electronic music's warehouse roots, this is a hybrid nightclub and venue. After you have been rocked by the top-tier sound design and advanced LED displays, grab a late dinner at La Puerta Verde or Momo Yakitori.
9:30 Club
Now in 40+ years of operating, this venue has continually put itself on the DC music map for decades and was even named one of the top venues in America by Rolling Stone. Acts big and small will take the stage, whether its 2 Chainz, Dolly Parton, Caribou or girl in red. It still has that small, intimate feel with a capacity of around 1,200 people so you can get up close and personal with your favorite acts. Check out the Wet Dog Tavern, TAKODA or the 801 Restaurant before or after for some yummy eats around the U Street Corridor.
Comet Ping Pong
Next up on the list of DC music venues is this hip venue that also doubles as a pizzeria, what more could you ask for? Located in the Chevy Chase neighborhood, this spot has ping-pong tables located in their back room and has been featured on many prominent food publications for the Washington Post and Guy Fieri's Diners, Drive-ins and Dives. With a capacity of 150, you'll find indie bands such as Ty Segall and Japanese Breakfast coming through this tiny hole on the wall. Cruise Glen Echo park afterwards or hit up The Tiki Room for some craft cocktails.
The Black Cat
Located in the U Street neighborhood, this nightclub was initially funded in part by none other than Dave Grohl. As a mecca for independent music, you'll find indie rock, metal, punk and electronic acts covering most of the lineup. It boasts two stages, the larger holding around 700 people and the smaller one holding around 200. Stop by the Red Room after the show, located within the venue, for a nice selection of scotch and bourbon.
Have you experienced DC's weed laws or any of these venues, first-hand? Give us the lowdown on DC in the comments below.