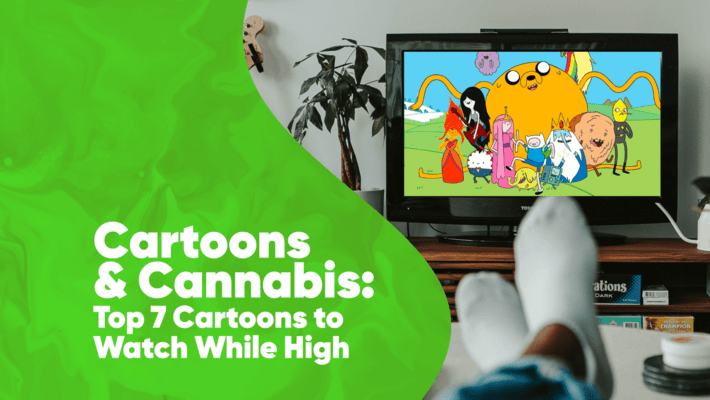 Cartoons and Cannabis: Top 7 Cartoons to Watch While High
We all have a favorite cartoon from when we were kids, right? Whether it was old school options like Looney Tunes or Tom and Jerry, a modern offering on a channel like Nickelodeon or Cartoon Network, or just a web series or animator you fell in love with from watching Youtube. At the end of the day, there's just something so pure and simplistic about sitting on the couch and watching a cartoon!
As we get older, however, it only makes sense that we take on more interests than just sitting in front of the TV. One of the many interests and activities that more and more average Americans are jumping on with is cannabis use!
As more states legalize some form of legal cannabis, whether it be medical or recreational programs, the overall public approval of cannabis legality is nearly universal. According to a Pew Research Center survey, 91 percent of American adults approve of some type of cannabis legality. In fact, these days about 1 in 3 Americans now live in a state where they can legally buy cannabis at their local dispensary.
So naturally, that raises the question: What are some of the best cartoons to watch high? After all, while there are a million different options when it comes to finding the best cartoons to watch while smoking weed, there are some clear and obvious options here. Thankfully, we here at Where's Weed have assembled the definitive list of some of the best stoner cartoons around, providing a go-to guide for what to watch when high.
The Simpsons

While this entry on the list might not be the loudest, most colorful, and absurdist option on this list, The Simpsons is far and away one of the best cartoons ever made.
The subtle jokes, great writing, hilarious concepts, and massive collection of episodes available to watch anytime on streaming services like Disney Plus and Hulu make this show one of the go-to weed cartoons. You'll be able to light up, relax, and just watch episode after episode full of laughs.
It's hard to beat an animation staple like The Simpsons. Grab a strain like C-99 to keep you uplifted and make sure you have a good meal (or snacks) around to keep the munchies at bay.
Aqua Teen Hunger Force

It's fair to argue that ATHF is one of the most important stoner cartoons to ever be made. It was the crown jewel in the already stoner-friendly Adult Swim line-up for about a decade, entertaining those who watched with absurdist adventures of a ball of meat, a milkshake, and an order of fries set in New Jersey.
Available for streaming on HBO Max and the Adult Swim website, you'll be able to spark up and find all 11 seasons of the show for when you need it most.
Plain and simply put, ATHF is one of the definitive stoner cartoons ever made. The show is living proof that sometimes when you're high cartoons are the only way to go. We recommend grabbing a sativa like Sour Maui to give you the energy to keep you laughing all night long.
Avatar: The Last Airbender

While this next entry on the list might not jump out as a standard stoner classic, it's still hard to argue that Avatar doesn't belong on any list of the best animated shows.
This Nickelodeon Animation Studio's classic is not only on the shortlist of good cartoons to watch high on Netflix, but it easily cracks the list for arguably the best animated show of all time.
The show's mix of deep, well-explored lore, the heart-stopping action and drama throughout, and the bits of humor able to be intertwined all while maintaining balance is a masterclass in how to make an entertaining show from beginning to end.
Grab some Blackberry Diesel for a blissful experience. We couldn't recommend this show enough for any time, but especially when you're high.
Rick and Morty

If you've ever walked into a headshop, there's a very good chance you've seen some Rick & Morty paraphernalia. This show has been a critical and commercial darling ever since its release in 2013. Ever since then, it's only been up and up for Rick and Morty. A huge part of that success is its core audience of stoner cartoons enthusiasts.
With five seasons in the books now and more on the way, Rick and Morty is a great option for what to watch while high. The layered and nuanced jokes, the hidden references in every single episode, and the complex themes dumbed down by absurdist humor and the fourth wall breaks all come together to create the perfect stew of weed cartoons glory.
We highly recommend grabbing a nice indica strain like Cherry Pie OG, some tasty snacks, and throwing on a few episodes of Rick and Morty on HBO Max or the Adult Swim website.
Family Guy

It's tough to top Family Guy when it comes to making a list of the best cartoons to watch high. With more than 350 episodes available to watch in the show's decades-long run on the air, this adult animated classic is easily one of the most well-known comedy series ever made.
With just a Hulu subscription you'll be able to enjoy this show with a lovely hybrid strain like Armageddon Skunk that will relax you and keep you couch-locked but awake enough to still get and enjoy the rapid-fire jokes.
Whether it's the mix of cut-away non-sequitur jokes, the often raunchy and boundary-pushing humor, or just the fact that the show is funny and easily binge-able when you're baked, Family Guy is hard to beat when it comes to stoner cartoons to watch after your next smoke session.
Adventure Time

If you're looking for a cartoon that strikes the fine balance between the modern-day animation style that so many love and have grown accustomed to and the old-school feel of the Saturday morning classics in terms of a sense of adventure, quirky vibes, and bright colors in a wild world, look no further than Adventure Time.
While this entry on the list is surely a cartoon that appeals to many ages and demographics, a bit of high-quality sativa like Starburst will enhance the experience. Those colors will get brighter, the child-like humor will hit a little bit harder, and you'll be more likely to just be swept up in the story and overall world-building the show is looking to do.
We highly recommend streaming this series on either HBO Max or Hulu.
Looney Tunes

Sometimes it's just impossible to compete with the classics, right? Looney Tunes has been cartoon royalty for decades now, with decades of stoners sitting down in front of the tube, sparking up, and enjoying a laugh as a result.
The animal personalities in these short and digestible cartoon segments are iconic personalities themselves. When you have them interact with one another and get some top-notch cannabis like Pink Kush involved, you've got a great night going.
What's your favorite cartoon to watch while you're high? Share it in the comments below!