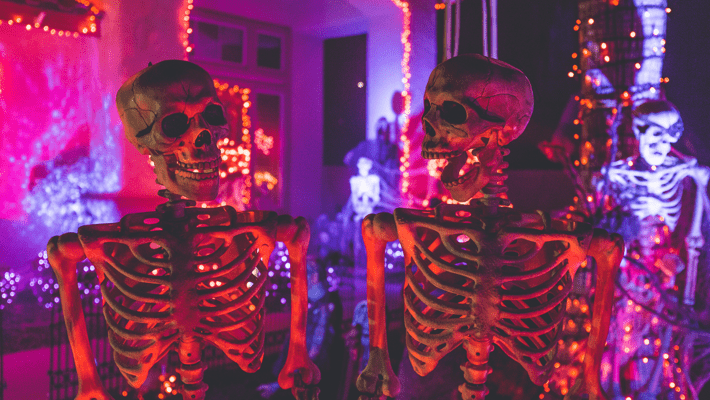 Top 5 Stoner Halloween Costumes to Wear in 2021
The ultimate essence of Halloween is something that doesn't wear off into adulthood: dressing up in a fantastic costume. Whether you want your costume to frighten or to entertain, stoner Halloween costumes are always in season. Show off your love for new strains, old stereotypes, and all the characters we know and love from cannabis culture. Here are some of the best pothead Halloween costumes to wear come October 31st.
Snoop Dogg

Recommended pairing: a Super Lemon Haze up in this hizzle.
Who could take the top of this spot but for the godfather of reefer himself, Snoop Dogg? Formerly known as Snoop Lion, a costume of the rapper is easily the most 420-ish of the 420 costumes, and the best news is you can style it however you want. Do you want to be rap Snoop, business savvy Snoop, hockey aficionado Snoop or cooking with Martha Stewart Snoop? The world is truly your oyster if you decide to dress up like Snoop, and a Super Lemon Haze (one of Snoop's favorite strains) lets you live one day as him in whatever outfit you prefer.
Mae Coleman and Jack Perry from "Reefer Madness"

Recommended pairing: a high-energy sativa, like a Starburst, to make you feel the reefer madness.
Any marijuana fan worth their salt should see the 1936 propaganda film "Reefer Madness" and the two main characters, teenagers Mae Coleman and Jack Perry, who are led terribly astray by cannabis. Not only is the film hilarious due to its terrible writing and acting, but it demonstrates the absurdity of cannabis prohibition laws by going all the way back to the days when marijuana was seen as a drug that led directly to crime of all types. It's become a cult favorite, not just by potheads but by just about anyone who has ever taken a puff themselves. This duo also makes it one of the perfect stoner couple costumes, great for a couple heading to a party or cheesy scary movie session together. Starburst sativas do indeed give a sense of euphoria with a high THC content (usually above 20%), great for a strong role as the victims of the evil reefer.
Towelie

Recommended pairing: a classic Purple Kush indica for a classic character.
There are many other depictions of potheads, from Cheech and Chong to Seth Rogen, but none of them are as delightfully absurd as South Park's quintessential stoner, Towelie the talking towel. Better still, Towelie doesn't require much preparation for a stoner costume DIY, since you really only need to make a blue towel out of cardboard, or perhaps just bring along a blue towel and call it a day. A Purple Kush will make your day with the higher CBD count, perfect for a character who is mellow and forgetful enough to be happy in just about any situation. Don't forget to describe your plans to write your book, if only you can just get high enough.
Weed-Related Costumes

Recommended pairing: Moon Rocks to put you in a good mood for your favorite hobby.
A smoking costume is easy to do, usually because it only requires throwing together everyday things to make a visual joke. A bag of weed costume, for example, doesn't require anything more than a clear trash bag and some lawn shavings; you can also throw a dollar's worth of dimes in there to call it a dime bag. A joint costume requires a bedsheet and a green hat. A bong is harder to do, but glue some PVC pipe to tinfoil and you're halfway there. If you're in a rush and just need the basics, it's a Halloween costume that shows off your love of pot, if not your love of complex costume ideas. Heck, all you need is a bathrobe, some sandals, and some shades to go as The Dude.
Pun Costumes

Recommended pairing: a Cookie Monster that jump-start's everyone's sense of dad-joke humor.
The great thing about pop culture is that there are endless possibilities for puns as stoner costumes. Dress up like a clock and say that you're TikTok. Dress up in gold foil, tear some chunks out of it, and say that you're Bitcoin. Dress up as a TV clicker, grab a binder, and say that you're a remote worker. Dress in red and orange and say that you tried to use Tinder on your Kindle. Don't be afraid to dig deep for the cheesiest pun you can manage, and don't let anyone tell you that your costume isn't hilarious.
What are your favorite pothead costumes? Do you like to buy your Halloween costume or do you like to make it yourself? Let us know about your favorites, including accessories and good bud to go with them, in the comments below!