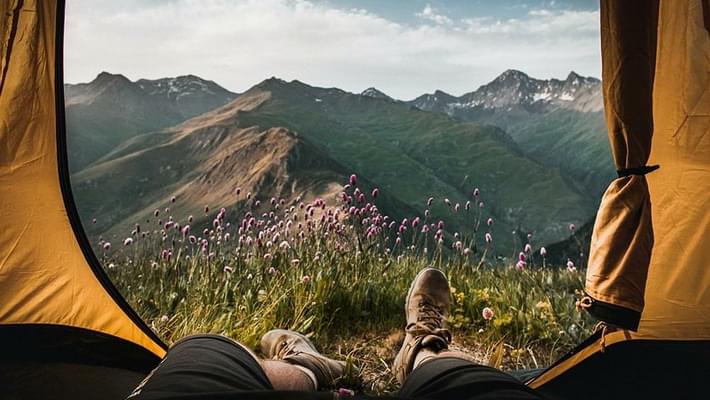 How to Go Camping With Cannabis
Pack your bags, drive to a campground, pitch a tent, get the fire going, roll a joint, and enjoy the outdoors. Smoking weed in nature is a simple pleasure everyone should experience at one point or another and can be easily elevated with the right product, the right locations, and the right mindset. If you're looking for a weekend away, camping is always an excellent option. Why spend time looking for a weed friendly hotel when you can just pitch a tent and call it good? In this guide, we'll walk you through where you can take weed camping, what products are best for outdoor experiences, and how to get the most out of 420 friendly camping.
Marijuana Camping Laws

Plain and simple, even in 420 friendly states, the use of marijuana in public is strictly prohibited. Because of that, smoking while camping can be a little tricky, legally speaking. Of course, if you're camping in a state where weed is illegal, then it's not allowed - but there are two specific types of parks that we want to discuss: national and state parks.
National Parks
Because national parks are owned by the federal government, it is illegal to use marijuana while within their borders (no matter the state). If you smoke weed in a national park and get caught, you'll face federal law. Official statements generally state that marijuana will be confiscated and a fine may be issued; however, consequences could be worse depending on the amount and location. You can check out national parks and their regulations here.
State Parks

Because state parks are public property, weed is not technically allowed even in states that have legalized it. There are, however, 420 friendly rentals depending on which state you're in. For example, there are plenty of 420 friendly cabins in Colorado. If you're in Oregon, you can smoke in your parked car and your camping unit, but it's prohibited elsewhere. Even though some places don't allow smoking weed in the woods, having the ability to smoke at your campsite is enough for us.
Unfortunately, there are plenty of other states that aren't so compliant. Missouri and Massachusetts are great examples, where parks are either openly against marijuana use (in any capacity in any space) or remain wishy-washy with official regulation. Either way, we highly suggest checking specific campground rules before you embark on a weed-centric camping trip.
The Best Marijuana for Camping
Different consumption methods are best in different situations. Therefore, we're going to focus on four specific cannabis consumption methods for getting high while camping: smoking via joint or hand pipe, vaping, edibles, and seltzers.
Smoking in Nature

"Friends around the campfire, everybody's high." When singing along to classic John Denver, it's hard not to imagine a group of friends passing the pipe around. Smoking, be it pipe or a joint, is the iconic way to get high in nature. Not only is it aesthetically pleasing, but it's also incredibly portable. The major problem with smoking in nature, however, is the noticeability. If you're at a busy campground, a pipe won't be your best option; but if you're out on your own backpacking through the woods, this is probably the most satisfying option. If this is the route you decide to take, we highly suggest smoking Willie Nelson (sativa), Sour Diesel (sativa-dominant hybrid), or OG Kush (indica-dominant hybrid) as starting strains for your outdoor escapades.
Vaping in Nature
There are three reasons why vaping is one of the best ways to smoke while camping: portability, control, and discreteness. It's easy to keep a vape in your pocket and use it without causing the rest of a campsite to know. It's also perfect for long hikes - small puffs over time will allow you to keep a steady, clean high without having to worry so much about crashing or overdoing it. There are a lot of great brands out there, but AirVape XS Go, Vessel Vape Pen, and Air Pro are all ideal for a hiking excursion.
Taking Edibles in Nature

Edibles are great for a few reasons. They're super easy to bring along and incredibly discrete. Additionally, they take a while to kick in and last a lot longer, meaning you can easily pop a gummy or two and ride it out for most of the day. While this isn't ideal for everyone, some people will probably prefer the full-body high that comes with edibles. We suggest taking these in the afternoon after you're done with any hiking, that way you can just sit back and enjoy a chill night of campfire fun. You can't go wrong with Wana Gummies, Kush Nuts, or Punch Edibles if you're looking for edibles to take camping.
Drinking Seltzers in Nature
These are a little harder to come by, but THC seltzers are quickly becoming more popular. There's no smoke involved and they look like beer, so it's easy to get high while maintaining campsite social standards. They're also delicious and perfect for hot days out in the wilderness. If you're gonna crack one open, we highly recommend Oh Hi, Calexo, and Cann for some camp side sippin'.
Let us know which campsites are your favorite for smoking weed and what camping activities are best to experience while high!