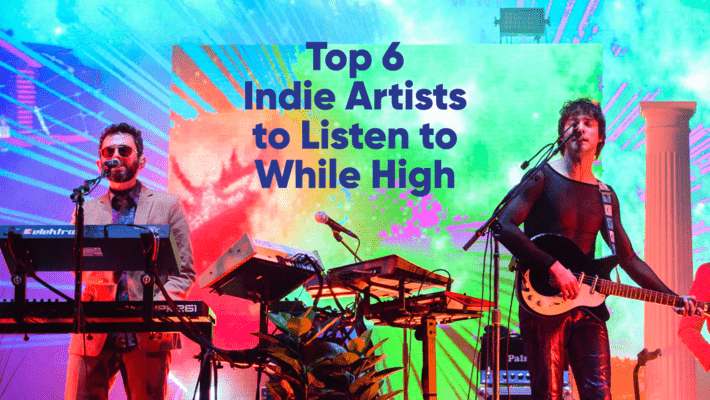 Top 6 Indie Artists to Listen to While High
The Woodstock music festival of 1969 is often remembered as the ultimate stoner music experience, with legendary artists like Janis Joplin, Jefferson Airplane, and Jimi Hendrix taking the stage to a crowd full of peace-loving hippies. Since then, music festival culture has blossomed alongside cannabis culture - with more stoners flocking together to see their favorite indie rock music on stage around the country.
Lorde

Best Songs
Though she certainly has some relaxing stoner music in her earlier work ("Perfect Places" from Melodrama and "White Teeth Teens" on Pure Heroine are a few of our favorites), Lorde has described her latest album, Solar Power, as "a cannabis album." This album is best consumed in full (deluxe edition, please!) as one of the best chill albums of all time.
Background
Lorde, whose government name is Ella Yelich-O'Connor, is a 25-year-old singer-songwriter from New Zealand. At age 12, she was noticed by Universal Music Group and released her first EP, The Love Club, with hot lead single "Royals" in 2012. Later that year, she released her Grammy-award-winning album Pure Heroine and has topped the charts ever since.
Strain Pairing
King Louie also known as King Louis, is the perfect strain pairing for Lorde's royal, all-encompassing vibe.
Florence + the Machine

Best Songs
Florence + the Machine is one of the best artists to listen to high, with a rife discography that will take you on a journey throughout their five studio albums. Some of their best songs to listen to while you're high are "Hunger" (from High As Hope), "Ship to Wreck" (from How Big, How Blue, How Beautiful), "Cosmic Lungs" (from Lungs), and "Shake it Out" (from Ceremonials).
Background
Florence + the Machine's titular Florence Welch was raised in England. She took to music at an early age and created her own band, which she named Florence + the Machine with bandmate Isabella "Machine" Summers. The band released their debut album Lungs in 2009.
Strain Pairing
Trainwreck is the perfect strain to pair with your listening sesh. It will make you feel energized, euphoric, and one with Mother Earth while you tune out with your favorite tunes.
MGMT

Best Songs
MGMT's dreamy, melodic tones are perfect for getting lost in the music during a great smoke sesh. Some of MGMT's best songs for smoking are "Congratulations" (from Congratulations), "Kids" (from Oracular Spectacular), "Indie Rokkers" (from Time to Pretend), and "Electric Feel" (from Oracular Spectacular).
Background
MGMT is comprised of the New York duo Andrew VanWyngarden and Ben Goldwasser. The two met as freshmen at Wesleyan University, and their descent into indie rock music was not initially meant to be a serious pursuit. "Being famous was never the goal," says VanWyngarden. "We acted like pop stars on our campus of 3,000 people. We would play little living room parties and act like we were playing stadiums. It was all part of the joke."
Strain Pairing
Purple OG Kush is the perfect buddy to bliss out with for all of MGMT's greatest hits. A powerful indica, this strain is best suited for when you have plenty of time to relax and enjoy.
The White Stripes

Best Songs
The White Stripes have some of the best songs to listen to while high. Their garage rock sound has defined the genre of the generation that followed them, with some songs to jam to while stoned like "Icky Thump" (from Icky Thump), "Blue Orchid" (from Get Behind Me Satan), "Seven Nation Army" (from Elephant), and "We're Going to Be Friends" (from White Blood Cells).
Background
The White Stripes is a rock duo from Detroit, Michigan. Formed in 1997, members were husband and wife pair Meg White on drums and songwriter Jack White on vocals, guitar, and keyboard. They were part of the Michigan underground garage rock scene and became a legendary influence on the entire indie rock music genre.
Strain Pairing
Sharing a surname with the band's founding members, Berry White will pair perfectly on a date with your record player.
The Cranberries

Best Songs
The Cranberries are critically beloved, including honors like some of the best indie albums of all time, Pitchfork says. When it comes to their best stoner hits, our favorites are "Dreams" (from Everybody Else Is Doing It, So Why Can't We?), "Zombie" (from No Need to Argue), "Animal Instinct" (from Bury the Hatchet), and "Linger" (from Everybody Else Is Doing It, So Why Can't We?).
Background
Combining indie guitar pop with '80s dream pop and a slight Celtic bend, the Cranberries are one of the greatest indie groups of all time. Led by vocalist Dolores O'Riordan, they became a worldwide hit in 1993 with "Linger," achieving mass success.
Strain Pairing
The best strain to go with your The Cranberries jam session is another one of our favorite fruits: Lemon Haze. Perfect for lifting your mood or relieving pain, this strain will send your ears to another world.
Foster the People

Best Songs
From surreal to understated, Foster the People's discography is full of hits perfect to smoke to. Some of the best for your next session are "Lotus Eater" (from Sacred Hearts Club), "Pumped Up Kicks" (from Torches), "Pseudologica Fantastica" (from Supermodel), and "Houdini" (from Torches).
Background
Foster the People is an indie rock band formed in Los Angeles, California, in 2009. The band consists of Mark Foster, Cubbie Fink and Mark Pontius. Their first single, "Pumped Up Kicks," was a huge hit during the summer of 2011 and peaked at #1 on the Billboard Alternative Songs Chart and #3 on the Billboard Hot 100.
Strain Pairing
Skittles is an ideal sativa for relaxing the body while uplifting the mood and mind - the perfect state for noticing new layers of sound on your favorite Foster the People record.