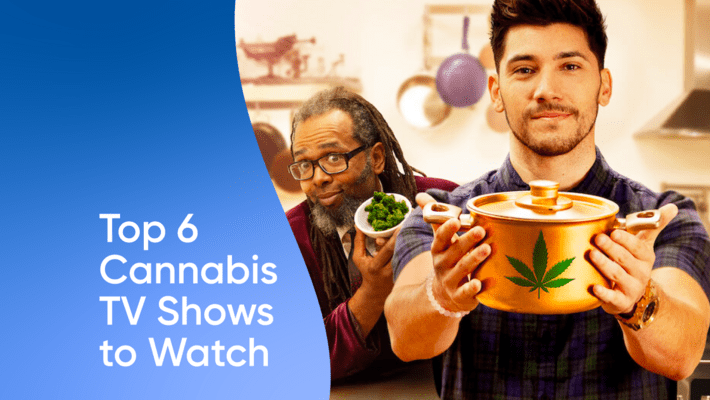 Top 6 Cannabis TV Shows to Watch
Think of your stereotypical stoner TV show, and you are likely to think of a comedy where the brave hero goes through misadventures when all they want is a good joint of bud. However, the days of "Cheech and Chong" or "Harold and Kumar" type cannabis shows and films are slowly fading into the rear-view mirror. Cannabis TV shows are now breaking into uncharted territory, offering profound insights into marijuana, from its scientific standing to its use in multiple industries to its impact on food. As marijuana becomes more ingrained into everyday life, this is reflected in cannabis TV series and shows where the jokes are dropped in favor of deeper analysis. Here are some of the best 420 TV episodes and shows that feature the complexity and practicality of our favorite green plant.
High Times

Pot on TV has come a long way. For a long while, it was treated as taboo; the dad cop in Family Matters (aka the sitcom with Urkel) would make reference to how it caused crime, only for the actor who played Urkel, Jaleel White, to launch his own cannabis company in 2021. Likewise, it was also played up for laughs: Family Guy would put Brian and Stewie into a pot cafe and have them forget the topic of their conversation to scrape the bottom of the comedy barrel.
When the use of pot on television changed is hard to pinpoint, but the 2005 Showtime sitcom "Weeds" might have been the watershed moment where cannabis began to be taken seriously. While there were plenty of stereotypical pot jokes on the show, there were also moments of seriousness, including seriousness about cannabis' medicinal properties and the risks of getting caught using or dealing pot. Cannabis documentaries or non-fictional shows were filling airtime during this period, with examples like Live PD demonstrating the consequences of harsh drug laws across America. Only recently has cannabis become not just widespread but legalized, meaning that consumers are now able to peel back the curtain of its production, processes, and applications, giving rise to an entirely new genre of TV shows.
High Design

If you have ever watched "restaurant makeover" shows where Gordon Ramsay yells at a bar owner because their tap broke down, you may love High Design, a similar show based around rescuing dispensaries. Host Kim Myles travels across the country to different dispensaries, interviewing the owners and determining the weak spots in their businesses to attract more customers. Myles, who previously won the HGTV Design Star award, provides insight into how to re-brand, re-organize, and above all, re-design a dispensary for better service and sales. It's one of the best stoner TV shows, providing a unique behind-the-scenes look at the business of cannabis, available on Discovery+.
Cooked with Cannabis

The days of cannabis cuisine ranging no further than brownies and gummies is long past. Modern cannabis edibles are as diverse and complex as non-cannabis food, and many modern chefs enjoy the challenge of making food that melds well with the unique taste of marijuana. Cooked with Cannabis, available on Netflix, indicates the depth and complexity of this type of food, with episodes focusing on everything from pot BBQ to pot wedding cakes. It's the best weed cooking show Netflix has to offer, and you can binge on both episodes and good edibles as you go.
Lady Buds

Few industries have seen women succeed to the degree of the cannabis industry. Not only are many women interested in helping their family, friends, and community with herbal remedies, but many more have taken up the fight for legalization and reform. Lady Buds is one of the best cannabis documentaries on TV, available on Starz, telling the story of six women who helped move the needle on marijuana from underground production to mass legalization. It tells many stories all at once: the efforts of a few committed few to change major laws; the speed with which large corporations moved into new markets; and the consequences for those willing to put their necks on the line.
Cooking on High

While some cannabis cooking shows try to balance flavor with the tang of Sour Diesel terpenes, Cooking on High has a very unique angle. Not only must the food be good, but it must get the judges high as a kite. This makes the Netflix show very insightful and very funny: sometimes the food tastes excellent but does not get a buzz out from the judges. Other times, the food may not be the best, but it gets them into the stratosphere. It's always a fun time because you never know what will be the end result.
Bong Appetit

Imagine Snoop Dogg inviting world-famous chefs to a house party where they have to make great weed meals, and you have pretty much got the idea behind Bong Appetit. This Viceland show goes all out in terms of luxury and high-end food, putting meals on the table for dozens or even hundreds of guests who are hungry and ready to get baked. You can see Bong Appetit Youtube clips of their different styles, including a murder mystery party, that indicate the fun involved in the show's production. Find full epsiodes on Hulu here. Unlike other weed cooking shows focusing on minimalism, the Bong Appetit pantry is loaded to the gills, meaning that elaborate concoctions are on the menu each episode.
Do you enjoy any cannabis-centered TV shows? How have you found they increase your knowledge and appreciation of marijuana? Let us know in the comments below!