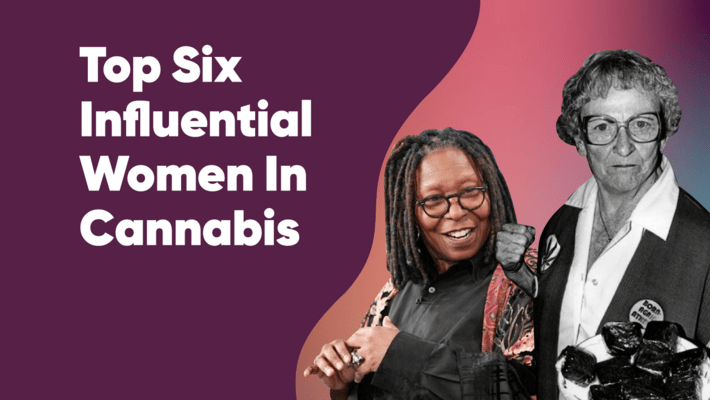 Top Six Influential Women In Cannabis
Legal cannabis here in the U.S. is more popular today than ever. No, seriously, Americans overwhelmingly love their legal weed. And, just like most other things, those Americans are very much willing to put their money where their mouth is when it comes to cannabis. That's why the legal cannabis industry in the U.S. alone is worth billions, with experts projecting exponential growth in only a few years. Simply put, legal weed is a cash cow that investors would be wise to jump on early and ride to early retirement. So it's no surprise to see big-name celebrities in cannabis.
We're all about equality and equity here at Where's Weed. We think the cannabis industry has always been and should be a space for opportunity for everyone, but especially for historically marginalized voices. And when it comes to legal cannabis, women aren't often highlighted. That's why we want to highlight six of the most influential women in cannabis today, highlighting their contributions, brands, and talent in a profound and meaningful way. The legal weed industry is more than just rich white dudes, and we want to spotlight some of the ladies who have carved out a space of their own in a niche as competitive as legal weed.
Let's get right into it!

For the first entry on our list, we're keeping things old school! We want to highlight Mary Jane Rathburn, a long-time legal cannabis advocate known as "Brownie Mary," and her mission to normalize cannabis as medicine.
Known today as the "Florence Nightingale of the medical cannabis movement," she worked alongside other legal cannabis pioneers like Dennis Peron to sell cannabis-infused brownies all over San Francisco. Her cannabis-infused treats helped people with HIV, a then-unknown illness that was ravaging the LGBTQ+ community in the Bay Area, to better control their appetite, mood, and nausea. From there, she started handing out brownies for free, famously donating her Social Security and brownie selling profits to the cause. She was an advocate and ally throughout the 80s and helped bring attention to the spread of HIV into mainstream attention in a time when elected officials were happy to try to sweep it under the rug.
She is a shining example of what good advocacy looks like, and the world, not only the medical cannabis community, is better for having her in it.

Marta Stewart has come a long way in the hearts and minds of many. She was a beloved cooking and housekeeping icon, known far and wide for her various shows and platforms. Others might know her for her well-publicized friendship with West Coast rapper and entertainer Snoop Dogg. However, it might surprise many to learn that she has a CDB topicals brand of her own as well! Her products may be an excellent intro for someone who might not know much about medical cannabis. These low-dose CBD products are a great way to bet on the benefits of medical cannabis without the high! Great as a gift for an aunt, grandparent, or someone who is just coming around to the idea of legal weed, seeing a women-owned cannabis brand backed by a familiar face like Martha Stewart might be just what they need to give this CBD topical a try!

Not only is Kristen Bell a beautiful and famous actress known for her roles in smash-hit successes like "Frozen," "The Good Place," and "Veronica Mars," but she's also the co-owner of Happy Dance, a CBD skincare brand made by and for Moms!
For Kristen Bell, CBD skincare is personal. Bell herself uses CBD for skincare herself and swears by the results, which in part drove her to get into the legal weed space. She wanted to create a brand that helps hard-working Moms feel refreshed, rejuvenated, and a little bit better after they use these skincare products! Made from premium ingredients, full-spectrum CBD sourced from the best quality hemp, and full of terpenes and cannabinoids not found in other skincare brands, it's clear that Happy Dance sets itself apart from the pack. We highly recommend this brand for the women in your life, especially if those women happen to be Moms!

The brainchild of famous actor, model, and singer Bella Thorne, Forbidden Flowers is a cannabis lifestyle brand that's as unique and interesting as the woman who founded it. After it, a Bella Thorne weed brand makes sense on the surface, right?
The brand offers either cannabis strains flower itself or pre-rolls, specifically designated for different purposes. One strain is called "Chill Out," seemingly crafted by the Forbidden Flowers brand to pair with watching a movie, reading a book, listening to music, meditation, or drifting off to dreamland. Meanwhile, their "Turn On" strain is designed for intimacy, exploration, connection, and ecstasy, seemingly explicitly crafted to be enjoyed with other people.
Regardless of what you're looking to do, there's a Forbidden Flowers strain to pair with it! We highly recommend checking out women-owned brands like this one.
Whoopi Goldberg

Whoopi Goldberg is an icon for many reasons. She's been involved in culturally relevant shows and film projects for literally decades now, she's an elder statesman for Black actors and actresses in Hollywood, and she's an outspoken advocate for legal weed. What many might not know, however, is that she's gotten involved in the industry herself!
Goldberg has opened several cannabis businesses now, first, Whoopi and Maya, a medical cannabis brand focused on serving medical products to those suffering from menstrual pain. Now, Emma and Clyde a brand dedicated to providing customers an "elevated and socially conscious product line" featuring a "range of edibles, pre-rolls, flower and accessories for medical and recreational consumers."
It's clear that she's committed to carving out a presence in the legal cannabis space, no matter which brand she's working with. Whoopi Goldberg cannabis brands will be a factor in the space sooner rather than later. And we here at Where's Weed think the industry as a whole will be better for it!
Beyonce

Last but for sure not least, we have Queen B herself, Beyonce. Knowing the smart moves she's made over the years and the global empire that she and her husband have worked together to build, is it any surprise that she's a part of this list?
Beyonce made headlines last year when she opened up publicly about her love of CBD products and her desire to open a hemp farm of her own. The RnB mega-star said in an interview, "I discovered CBD on my last tour, and I've experienced its benefits for soreness and inflammation," she said. "It helped with my restless nights and the agitation that comes from not being able to fall asleep."
With her husband Shawn "Jay-Z" Carter recently launching his own cannabis lifestyle brand: Monogram. He even created a $10 million fund for black cannabis business owners to get off the ground, we wouldn't be surprised to see the Carters making a splash in the legal weed scene sometime soon!
Which influential women from this list is your favorite? Have others you want to add? List them below!