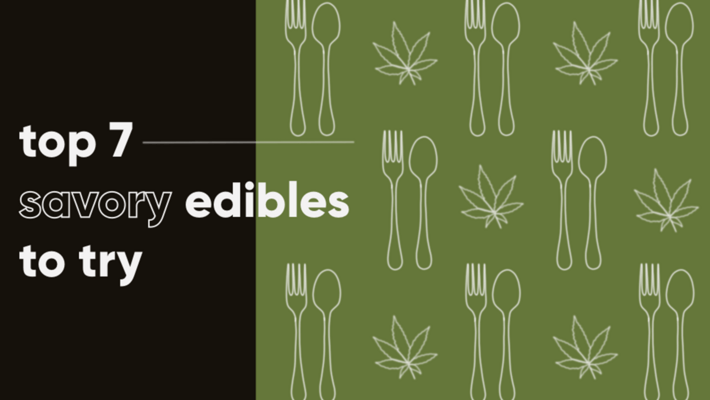 Top 7 Savory Cannabis Edibles to Try
Head to your nearest dispensary and odds are good you'll see a laundry list of sweet weed edibles: gummies, cookies, and of course the classic brownies. A sweet tooth will serve you well whenever you are in the mood for infused edibles, but not everyone wants a snack to be sweet. Luckily, savory edibles are making major headway in the cannabis industry, offering a salty alternative for those who want a good snack as well as a good buzz.
Hungry For More
Some of the cannabis industry's greatest successes have been the production of edibles, which outperformed the industry itself during 2020. While some cannabis products haven't had any luck sticking to the market (tinctures have dropped to less than 1% of total products sold), 420 edibles have proven to be in steady demand by consumers who know what they want when it comes to consumption. Indeed, edibles have managed to expand to include new THC- and CBD-infused beverages, whose sales grew fourfold in 2020. The best savory edibles offer a wide variety of treats, up to and including entire entrees.
Badfish Extracts Beef Jerky

Badfish won third place in the 2014 U.S. Cannabis Cup edibles competition due to their "reef jerky", combining their terp sauce with dried beef to create a snack that is downright tantalizing for those who like jerky on hikes, bikes, or just for an afternoon chilling on the couch. With two flavors, Maui Waui and Firestorm, these savory THC edibles clock in at 100 milligrams, making them slightly more potent than your average joint. Badfish Extracts Beef Jerky is available in California.
American Baked Co. Tomato Soup
If the idea of a hearty lunch of tomato soup and grilled cheese brings back childhood memories, good news: American Baked Co. wants you to re-live your childhood with an adult twist. Their soup won't send you to the moon, since a serving has just 10 milligrams of THC. Since it only requires adding water, however, and is lightweight as well as delicious, it's one of the best campfire-ready canna infused treats around. Available in Washington state.
FlourChild Granola
Called an ode to the west coast, FlourChild granola may sound like a sweet treat - perhaps when combined with peanuts and chocolate, but its ingredients are straight from the salty section of a vending machine. This snack collection includes oats, olive oil, sesame seeds, figs, sea salt and of course, homemade cannabis resin for a kick. An 8-ounce jar contains 120 milligrams of THC, perfect for a snack on the go or a topping for salads and dips. Available in California
Omedibiles Olive Oil

Om Edibles describes their company philosophy as making cannabis into a superfood and while you may not find it at Sprouts next to the quinoa and almonds, there are lots of options on the table when you use their infused olive oil, available in California. If you're wondering how to make edibles yourself, start with this olive oil as a mixture base for everything from fish to tofu, use it as a dip for flatbread or vegetables to enjoy on its own.
Clean Healing Pizza Sauce
If the idea of a pizza made with THC sounds too good to be true, fear not: Clean Healing has made a sauce that makes all things possible. Not only can you make the best stoner food in the world, but you can choose your dosage: they sell jars with 60, 150, or a whopping 500 milligrams of THC, allowing you to determine just how far to the moon you want to go on pizza night with these weed edibles. Available in California.
Sweet Grass Cannabutter
Cannabis-infused butter, or cannabutter, is the basis for traditional THC edibles: take your weed, add it to melted butter, and that's about all the work you need to do. Although cannabutter is most often used for sweet treats like brownies, it also opens up a world of possibilities for savory snacks and Sweet Grass' cannabutter is some of the best on the market, available in California. Their 100mg THC sticks allow you to use as much or as little as you want: melt it over popcorn, use it to make bread, or fry a grilled cheese sandwich in this delightful mix.
If we are cheating a bit on this last one by including a treat that's both salty and sweet, well, it's only because it's worth it. Cornucopia's Karamel Korn might make English teachers go a bit "krazy" but the marijuana extract blend so perfectly with the popcorn, brown sugar, sea salt, and vanilla flavorings. At 60mg it won't knock you out, either, meaning you can snack without worrying about it creeping up on you. Available in Arizona.
What are your favorite savory snacks? When you've got the pot munchies, do you prefer salty over sweet? Let us know if there are any others worth trying, or if you've whipped up any edibles in the kitchen that were delicious!