How to Find a Quality Marijuana Dispensary Near You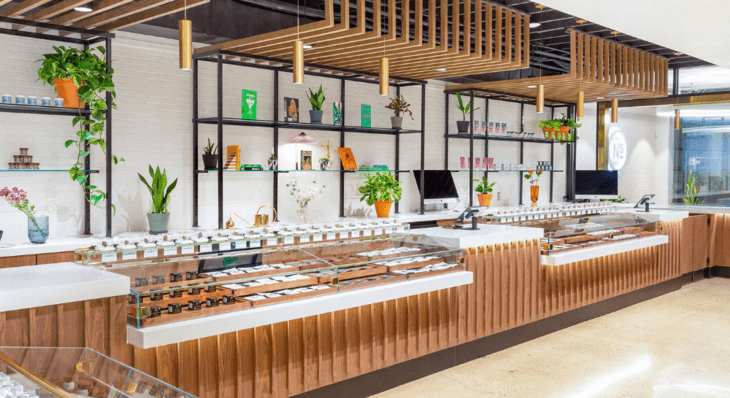 Although an influx of dispensaries popping up all over the country may seem great for the consumer, it can often be difficult to find the best dispensary that offers both a great in-store experience and selection of quality products. Like any retail business, some dispensaries are top-notch and some simply aren't. So, how do you tell the difference as a consumer? Have no fear -- we're here to help you figure out what makes a quality dispensary, how to find them amongst the sea of options and what questions to ask a budtender once you arrive.
An Increasingly Saturated Dispensary Market
With cannabis legalization continuing to spread across the United States each year, the marijuana market has become one of the fastest-growing industries in the country. In 2019, the cannabis industry had a whopping 46 billion dollar impact on the U.S. economy and is expected to hit $130 billion by 2024. With new states legalizing marijuana in every election, we wouldn't be surprised if this number continues to rise quickly.
In particular, states like Michigan have quickly gained recognition when it comes to its cannabis market. The state legalized medicinal marijuana in 2008 and continued onward to legalize adult-use cannabis in 2019. While its adult-use market is relatively new, sales have grown at a rapid rate, surpassing Nevada to become the 5th highest-grossing state with sales over $1 billion.
In this rapidly growing cannabis market, many entrepreneurs have seized the opportunity and have started their own dispensaries. At the end of 2019, there were over 7,490 dispensaries open in the country. In Michigan alone, there have been over 100 recreational dispensary licenses granted, with many centered around the Detroit metro area. Although more options are typically a good thing, it's important to note what separates quality from quantity.
Factors That Make Up a Quality Dispensary
While some consumers may choose to visit the closest dispensary by doing a quick search for "weed near me," we believe that putting in some more research to find a quality marijuana dispensary nearby is incredibly important. Not only will you get the best service and have a safe experience, but you will also leave with the highest quality products. Be on the lookout for these traits when finding a dispensary near you:
General Store Experience

Although every consumer has their own preferences when it comes to shopping in-person, it's safe to say that a clean, bright and modern dispensary can often feel more welcoming than a sketchy hole in the wall. Nowadays, many dispensaries are elevating the experience to make the customer feel excited and comfortable to shop, complete with open rooms, bright lighting, cool modern touches and much more. We definitely recommend checking out these types of places that feel more like an Apple Store or Nordstrom's then they do a run-of-the-mill dispensary for a truly one-of-a-kind experience!
Variety of Products
An exceptional dispensary will offer a wide variety of high-quality products to cater to all cannabis consumers. When searching for dispensaries, be sure to check their website for a list of products available. Quality dispensaries, like New Standard in Detroit, will have a thorough list of options with an array of concentrates, flower, edibles, topicals and tinctures.
COVID Precautions
After dispensaries were deemed an essential business by many local governments, the cannabis market has continued to thrive in a difficult economy. Businesses that have taken extra measures to make their customers feel safe and comfortable throughout this pandemic have created a higher standard of quality. A good dispensary will offer product pickup, cannabis delivery and will consistently sanitize the store. Be sure to ask the staff what precautions they have taken recently to ensure the store is making safety a priority before you arrive.

Customer Service
Whether you're an expert cannabis consumer or new to the plant, dispensaries should be equipped with knowledgeable budtenders and staff that can help you throughout the entire purchasing process. Although it may be hard to tell how helpful the staff is from a dispensary's website, try reaching out on social media or calling in to ask a few questions before making the trip to the shop. Note that top dispensaries should be prepared to answer any questions you may have even when you aren't physically in the store.
Finding a Quality Dispensary Nearby
Unfortunately, not everyone lives near dispensaries, so doing some research ahead of time will help make sure the one you choose is top quality. Use these helpful tips to find a great dispensary near you:
Utilize a Dispensary Locator
Rather than doing a quick Google search of "best dispensaries near me," it would be beneficial to start your search on a dispensary locator such as Where's Weed. Here, you'll find dispensary listings in your area with store hours, customer reviews, links to a business's website and potentially an overview of their menu. This will help make sure you don't simply choose the closest dispensary, but the best one.

Sort Through Dispensary Reviews
Looking at dispensary reviews is a great way to get a sense of how good a dispensary is. Be sure to look for comments on how helpful and friendly the staff is, as well as satisfaction with the products available. For example, a customer from New Standard noted, "Excellent service. We called and they were super friendly and informative... They had the best atmosphere and on-display selection of any place we went in the city and I will come here EVERY time I visit!" If a dispensary has a decent amount of positive reviews like this, then it's likely worth a visit.
Scan Through Social Media & Website
When you find a good dispensary nearby, be sure to click through to the dispensary's website and social media pages. A website that is easy to navigate and has up-to-date information on store hours, products available and even a blog, is a good sign that a dispensary cares about their business and its customers. When scanning through social media pages, be on the lookout for recent, consistent posts that highlight the dispensary and what they believe in. Social media should also give you a better understanding of the personality and feel of the store.
Top Questions to Ask Your Budtender
When you visit a dispensary for the first time, it's important to ask questions to get a better idea of the dispensary, what products they offer and the quality of their customer service. If the budtenders are knowledgeable and helpful, they'll be able to help you with these questions without a problem.

What are your dispensary's newest products?
Asking a budtender what's new in the store will help show you that they're up-to-date on the latest trends and items in the shop. Whether it's tasty fresh bud that was recently harvested or the hottest new edible on the market, a good dispensary will have staff that is well-versed in new products to find the best option for you.
What's the difference between indica and sativa?
General questions (whether you know the answer or not) are great to ask to get a better understanding of how well the budtender can convey knowledge about cannabis to you. It's also a great ice breaker and can demonstrate great training and customer service. As a result, a good budtender will glady explain what's unique about indica vs. sativa, and what hybrid weed strains are -- all while doing so with a smile!
What are terpenes?
It should come to no surprise that buying behavior is greatly impacted by how well a consumer understands the product. Asking a more specific or advanced question about cannabis will help display the budtender's knowledge about the plant and products in the store to help you make the most educated decision before walking out the door. FYI - terpenes are what give cannabis its aroma and flavor, plus various effects.
Finding a Quality Dispensary: Bottom Line
After you've read through our tips and tricks to finding good weed at a dispensary nearby, our last piece of advice is to go out and actually visit a few places! If you feel comfortable, there's truly nothing like visiting a store in-person to get the full experience. And if not, feel free to call the dispensary and ask about delivery or curbside pickup options. After all, you will only know if a dispensary is good once you've tried it!