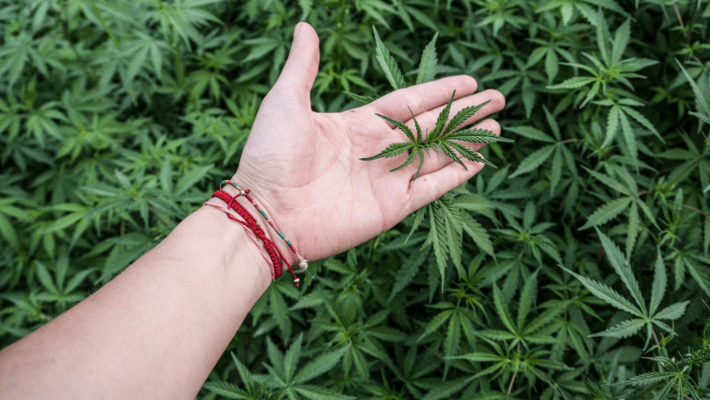 Outdoor Cultivation: How to Have a Successful Off-Season
If you grow cannabis outside, the fall months may as well be a holiday. But while late summer brings gorgeous flowering and late fall's "Croptober" celebrations are marked by massive harvests, heavily hung drying rooms, and the sound of constantly snipping trimming scissors, that holiday atmosphere quickly gives way to the outdoor off-season. From November to April, conditions in the northern hemisphere are too cold and wet for most full-sun cannabis crops to survive. Even if you don't want to try your hand at growing marijuana indoors in the winter, though, cannabis farming is a year-round job and there is still plenty to be done during your winter downtime.

In this breakdown, we'll cover all the ways you and your sun-grown cannabis company can stay ahead of the game during the post-harvest months. From hands-on fieldwork and future genetic planning to back-end business decisions and manufacturing build-outs, we'll help you make sure that your outdoor off-season isn't spent sitting indoors on your hands.
Clean Your Workspace

Sure, growing outdoors is inherently dirty, but that doesn't mean that your garden equipment should follow suit. In the weeks and months following marijuana harvest season, that means taking down all of your trellising, removing stumps, clearing irrigation lines, and making sure that every tool you use is sparkling for the next weed season. Maintaining cleanliness and regularly disinfecting your equipment is especially important as we continue to deal with the deadly COVID-19 pandemic. In addition to being a generally good practice, thorough cleanliness will help you determine what can be saved for next year's growing season and what needs to be replaced or refurbished.
Learn from Past Mistakes
Just like in professional sports, the cannabis growing off-season is the perfect time to reflect on recent endeavors with a clear head. Instead of reviewing game film, the winter months should be spent in part looking over your successes and failures from the previous year's cultivation cycle. From seed to sale, the down months are the time to revisit what worked and what didn't in both agricultural plant management and the business side of your company. Making mistakes in the field and the office are both inevitable, but what really counts is how you move forward and progress past those stumbles in the future.
Plan Next Season's Strains

The months after harvest are also the perfect time for research and development to determine what strains will grow in your garden next year. Not only should you be sampling all of your own flower for keepers and duds, but seek out strains and clones from across your state. When it comes to seeds, check out seedbanks from around the globe to find genetics that best suit your grow operation. Winter is also when the outdoor cannabis market is most flush with products, giving insight into market trends and which new strains and crosses are most popular in which states.
Think About Soil and Supplies Early
Once your entire cultivation space is cleared and cleaned from the most recent cannabis growing season, it's important to make sure that the same ground will be ready for a new batch of plants by Spring. For most outdoor growers that means selecting your nutrient-rich soil early and making sure that you order enough cubic feet to cover your planting area before the rush of growers in March leave your favorite supplier with nothing but empty pallets. The same goes for stakes, trellising, plant food, and any other supplies that didn't survive after your last grow. It's best to spend your off-season preparing for next year's grow rather than waiting until the last minute and trying to scramble and compete for supplies with the rest of the industry.
Add Industrial Improvements

In addition to replacing last year's busted supplies and tools, the off-season offers enough time and forethought for research and experimentation with new tools and techniques. As cannabis legalization and social normalization spreads further into the American mainstream, ancillary pot products have emerged alongside plant-handling companies to make the growing, harvesting, and trimming processes more streamlined. So whether it is new irrigation setups or the latest in trimming technology, it always pays off to do your research in the down months when it comes to finding new gadgets early.
Run Employee Reviews
Large or small, no one can run a cannabis cultivation company on their own. For better or for worse, the baron winter is the best time to review personnel and determine where you need more, less, or simply different people on your team. Most importantly, the time between growing seasons will allow you to take a long view of the manpower and processes needed to continue growing in the industry. With the future in mind, you can create or remove some cannabis cultivation jobs and make sure that you have the right staff in the right places by the time seed planting season comes around.
Take Some Time To Relax
On top of all that work, it is important to take some time to relax before you're back to planting, feeding, topping, trimming, and the rest of the hard work necessary to grow gorgeous cannabis. Cultivating cannabis is a tough, often isolating, painstaking endeavor. To make sure that you don't burn out, take time to chill and enjoy the fruits of your labor. That could mean a company-wide retreat, a week or two of vacation, or just a weekend smoke session. Cannabis is hard work, but it's important to take a step back and remember why you enjoy cultivation so much.
Do you grow cannabis outdoors? What are your off-season plans? Let us know in the comments below!