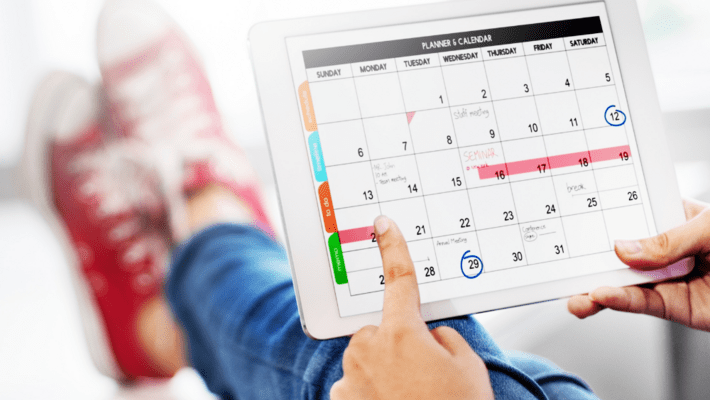 Creating the Perfect Cannabis Content Calendar
If you own or operate a legal cannabis company, you probably already know how competitive the market is. No matter what state you are based in, getting flower, cartridges, concentrates, and edibles into the hands of local consumers is a lot more complicated than just growing, harvesting, drying, and distributing your chosen strains. Outside of the cultivation and manufacturing processes, building a brand and marketing your company is integral to success in the rapidly growing green rush. As the industry evolves, content marketing has emerged as an engaging and effective way to entice, acquire, and retain customers.
For some companies, that content will take the form of frequent social media posts on platforms like Instagram, Twitter, and Facebook. Press releases and e-mail blasts also fall into the content marketing category. For more ambitious brands, though, a website with an original blog packed with articles and media directly targeted at your consumer base is a great way to appeal to your ideal buyers. In this piece, we'll cover the basics of targeted marketing and then dive into the importance of keeping up with holidays, industry events, product releases, and scheduling a content calendar that will maximize your brand's exposure and attract as many eyes, and inhales, as possible.
In the Cannabis Industry, Marketing Is Key

For generations, overarching prohibition and vigilant policing required that weed was marketed strictly by word of mouth. As the longstanding marijuana black market turned green, though, bud brands, dispensaries, and ancillary product producers started to flood the market, giving novice and experienced smokers alike more options than ever before. With many state programs preventing customers from smelling, touching, or seeing the bud before they buy and dispensary menus typically listing a pages-long index of interchangeable strain names, marketing is the best way to stand out in the packed crowd.

Whether your cannabis company operates in one state or across the legal weed landscape, creating a unified brand identity, iconography, and voice - paired with diverse, high-quality product selections - has been the most successful way to build up interest and devotion. To make sure your marketing endeavors are effective, the first step is to identify your target audience. Once you've figured out who you want to market to and what avenues you'll be using - social media, PR, original content, or all of the above - it's time to construct a content calendar and schedule your engagement outreach.
What is a Content Calendar?

Like any calendar, a content calendar is a schedule that maps the immediate, short term, and long-term future. For a cannabis business, a content calendar should track engagement opportunities and allow your marketing team to best focus their energy on targeted outreach while still looking ahead to the next project. If it is structured properly, a content calendar will mix product releases and PR releases with strategically scheduled blog posts and social media uploads covering holidays, current events, and local community happenings. For companies using a more thoroughly built out blog or YouTube channel, a content schedule constructed well in advance will give you insight into gaps that will better inform the timing on when to publish blogs, vlogs, essays, or interviews.

A content calendar can vary in scope, with some companies planning for the whole year in advance and others that look at things on a quarterly or monthly basis. But no matter how long - or short - you look ahead, there are a few tried and true sticking points that should be on every cannabis company's content calendar.
How to Create a Cannabis Content Calendar
Start With Overarching Events
Due to marijuana's tenuous legal standing across the globe, cannabis companies experience both the benefit and hindrance of having one foot in the mainstream business world and the other in a decades-old counter-culture. For marketing purposes, though, the industry's straddling position offers opportunities to reach all kinds of cannabis users, from daily tokers to CBD-curious consumers looking for wellness or pain relief. When your appeal is that broad, there is no better place to start than holidays. Whether you are planning discounts for dispensary buyers, awareness events, or even suggesting ways to celebrate, both national and local holidays are perfect catalysts for customer engagement. And when it comes to satisfying the counter-culture side of your audience, uploading posts, articles, and videos leading up to and celebrating holidays like 4/20 and 7/10 is just as important as posting on New Years or July 4th.
Get into the Customer Mindset
Once you've covered holidays, it's best to put yourself in your customers' shoes and think about common mindsets throughout the seasons. If you operate in a college town, back to school sales or campus advice columns on your website could help stir up sales. If your local community is in love with a local pro sports team, think about opening day and playoff season to drum up engagement. Does your area see vacationers in the summer? Ski fans in the winter? All of these local intricacies should inform your content calendar.
Highlight Cannabis-Specific Events

Next, think about the cannabis industry specifically. Your content schedule should include major annual milestones like planting season every spring and harvest season every fall, as well as local, national, and global cannabis events, competitions, and media. Thankfully, the cannabis industry is massive and only growing larger, and those content targets could be anything from spotlighting conventions and interviewing organizers to celebrating anniversaries of legendary cannabis-inspired films or albums.

Company-Specific Releases
Finally, it is important to create a content calendar based on your brand's product releases. From new strains, limited edition packaging, or collaborative projects, enticing new customers to your brand requires engagement with the brand itself. And once you've identified and started communicating directly with your target audience, content surrounding your product releases and plant-focused endeavors should generate engagement, not just online, but in dispensaries as well.

Do you use a content calendar for your cannabis business? Let us know if it works for you or any tips you'd add in the comments below!