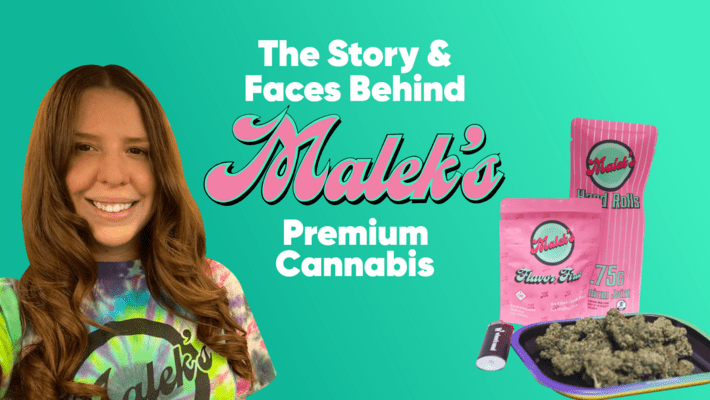 The Story and Faces Behind Malek's Premium Cannabis
Our friends at Malek's Premium Cannabis sat down with us to answer a few questions about the story behind their brand and incredible cannabis. If you're a fan of quality cannabis and appreciate the minds behind craft cannabis and one of the most unique brands in Colorado, this piece is for you.
Malek's Premium Cannabis
Based out of Denver, Colorado, Malek's Premium Cannabis is a high-end producer of fine cannabis that includes premium packaged eighths, Hand Rolls, Hand Rolls with Rip Tips, bud cones, and Dialed In Gummies. The company was founded by Malek Noueiry, who moved to Colorado over ten years ago to pursue a career in cannabis. Malek himself has has won more than 20 international awards, including 9 first place Cannabis Cup awards.
The Faces Behind the Name

To understand how Malek's Premium Cannabis produces such high-quality products and branding, we sat down with Katherine Wolf, their Chief Marketing & Operations Officer.
WW: What is your role at Malek's?
KW: I spearhead all of our marketing and brand outreach efforts, from creating our social media strategy to updating our website, building relationships with partners and vendors, developing budtender education resources, coordinating our event schedule, and more. I also oversee business operations, and my focus there is on how we can make our processes more efficient without sacrificing quality.
WW: How did Malek's come to fruition?
KW: Malek's Premium Cannabis is truly a passion project that has been years in the making. Throughout [Malek's] experience as a grower, he learned all about how to create new genetics and he's won 20+ international Cannabis Cups with his own seeds. It was always his dream to bring a line of products to the consumer market, which happened in 2020 when he acquired his own grow facility and Malek's was born!
WW: Where did the branding inspiration come from?

KW: When Malek was starting the brand, he noticed a lot of other cannabis companies using the same color schemes, a lot of green obviously, and blues and purples. There was no one doing pink or doing it well, which is how the inspiration for the "pink pack" came to be. We wanted to really stand out and do something different that would grab people's attention.
WW: What makes Malek's different from MSO-grown cannabis?
KW: I think our focus on flavor and small-batch mentality is really what sets us apart from other MSO cultivators who are more concerned with volume. Our grow team selects phenotypes based on quality and taste over yield because our end goal is putting out the absolute best-tasting flower.
We grow in small batches of 8-10 lights per strain, and once harvested, our flower is slow-cured for 12-14 days to optimize taste and moisture. Then it's hand-trimmed and packaged with care to seal in all that flavor and freshness. Our motto is "Flavor First" and everything we do really starts and ends with that. Each step of the process was designed to create a better smoking experience and every person on our team is truly passionate about what we're doing.
WW: What is your marketing strategy?

KW: Our marketing strategy is always growing and evolving as compliance regulations and best practices change! Cannabis companies aren't able to use some of the more "traditional" marketing channels, which has caused an industry-wide shift to platforms like Discord and the use of things like NFTs and apparel lines as marketing tools. This allows brands to stand out, build a following, and be a lot freer with what they can say and do in regard to compliance because these channels aren't as regulated as Instagram, for example.
Education is also a super important part of our marketing strategy. Since we have in-house crosses and exclusive genetics that aren't as common on the market, teaching consumers about the flavor profiles and effects of our unique strains is essential. We also have collectible postcards featuring a grower's take and smoke stats on some of our top strains that you can find at our events and in our partner dispensaries. I've also found success with showcasing behind-the-scenes and lifestyle content on our social media.
WW: We heard you started an NFT collection. Can you tell us about that?
KW: Yes, we're piloting a proof-of-presence NFT-based loyalty and rewards system with Jayloto NFTs right now that is super exciting! We do a unique design for each event that is free to get, you just need to be 21+ and physically present at the event. You just go up to our table, register your Malek's Wallet with an email address and password, then scan the custom QR code to get your NFT. The idea is to build a collection of different Malek's NFT graphics from all our various events.
WW: How does Malek's work with other cannabis brands to elevate your marketing strategy?

KW: We love partnering with other brands and companies who share our "flavor first" mentality. These partnerships are a super valuable part of our marketing strategy for a few reasons. First off, building relationships and working with people who are the best at what they do in other areas of the industry helps our team continue to learn and innovate.
It also really drives brand awareness and makes it possible to reach people we may not have ever been able to get in front of before. For example, I love doing collaborations with Dialed In Gummies because it allows customers who maybe don't ever smoke flower and just eat edibles to hear about our brand and try a Malek's product. Another one of my personal favorite partnerships is our limited time Hand Roll and Rip Tip drops with Denver-based glassblower Gordo Scientific. These glass tips can be reused for a more sustainable session and have our logo imprinted on them, so it reminds people of our brand long after they've smoked the original joint they bought from the dispensary.
WW: So, what's next for Malek's?
KW: Big picture, we're focused on crushing the Colorado market and continuing to find creative, innovative ways to connect with our customers. We've got some new strains coming out soon and a lineup of awesome events I'm really excited about. Stay tuned on our website. We have an event schedule and strain drop release page updated weekly. We also are always posting what we're up to on Instagram stories!
Where Can You Buy Malek's Premium Cannabis in Colorado?
If you haven't already, we highly encourage you give Malek's a try. You can find their products in over 70 dispensaries throughout Colorado, most of which are in Denver, Pueblo, and Boulder. Some of the bigger dispensaries you can visit to buy some of Malek's cannabis include Nature's Kiss, Cookies Denver, Medicine Man, Lucy Sky, and Maikoh Holistics. One gram of pre-roll flower will run you roughly $8-$12, Hand Rolls will run you around $20-$30 for 1.75g, and an eighth of pre-packaged flower can go anywhere from $30 to $50.