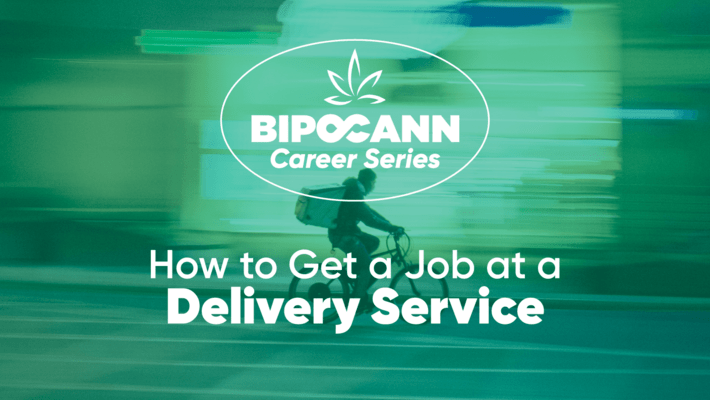 BIPOCANN Career Series: How to Get a Job at a Delivery Service
When it comes to the cannabis industry, getting into the industry is the hardest part. We've teamed up with BIPOCANN and its network of businesses working to shape a more accessible and profitable legal cannabis industry. Here's how you can get a job at a cannabis delivery service.
What the Career Path in Cannabis Delivery Services Looks Like
Delivery driving isn't just limited to food. The cannabis industry is making its mark in the legal delivery world too.
Even big-name rideshare and delivery services like Uber have publicly commented on the possibility of expanding to cannabis delivery services if it becomes federally legal. As of this writing, cannabis is not federally legal, so there's a bit of a gray area for delivery businesses in this industry.
Even while cannabis is still federally illegal, delivery services are available. And there are multiple career paths available within them. Read on to learn where the careers in cannabis delivery services stand now, what they require, and how you can get started.
Careers in Cannabis Delivery Services
There are a few career paths you can choose from in cannabis delivery services. These are drivers, managers, and designers.
Drivers
Drivers are literally on the ground, actively making deliveries to order destinations. You'll pick up the products ordered by the customer, deliver them, and repeat the process until you fill all the orders. Drivers are entry-level, so there typically aren't many prerequisites to get the job.
For Michael Diaz-Rivera and his business, Better Days Delivery, drivers are his most significant need. "They're the face of my company, and driving cars takes me away from the other responsibilities I have," he says.
Managers
Managers handle the back end of the delivery services, ensuring operations run smoothly. You'll be responsible for scheduling deliveries, routing, and record-keeping. You likely wouldn't be making deliveries, but it's possible if you're understaffed.
Designers
Designers create the service and interface that managers and drivers use. UX/UI designers, graphic designers, and web designers are the people creating the services that the managers and drivers use. This job requires technical skills, and you may need a strong background in coding to be qualified.
Experience and Prerequisites Needed for This Career Path
There aren't many prerequisites to go down the career path in cannabis delivery. For instance, being a safe, experienced driver is one way to get your foot in the door without needing to know much about cannabis. You don't necessarily need experience as a former delivery driver, be it pizza or Amazon. If you're new to cannabis, this path is easily accessible.
Do You Need a College Degree?
You don't need a college degree to have a career in cannabis delivery services, but you need other licenses to work in the industry. You'll need a valid driver's license and state-required cannabis handling licenses. Even though drivers will only be delivering packaged cannabis, they're still handling it in some capacity and must adhere to any compliance mandates.
In Colorado, for instance, the state requires delivery drivers to have a validColorado MED employee badge and take vendor certification training.
For Diaz-Rivera and his delivery service, job applicants should know about cannabis and being responsible drivers. "Not only do they need to be able to drive my cars, but they need to be knowledgeable about the product," he states. "Those with cannabis experience are more equipped to do that."
How to Get Started
Check with local dispensaries to inquire about delivery services they partner with or if they have in-house positions available. You can also find these opportunities on job boards.
With larger delivery services, like Eaze and Emjay, you can find openings on their websites for delivery drivers or reach out to them directly if interested. Be mindful of any certifications or licenses you'll need that may be unique to your location and position.
Diaz-Rivera suggests that as an applicant, you should "be teachable- and solution-oriented" as the cannabis industry is still in its infancy.
What Other Industries Best Translate to Cannabis Delivery Services?
A few industries best translate to cannabis delivery services, namely sales and delivery. If you have experience designing and building apps, you could theoretically jump from any other industry to cannabis, as long as you have the chops.
In sales, you can work in cannabis by being in a position that allows you to package or put together the orders for delivery. You could also manage the routes, schedules, and paperwork. There's also a need to connect with decision-makers at dispensaries to form partnerships. Every industry has business development, and cannabis delivery is no different.
If you're a delivery driver for a big-name brand like Uber, Grubhub, and DoorDash, you might not even have to leave your job to join a cannabis company. These brands haven't added cannabis delivery to their services yet, but it's not out of the realm of possibility. Uber in Canada has already established a way for customers to arrange for pickup in select dispensaries through their app.
The Demand for Cannabis Delivery is Growing
As a consumer, sometimes it's a struggle to make your way to the nearest dispensary. And with the pandemic still lingering, staying home is more popular than ever. Thankfully, millions of Americans can have cannabis brought to their doorstep just by clicking a few online buttons. As more states legalize, delivery drivers from California to Massachusetts are helping to get cannabis into the hands of the people.
When you look at the growth of the cannabis industry, it's fair to say there are plenty of opportunities. At the very least, there's a need for delivery services as dispensaries continue popping up all over the map. According to a report, the cannabis industry currently supports over 428,000 jobs across the United States.
Nineteen statesare home to recreational dispensaries, so there's still room for growth. If this trajectory continues, there will only be more careers available in retail and delivery. New laws (such as consumption lounges), trends, and social acceptance all play a role in moving the industry forward to create more jobs.
Jobs You Could Transition to Beyond Cannabis Delivery Services
If the cannabis industry is where you want to be, countless opportunities await you.
You could transition to any of the following:
A grower or extractor
An edibles chef
An inspector
A dispensary manager
A budtender
A marketer
A front desk associate
A packager
Examples of Day-to-Day Responsibilities in Delivery
Working in cannabis delivery services will rarely be the same from one day to the next. As a delivery driver, you'll take different orders to different locations. Some days will be busier than others. As a manager, you'll be putting together new orders, creating routes, and managing paperwork. There may be customer service issues that need to be addressed.