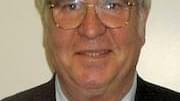 Why Can't You Smoke Pot? Because Lobbyists Are Getting Rich Off of the War on Drugs
A relatively new webpage called Republic Reports (a project of United Republic with the sub moniker 'Investigating How Money Corrupts Democracy') has turned much needed public attention to one of the five pillars of Pot Prohibition: The Law enforcement community's role in perpetuating another possible 74 years of Cannabis Prohibition laws in America.
I knew that lobbyists were responsible for many poor and dishonest political happenings, but little did I realize lobbyists, John Lovell in particular, are using the 'War on Drugs' to run profit generating legal schemes. Lovell petitions on behalf of local law enforcement organizations for Federal grants for penalizing drug use.
So while California's legislators and the community as a whole has spoken outwardly about making marijuana enforcement a priority, lobbyists like Lovell have been undermining that intention by encouraging as much Federal intervention as possible for the benefit of their own pocket books. Isn't it great to see your tax dollars being pushed into holes devoted to undermining your votes?
Local/state police, sheriffs, prosecutors and federal agents from the DEA claim, as they often do, that 'they don't make the laws, they only enforce them'.
Is this really true? Not according to Republic Report.
John Lovell is a lobbyist who makes a lot of money from making sure you can't smoke a joint. That's his job. He's a lobbyist for the police unions in Sacramento, and he is a driving force behind grabbing Federal dollars to shut down the California marijuana industry. I'll get to the evidence on this important story in a bit, but first, some context.
At some point in the distant past, the war on drugs might have been popular. But not anymore — the polling is clear, but beyond that, the last three Presidents have used illegal drugs. So why do we still put hundreds of thousands of people in steel cages for pot-related offenses? Well, there are many reasons, but one of them is, of course, money in politics. Corruption. Whatever you want to call it, it's why you can't smoke a joint without committing a crime, though of course you can ingest any number of pills or drinks completely within the law.
Some of the groups who want to keep the drug illegal are police unions that want more members to pay more dues. One of the primary sources for cash for more policing activities are Federal grants for penalizing illegal drug use, which help pay for overtime, additional police officers, and equipment for the force. That's what Lovell does, he gets those grants. He also fights against democratic mechanisms to legalize drugs.
In 2010, California considered Prop 19, a measure to legalize marijuana and tax it as alcohol. The proposition gained more votes than Meg Whitman, the former eBay executive and Republican gubernatorial nominee that year, but failed to pass. Opponents of the initiative ran ads, organized rallies, and spread conspiracy theories about billionaire George Soros to confuse voters.