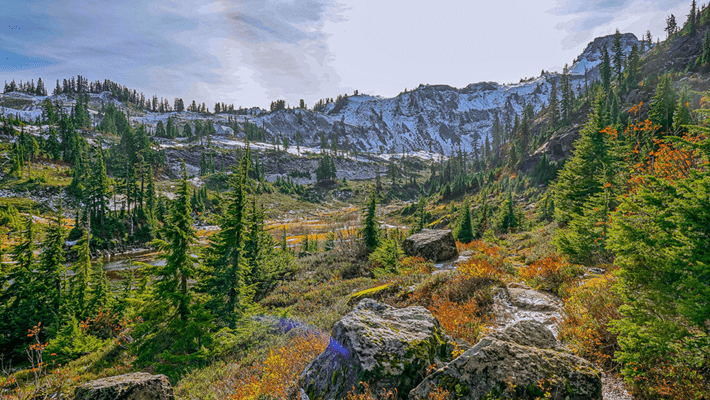 Will Washington State Legalize Home Grow Marijuana?
A legalized recreational cannabis can bring a lot of fun and certain perks to states that are lucky enough to allow it. One of those perks can be growing marijuana, yet this is surprisingly something that not all recreational marijuana users can legally do. Even though Washington state has been at the forefront of cannabis legalization in this country, the state's weed laws are still lacking the option to home grow, but that may all be changing soon.
Washington State Marijuana History: Medical Marijuana

As with just about all states, cannabis has had a rocky road leading to where it is today. In fact, Washington was among the many states that initially criminalized weed. However, by the year 1971, the Washington legislature finally recognized weed as neither a narcotic nor an opioid, which was a step in the right direction.
If you've been wondering, "is weed legal in Washington?" or, "when did legalization happen?" look no further. Fast forward to 1998 when Initiative 692 (I-692) passed, allowing patients to consume marijuana for medicinal purposes. 59% of the voters approved I-692 and allowed patients with certain terminal or debilitating conditions to use it, while also giving affirmative defense to criminal prosecution to those who possess no more than a 60-day supply.
Next, in 2007, lawmakers added a measure to I-692 where it increased the types of healthcare professionals allowed to authorize the use of medical marijuana, including physician assistants, advanced nurse practitioners and naturopathic physicians. Later, in 2011, SB 5073 changed requirements for authorization for medical weed to qualifying patients and also guided healthcare practitioners, provide patient protection and gave the ability to form collective gardens. Today, there are 35 states, plus Washington D.C. that allow medicinal marijuana.
Washington State Marijuana History: Recreational Marijuana

So far, we know that Washington has allowed marijuana for medical purposes, but you may still be wondering, "Is marijuana legal in Washington on a recreational level?". The answer is yes! Washington, along with Colorado, were the first states to pass laws allowing weed for recreational purposes.
Recreational cannabis occurred in Washington in 2012 through Initiative 502, which allowed those 21+ to possess one ounce of marijuana from a state-licensed and regulated dispensary. I-502 also provided hallmarks for the legal weed market, providing the likes of regulation and enforcement, seed to sale tracking, testing and labeling requirements, serving size limits, product restrictions and taxation. I-502 also dedicated a percentage of tax revenue for substance abuse prevention, research, education and healthcare. It is clear that this initiative has been quite popular and successful, as recreational marijuana in Seattle is one of three places in America where marijuana use tops the use of nicotine.
Is It Legal to Grow Marijuana in Washington State?

Marijuana use is at an all-time high, and the marijuana business is booming, even in the wake of a global pandemic. With marijuana legalized at a recreational level, it is safe to assume that it growing in the comfort of their own home would also be legal. However, the question of, "Can you grow marijuana in Washington?" is still not a black and white answer. Out of all the states that have recreational cannabis, Washington is still the only state where you cannot grow at home. However, this does not include the states that have just legalized it in 2020, including the likes of New Jersey and South Dakota, among others that have not finalized their recreational laws.
I-502 only allows licensed growers or producers, under the law to cultivate the plant for recreational use. However, medical patients are allowed to grow up to 6 plants under the law, but they must register with the state. Unfortunately, this law limits no more than 15 plants in a single house, even if multiple MMJ patients are under one roof.
Why the Lack of Home Grow Laws?
Some legislators believe that home grow laws allow for increased access to drugs, even though this is a stance that many refute. People also believe that growing at home could divert marijuana to an illicit market and possibly take away tax revenue.
However, most believe that the 2012 Initiative omitted home growing because then customers would pay taxes on sales and regulated products become standard. This made the measure more acceptable to voters back in 2012, and likely why the measure passed.
The New Home Grow Bill

The new bipartisan bill, HB 1019 has a vote set for January 2021, but this bill started on the floor in 2015 and hasn't made much headway since. This bill allows those 21+ to grow up to 6 plants and keep the cultivated weed, which is a similar provision to most other recreational marijuana state laws. Additionally, the bill calls for a maximum of 15 plants in a single household, and the plants must follow pretty rigorous label requirements. The grower must mark each plant with their name, address, DOB and date planted. Unlike MMJ patients, you won't need to register with the state or obtain any sort of license.
A caveat of the Home Grow Bill is that landlords can forbid it, and the plants must be out of ordinary public view. Basically, this means that people shouldn't see the plants from public streets, sidewalks or adjacent properties. Unfortunately, only time will tell if Washington will catch up with the rest of the country as legalization continues to spread.
What do you think of the current laws in Washington state? Do you think passing a Home Grow Bill will have any adverse effects? Let us know below.