Making Easy, Delicious THC Firecrackers: Marijuana Recipes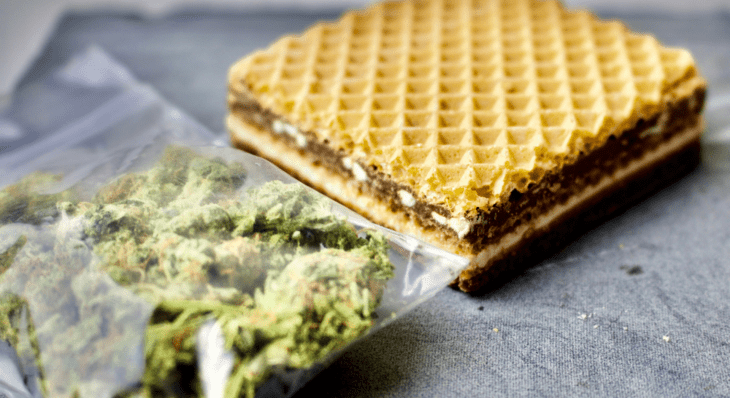 Published on Oct 29, 2020
Weed firecrackers are one of the simplest and most familiar cannabis edible recipes out there, so it is perfect for beginners. For those of you who don't know exactly what a firecracker is, you're in for a real treat. This easy munchie dessert is basically a s'mores treat with a stoner twist to it, featuring a yummy spread of chocolate, marshmallow, graham crackers, and of course, weed. Most cannabis edible recipes will require you to incorporate a THC-infused ingredient, such as cannabutter, into the mix. However, these firecrackers will have decarboxylated marijuana flower added directly to the recipe. You may be thinking that actual cannabis might be a bit difficult to consume, but combined with the rest of the firecracker ingredients, everything goes together surprisingly well for your taste palate, making this delicious dessert extremely addictive.
What is Decarboxylation?
In order for this cannabis firecracker recipe to actually get you high, the THC and other cannabinoids laying dormant within your marijuana need to be activated with the process of decarboxylation before they are added. Raw cannabis flower consists of the cannabinoid THCA, which is the precursor to THC's potent effects. Our body's endocannabinoid system doesn't absorb THCA, therefore any ingested THCA will not produce the desired psychoactive effects. This is where decarboxylation comes in, which involves using specific amounts of heat, time, and light to transform THCA into THC.

Dosing Your Firecrackers
There is a bit of math involved in order to properly dose your homemade marijuana firecrackers, but to make your life much easier, plenty of dosage calculators can be found online to approximately determine the THC percentage for your recipe. Start off with a small amount of weed at a time; remember that you can always add more later, but you can't take away.
How to Make Weed Firecrackers
Ingredients
Decarboxylated weed (1/2 - 1 gram per cracker, depending on how potent you want to make them)
Marshmallows
Graham crackers
Chocolate or hazelnut spread
Directions
Preheat your oven to 320 degrees Fahrenheit.
Gently mix 2 teaspoons of your desired hazelnut or chocolate spread with the decarboxylated marijuana in a small bowl.
Spread the mix on 2 crackers, and top each of the crackers with another cracker to create a sandwich.
Wrap the cracker sandwiches in tin foil and place them in the oven for 17 minutes.
Once done, remove them from the tin foil, and add a marshmallow in between the cracker sandwiches.
Place them in the oven for another 2 - 3 minutes, and then, voila! You've got yourself a tasty THC firecracker.
Have you ever tried making a weed firecracker? Have any tips or tricks for making edibles that you'd like to share? Comment below and tell us!