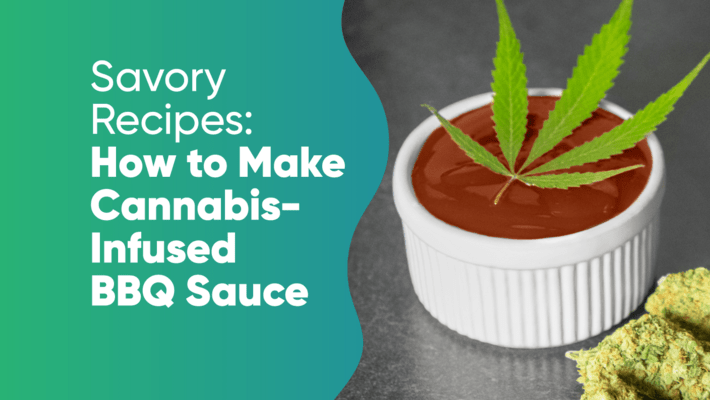 Savory Recipes: How to Make Cannabis-Infused BBQ Sauce
Summer is already here, and it may be our first normal one in a while. Summertime means concerts in the park, road trips with friends, and camping under the stars. This time of year also ushers in cookout season, where everyone gets to display their latest and most extraordinary recipes. If you want to step your game up this season, consider making a medicated BBQ sauce recipe that will wow the crowd this summer.
How to Infuse BBQ Sauce, Or Anything Else
When infusing some of your favorite foods and tasty treats, there are a few key steps not to miss to ensure the best edible creation every single time. If you're ready to try your hand in the cannabis kitchen, follow these crucial steps below so that you and your friends have the best session.
Decarb the Dank
Believe it or not, eating a raw nug of cannabis doesn't get you high. These dried buds are bursting with the chemical THCa, the precursor to THC, which must undergo a process that includes time, heat, and light to activate the psychoactive compounds. This process is called decarboxylation, and while it may seem highly complicated, all you need is your oven to complete the process to start your infused BBQ sauce. Simply preheat your oven to 240 degrees Fahrenheit, grind up your bud, and place it in the oven for 30 to 40 minutes.
Dosing 101
Luckily for everyone, we've come a long way in the industry and culture and have mostly said goodbye to the days of too-weak and terrifyingly-too-strong weed edibles. While we recommend using a trusty dosing calculator, if you want to try your hand at cannabis math class, we have a few pointers and an in-depth guide you can follow here.
Here at Where's Weed, we always recommend starting slow and going low, or consider trying low-THC, high CBD strains to start. No one wants you or your friends to launch into outer space from the edibles. It is important to remember that the strength of the homemade treats will depend on the fat saturation content of the base you choose. The higher the saturated fat content, the more THC will be retained during infusion. Following a few simple steps will ensure that your weed BBQ sauce is perfect every time.
Choose Your Cannabis Base
The steps to infusing oils are the same, regardless of the type used. So, whether it's honey, vegetable oil, or coconut oil - you're in luck regardless. The main difference is that the contents will affect potency, so choose wisely.
Once you have activated your cannabis through the decarb process, you'll heat your desired oil in a medium saucepan and add the cannabis to the mix. Cook on low heat for 3 hours, making sure not to let the mixture boil or simmer, while stirring occasionally. Line a mesh strainer with a cheesecloth and place it over a large bowl. Pour the oil over the cheesecloth, allowing excess oil to strain through. Allow the oil to cool completely before placing it in an airtight container. You're now ready to create your THC barbeque sauce.
Infused BBQ Sauce Recipe

Now that you've read the easy steps, it's time to get into the kitchen. There are many ways to create a delicious BBQ sauce, and today we'll be using one with a honey base. Here is a guide to creating canna-honey, even though we touched on it above.
Ingredients:
3/4 cup ketchup
1 1/2 teaspoons canna-honey
2 1/2 tablespoons regular honey
1/2 teaspoon cider vinegar
1/2 tablespoon yellow mustard
In a small bowl, combine all ingredients and mix thoroughly.
Divide into 4 portions (about 1/4 cup each) to reach proper dosing.
Slather each portion onto the meat (or meal) of your choice.
Enjoy!
Ways To Use Your Cannabis-Infused BBQ Sauce
So, you've just dosed this delicious sauce and don't know what to do next. Luckily, BBQ sauce is so versatile and can go on so many things, and we've got a few tasty ideas for the next time the munchies hit.