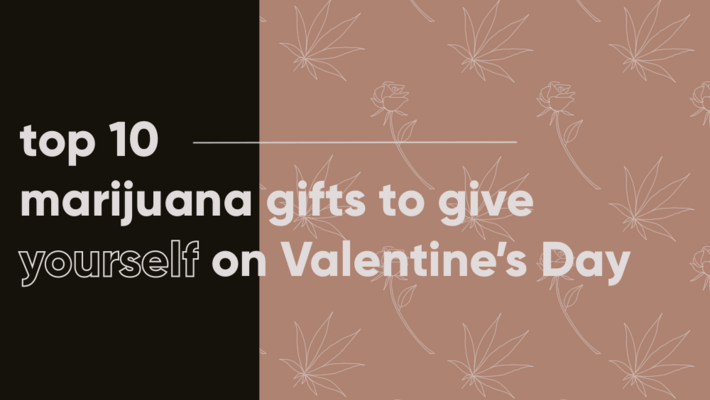 Top 10 Valentine's Marijuana Gifts to Give Yourself
Let's be honest with each other for a moment to acknowledge that 2020 was tough. To make a difference and build a better year, let's all purposefully write the first few months of 2021 as something healthier and more positive. The Holidays have come and gone, it's the new year, and now we're looking ahead to the next holiday: Valentine's Day. To embrace a positive 2021 spirit and celebrate self-love, we've created this guide to Valentine's Day ideas to gift yourself this year. Show yourself you're worth it and take a look at what might brighten your February.
The Best Cannabis Valentine's Day Gifts

There are a lot of different fun ways to spend a chill night by yourself (or with friends) on Valentine's Day. One of our favorites has to be popping a few gummies and riding a head high through some B-tier romantic comedies. We highly recommend Mindy's Edibles, which come in some ridiculously good flavors, including Lush Black Cherry, Freshly Picked Berries, and Cool Key Lime Kiwi. Mindy's is available in Michigan, Illinois, Nevada, Pennsylvania, California and several other states.

Vape pens have become a staple to any stoner's collection, and while many on the market make for Valentine's Day gifts, this is one of your best options. The Pax Era Pro Vape Pen offers a high level of control and accuracy with different types of cannabis oil. It's sleek, fits in your pocket, and is easily available online! All you have to do is choose what you want to fill it with and smoke!

There's nothing quite so satisfying as a new grinder. Fresh, clean and just a little fancier than your last one. This is the gift that will keep on giving long after you gift it to yourself. We highly suggest any product from Golden Gate Grinders, but think this small, 4-piece aeronautical-grade aluminum set is a great bang for your buck. It's slick, easy to use, quick to clean, and grinds evenly and consistently. Buy it online!

Especially if you get yourself a new grinder, you should consider pairing the gift with a new hand pipe to complete the set. Chameleon Glass has some funky, fun designs, but they also have durable, high-end glass pipes that are easy to clean and super enjoyable to use. If you need a reason to gift yourself this little guy, just refer to its catchy slogan: "it's the bong you take along!"

No cannabis gift list is complete without suggesting a new strain. Because each state has its own farms and it's not easy to find the same strains across different states, we've settled on suggesting the OG Kush family. There are dozens of different variations of this strain, from fruity Shady Apples to the sweet and desert-like Vanilla Frosting. Visit your local dispensary on Valentine's Day and ask a budtender about their stock and what lines up with the OG Kush family.

Some of the best Valentine's nights involve some alone time with a bottle of wine, a hot bath, and some self-pampering. This CBD wellness package is a great way to gift yourself some incredibly relaxing alone time. The CBD Skin Soothing Kit from The Body Shop has everything you need for a luxurious Valentine's Day in with yourself. Order online to enjoy this set that includes CBD-infused moisturizer and facial oil.

Give your stash an upgrade this Valentine's Day and gift yourself an Apothecarry humidity jar. It's decorative, easy to clean and great for keeping your weed fresh and healthy. You can find this clever-looking humidity jar online! What better Valentine's Day gift is there than the gift of long-lasting weed?

Nothing says a good time and some self-love quite like a six-pack of your favorite THC seltzer. If you're ready to just sit back and crack open a few cold ones, we highly suggest grabbing a pack from a company that knows a lot about adult beverages. Lagunitas Hi-Fi Hops are super refreshing, drink like a beer, and available in Colorado and California.

If you want to go all-out and treat yourself on Valentine's Day, plan out a cannabis-infused meal. We highly recommend cooking with higher-end CBD, and there are few brands quite as well-known and high-quality as Charlotte's Web. It has a great story and helped found the CBD industry. Look for it at a local CBD shop or buy it online!

As with any holiday, the best Valentine gift isn't always for yourself. Give your furry companion some love and check out these high-end CBD dog treats from CBD Infusionz. Made without grain, gluten, added salt, meat by-products, corn, soy, artificial colors or flavors, these dog-friendly and come in a variety of flavors, including bacon, cheddar cheese, peanut butter and salmon. Check these guys out online!
There are so many different ways you can treat yourself on Valentine's Day. Comment below with your favorite cannabis products and what you're going to be gifting this Valentine's Day!