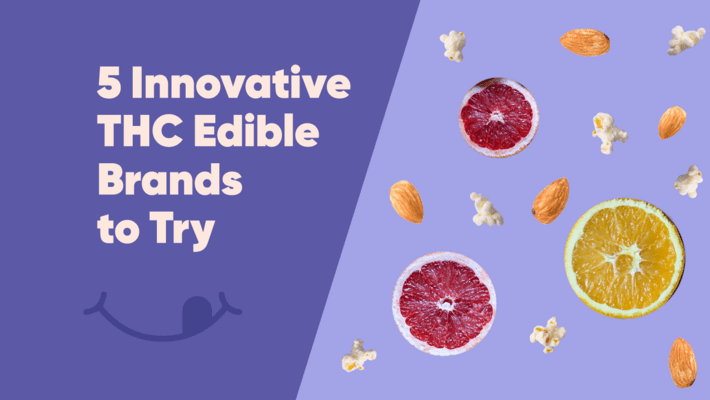 Try These 5 Innovative THC Edible Brands
If you've been to your local dispensary's edible section and been disappointed at yet another set of gummies or brownies, there's good news. A lot of new cannabis companies are seeking to open their creative kitchens and develop new kinds of edibles. There's lots of room for growth in the marijuana edibles sector of the industry since four in five edible products sold are gummies. Not only are companies seeking to push the envelope, but they're going so far as to create THC edibles that aren't sweet at all - savory edibles are a major innovation. Here are some of the biggest companies trying to put new types of edibles at dispensaries near you.
1906

This Denver-based edibles company, so named for their 1906 address downtown, has a major footprint in Colorado but has also expanded to Massachusetts, Oklahoma and Illinois. Unique among some edibles companies, they skipped the THC gummies altogether to come up with a signature line of supplements they simply call drops. Each drop has a simple name, like "genius", "midnight" or "go" to suggest the power they can have on your body and mind. Do they work? According to testimonials from magazines like Cosmopolitan, Vice and Mic, they do a lot better than that. They deliver their promises and more, especially their "love" THC aphrodisiac.
Fruit Slabs

If you remember the great days of yesteryear snacking as a kid, you may remember treats like Fruit by the Foot. California-based Fruit Slabs seeks to build upon the nostalgia with an added cannabis kick, letting you relieve your childhood with an adult twist. Winner of the 2020 Commercial Cannabis Award for best healthy fruit-based edibles company in the state, as well as four separate Cannabis Cup awards, they have the hardware to prove that it tastes good. These edibles are a good alternative to chocolate and brownies if you are watching your eating habits, furthermore, since Slabs features infused edibles with as few as ten calories per piece.
Kush Nuts

If you ever type "marijuana edibles near me" into Google, you may find some results whose names are so bizarre they make you wonder what the edibles actually are. No risk of that with Kush Nuts, whose lineup of tasty THC edibles are simply almonds and cashews, perfect for those who already enjoy snacking on healthy nuts through the day. With three sizes (30g/45mg THC, 40g/90mg THC, and 45g/180mg THC), you don't need an edible dosage calculator to figure out how much you want and how high you'll get. What's more, this is one of the few edibles on the market today that is sugar-free, excellent if you have health concerns but want to have some fun.
Punch Edibles

Chocolate has few enemies in this world, and if you can't imagine a snack that doesn't have chocolate, Punch Edibles may have the best news you've heard all week. Almost all of their products are chocolate-related, with thirty different edibles in one chocolatey form or another, featuring doses as high as 90mg of THC. While they do sell plain square bars, you may be more interested in their exotic chocolate treats, like their malted milk balls, their cookie delight, and their toffee blends. They also feature fruit snack THC edibles as well as resin that can be melted and put on top of other treats like popcorn.
Kiva

For some, THC is just as much a necessity in your life as caffeine. If you love a good cup of joe as much as you love a good bowl of bud, Kiva Confections has the product lineup for you. Available in California, Michigan, Nevada, Illinois, and Arizona, their THC-infused Tanzanian coffee beans are layered in dark chocolate with five flavors: blueberry, espresso, sea salt caramel, chocolate almonds, and milk and cookies. Their treats have just 5mg of THC per individual bean (100 total mg per package), meaning you can adjust your dose in the smallest amounts you'd like until you reach that perfect state of THC bliss. If you are wondering what are edibles that they typically make, their collections include mints, chews and award-winning chocolate bars, all infused with THC to give you a great high.
What are your favorite edibles on the market? Do you like the classics like gummies and brownies more than new designs and new food options? Let us know about your favorites, including which companies make the best edibles according to your tastebuds, in the comments below!