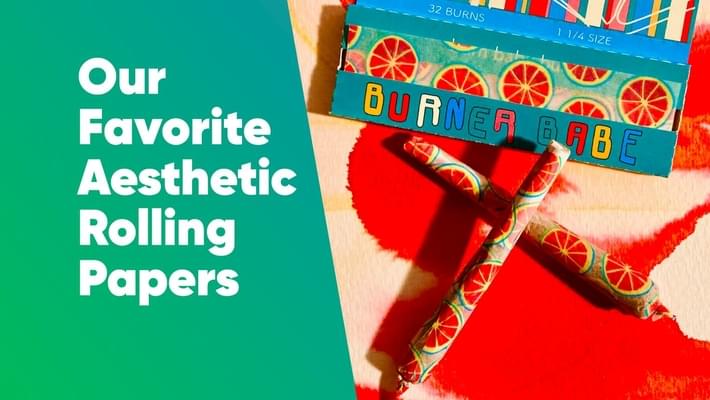 Our Favorite Aesthetic Rolling Papers
One of the great things about the cannabis community is its ability to get creative. Cannabis naturally creates new gateways between our brain functions, meaning we can enhance our creativity and be better at developing new concepts when we have a bit of good bud. Check out any cannabis business are you are sure to see artwork incorporated into their products, a reflection of the design options that cannabis creates. Rolling accessories are one area where you do not need to settle for plain Jane. The leading rolling papers brands put out high-end papers that are excellent for rolling a good joint and spark creativity with their vivid artwork styles. If you want to make the next smoking session a reason for artistic creations, or if you want to celebrate an occasion like a friend's birthday in style, here are some of the best cool-looking rolling papers available today that will stand out from the ordinary.

Visit the Edie Parker website, and it may take a minute before you realize that this company sells cannabis accessories, not high fashion. The sheer amount of color available on their product listing sets them apart from the rest, and no matter what hue you want, there's a good bet you can find it there. Their rainbow rolling papers look like they have been taken from a candy store, while their "flower" papers are indeed as floral as can be. At $10 for a pack of 40 papers, you do not have to shell out a lot of money to create a good-looking joint, and the thick cardboard container is great for an impromptu joint filter.

The sheer amount of pink products that Burning Love sells may make you think you can only get girly rolling papers here. You certainly can - they sell papers under a header that says Pink! - but there's plenty more here for all manner of tastes. Their rolling papers and accessories range from psychedelic color schemes to fruit-inspired "flavors," as well as pre-rolled cones that contain their own filter tips. The artistic side shines through in their vivid designs, ranging from the pinup papers with 1940s-inspired models to the moo cones that look like they could be sold at Ben and Jerry's.

What if you could smoke a joint made of 24-karat gold papers? With Shine, that's exactly what you can do. Their pure leaf wraps are high-end, sold in "bricks" rather than in little containers, featuring multiple packs of papers, cones, tips, and stickers. At $16 for a cone, you are indeed getting what you pay for, which may not be the best option for an everyday smoking session. However, when you want to kick it up a notch and feel like you are on top of the world, Shine papers top the list for their luxury and the high quality of their product.

"The Art of Rolling" is how Papers and Ink describe their business, selling custom-printed organic rolling papers in various themes. There are lots of colored rolling papers here, including tie-dye collections that are a throwback to the smoking days of your parents (or grandparents). You can find animal prints, floral prints, and even naughty prints that include messages of affirmation like "you're the dopest" and "I love you so fucking much." They also offer more mundane, straightforward compliments on their cute rolling paper designs.

A one-stop shop for smoking accessories, Burner Babe will sell you the papers you need to smoke a joint, the lighter you need to spark it, and the ashtray you need to stub out the remnants. Their vegan papers are all made with plant-based inks, giving them a sustainability bonus among those who want to be eco-friendly. There's high fashion to be found here, including color schemes that range from the subdued to the trendy to the far-out. Endless themes, from seashore to nighttime sky, make it possible to customize the appearance of your joint. With prices starting at $6.50, they are some of the most budget-friendly options on the market.

Of all the rolling paper companies on the market today, perhaps none go as far in the intensity of their design as Field Trip. Trip is the name, and trip is the experience. While they only have half a dozen different designs to choose from (with names like "shroom" and "third eye"), you will be sure to remember each one that you smoke. The color palettes are as far-out as the smoking experience, making them a surefire attention-grabber or conversation starter, an excellent way to meet fellow creatives in the cannabis space.
Do you prefer any particular brands of rolling papers? How have you found that they enhance a good joint? Let us know in the comments below!