Discover trusted marijuana businesses in Canada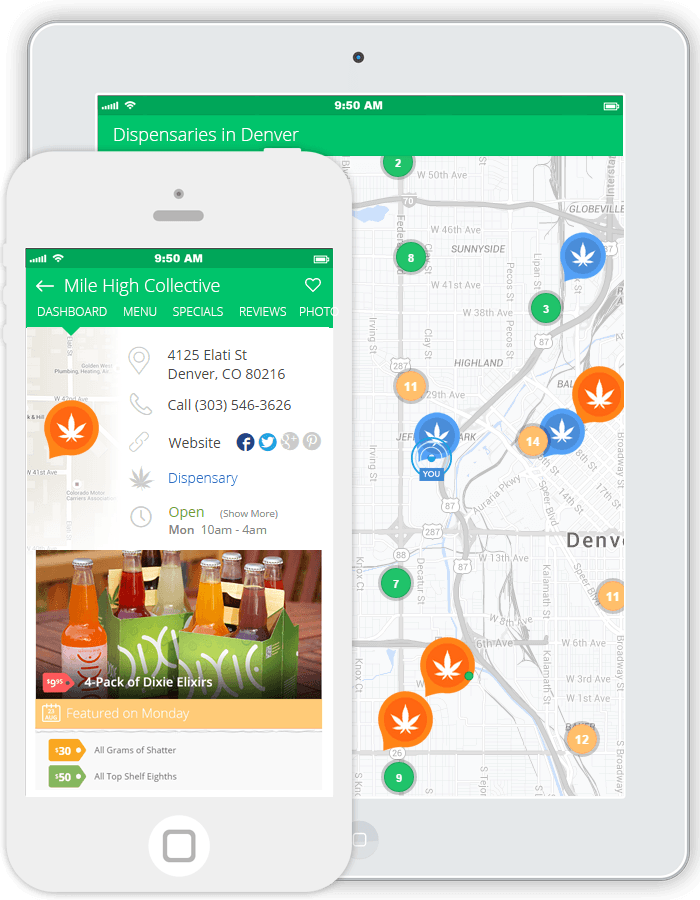 New to Where's Weed?
Where's Weed helps you search, discover and share marijuana businesses in Canada. Whether you're looking for a dispensary in Canada, marijuana doctor or even a place to connect with local marijuana users, you've come to the right site!
Create an account
Discover local dispensaries, deliveries, doctors and more
Pre-order your purchases online
Search local specials and events
Review, favorite & share your favorite businesses
Canada
Dispensary Reviews
I order atleast twice a week, very good quality, great prices and great customer service. Will never hesitate to order from Green House 💯

Great bud, great dabs and quick delivery times I was not disappointed

Thank you Deja Vu. you guys are always the best. 🔥⛽️⛽️

The whole staff over @ green gorilla are very helpful in getting you what you need , customer service is a 5 , flower is on point also never got anything bad and most importantly delivery is never a run around drivers are cool also overall great place to order

Always great! AB was awesome! Best delivery in DC!!

The spot was recomended 2 me by a good friend about 2yrs ago & I been going there ever since. Owner is always super friendly & funny wich is a + to me lol THEY HAVE A LIL BIT OF EVERYTHING ALL U SMOKERS WHO DOING YO THANG SO GO CHECK EM OUT👍

NO RESPONSE AFTER THE VERIFICATION BAD COMMUNICATION . BEEN 4hours still no response don't waste your time here just go to the hood same thing

High up was a pleasure working with my order was delivered immediately and my guest and was very pleased with products.

From 5 STARS to 1 STAR I can't go all the way into details but Imma say CHECK YOUR ORDER BEFORE YOU PAY AND I MEAN THE QUALITY THESE PEEPS GOT GAME

Very nice people and great weed, we went to highly recomend u go visit their web or(app) you wont be disappointed you get your money worth Fantastic experience all around. From staff to drivers to the product and availability I love it all Thanks again!

Great quality and fast service. All is better than advertised...👍

First time at buyer at Elevate. phenomenally fast and polite customer service, plus great quality product. After so many bad experiences using other dispensaries through this site, I'm thrilled to finally have a reliable and consistent service. They even have RUNTZ strains. its straight gasss

Harvest continues is really amazing with great quality weed and their customer service is A1 perioddt and I definitely recommend

These guys are absolutely amazing my Call was answered immediately and the customer service was amazing the product was on point and the price was way better than most places in DC

Excellent service I would recommend these guys they are great and fast.

Excellent service I would recommend these guys they are great and fast.

Good customer service I order 4 oz 640 deal it's worth the money I spend Delivery was friendly thank you DC EMPIRE

Best deals & customer service in DC. On point every time!

supreme quality (very easy to tell the buds are very fresh, moist and pungent)... I arrived at the delivery location, took 30 seconds... the driver was already there... :) Best DC experience 100%

Omg this the one I was looking for tnx for your product and fear price!!!

Worst service ever, they literally will no call and no show when there page says they're open. Don't trust them, who knows if they'll show up!

This was my first time ordering from Deja Vu. I decided to cop from here due to the reviews but I'm starting to think they were fake. I got an O of wedding cake and an O of sherbet. I was weary of the quality but was assured that it was not mid. Unfortunately both were less than subpar. I faced 3 jays on my own and still was not high. The most I got was a headache. I asked for an exchange and was offered a half and a edible for 50 dollars. Although the boss was very nice and polite, I did not think the exchange was acceptable seeing as how I spent 300 dollars. I'm aware it was an outdoor strain (Which is why it was reasonably priced) but I've had outdoor strains that have gotten me extremely high before. This was not the case. I don't plan on shopping here again. Feel free to give it a try but do not be shocked if you end up disappointed. I knew the driver from another company On where's weed called "Elevate" and he is always on time And polit

Let first start by saying......amazing experience. I am not from DC and I got my package from them, got home and come to find out two of the carts I ordered were missing(from the packing, due to their distributor). I wasn't in DC to quickly get it exchanged, but reached out and they called me to apologize and offer for me to get my exchange the following day. Just picked it up and I couldn't be happier.