Discover trusted marijuana businesses in Canada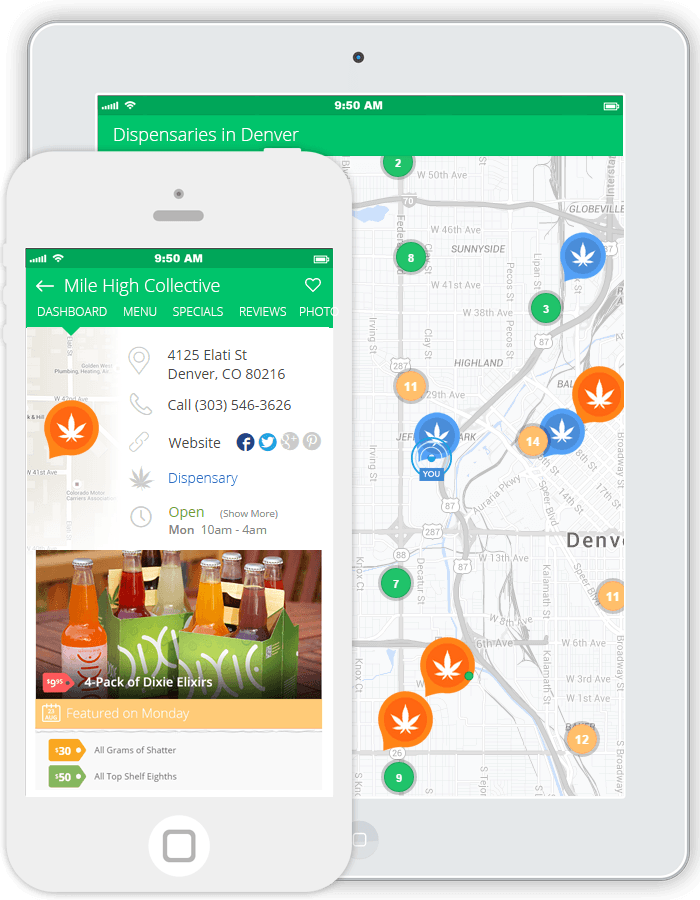 New to Where's Weed?
Where's Weed helps you search, discover and share marijuana businesses in Canada. Whether you're looking for a dispensary in Canada, marijuana doctor or even a place to connect with local marijuana users, you've come to the right site!
Create an account
Discover local dispensaries, deliveries, doctors and more
Pre-order your purchases online
Search local specials and events
Review, favorite & share your favorite businesses
Canada
Dispensary Reviews
So i've tried many services on this site... these guys are seriously A+ when it comes to responsiveness and delivery time. They were so speedy and responsive. I have yet to try the product but the edibles are sealed and legit. It's probably the best experience i've had so far and will definitely be ordering again. It's hard to find delivery services that will come to you in under an hour and these guys were on point. It may seem a little sketchy that they have you prepay online but don't be discouraged. They're customer service is amazing and they product is as described.

Will J and the boys give a big thanks to one of the few consistently reliable brands in DC. looking forward to J pods tn, highly trustworthy people

Fast delivery but low quality product

These guys are the best. Every order has got something for free. At first I thought maybe it's because their quality isn't good but I was so WRONG! Their stuff is fire! Definitely sticking with them for the long term!

Fourth order with RH and they are now in the #1 spot. Good guys. Fast and free delivery. Most important of all, the quality of medicine is certifiable. Nothing else matters. Blue Cookies is the real thing. Better than Cali.

REPORT THEM AS FRADULENT. They keep deleting my reviews, too! The phone # doesn't work for these guys, and they have "forgotten" to delivery to me TWICE, yet mark it as "accepted" and then "delivered". I'm frustrated with the service, because the prices and the bud are both solid! Come on Fat Stash!

Another good experience with these guys today, very accommodating & always great products!!!

1st time ordering from this app and I would highly recommend this vendor! Thanks again for the gelato guys 🔥

Nice buds no veteran discount recieved? This was my one and only grip and my TShirt had stains all over it. Otherwise nice job!

My official goto guys when I'm visiting DC. Order placed and accepted within 30 minutes and deliver time less than 45 min and as always they deliver some potent goods. One hit and I'm lit! Carts don't leak and work to the very end! See ya' on the my next visit.

Was really excited to go to these guys, called a couple times, and texted with detailed order with picture of ID during opened business hours, never got back to me though which sucks, oh well, win some you lose some.

Me personally, not a good experience. But you win some, you lose some. Driver was almost an hour late, and kept telling me he's 15 minutes out like 4 times. Bud was mediocre, but for the price i can't complain. Thanks anyways tho guys!

Have gone through wdc a few times. Their "shatter" came in terrible packages. Lost .4 to them leaking out. I'm from Colorado and this is the worst quality stuff I've ever gotten. Not shatter. Not stable. Barely even catches you a buzz. Driver also seemed angry and disrespectful for no reason. Don't waste your time or money on these thugs.

Timely Courteous Quality Organized What more can you ask for?

Everything all good as usual

who's giving this shop a bad review must be a hater. I'll be back nuggets are huge and excellent taste. only dislike ...store hours. I get off work after they close. can't make it before they open and I prefer donating around 8pm anyways when family has winded down...gifts are excellent for donation amounts. bud drivers are nice. they have good menu ...probably my fav

donated 2x this week beyond satisfied. asked for a reccomendation I was pleased. went with wedding cake and sour diesel. got zip. I have a strong tolerance. this got me there...and I smoke daily. drivers beat me. coming back

In my humble opinion. The most professional and knowledgeable delivery firm in DC, let alone any that I have come across in America! Go ahead and order with confidence. An expert will immediately call back to ensure your complete satisfaction, and afterward you will be a client for life...like I intend to be..I guarantee it! Patient, honest, courteous,knowledgeable, friendly, hell... my associate even suggested a product I had in my cart would not work on my arthritis any better than a cheaper bud (AND HE WAS 100% RIGHT) I broke my back in 1981 and now suffer chronic daily excruciating pain. My associate walked me through a regimen that has me dumping the depression blues and getting me back in the game after years. I could not be happier. btw: The 'Green Crack' has me back to the 'creative me' that I once took for granted! Thanks, and God Bless Fat Stash. I am so happy that I proudly give my name, Frederick Healy

Wow best service in DC. Customer service is beyond approach. They are just amazing i wish i would have found them first. Im 18 orders in and I will miss them when i leave the area. Don't look any further. These guys and gals are amazing buds never let you down. If you have questions they have answers. And if you love them they love you back!

durban poison was excellent. I complained at first glance. it was fine. coming for kush. really want that sherlato

Not just that but due to my driving situation that I explained, they went out of their way to get the product to me. Awesome!!!!!!!!

Top quality buds at significantly cheaper prices than the local competitors.. Do not let low prices discourage you, quality is on par with anything else. Also communicate well and deliver in a timely manner, highly recommended.

My 1st time ordering since their rebranding was just as smooth as every time before. Was in town with a friend who wanted some gifts, so I recommended PRESSURE DC here's what happened. For a very reasonable donation, he got exactly what you'd expect from a 5☆ business. Excellent quality, real medical flowers, fast friendly professional service, even a follow up text to make sure that we were satisfied. I even accidentally left a shopping list of other places to possibly donate in the envelope with our donation to them. A little bit later I got a text asking if we wanted the list back! Now that speaks directly to their independence security and credibility in my mind. There might be better in the district but I've yet to find it. Welcome back buds, see you again soon!

Very much satisfied! Was in town for JRAD show, called them at 5pm asking if they could deliver by 7pm. At 6:50 I got a text the driver had arrived! Excellent fast friendly and most helpful to my friends. Thanks TEEZ we'll see you again soon!