Discover trusted marijuana businesses in Canada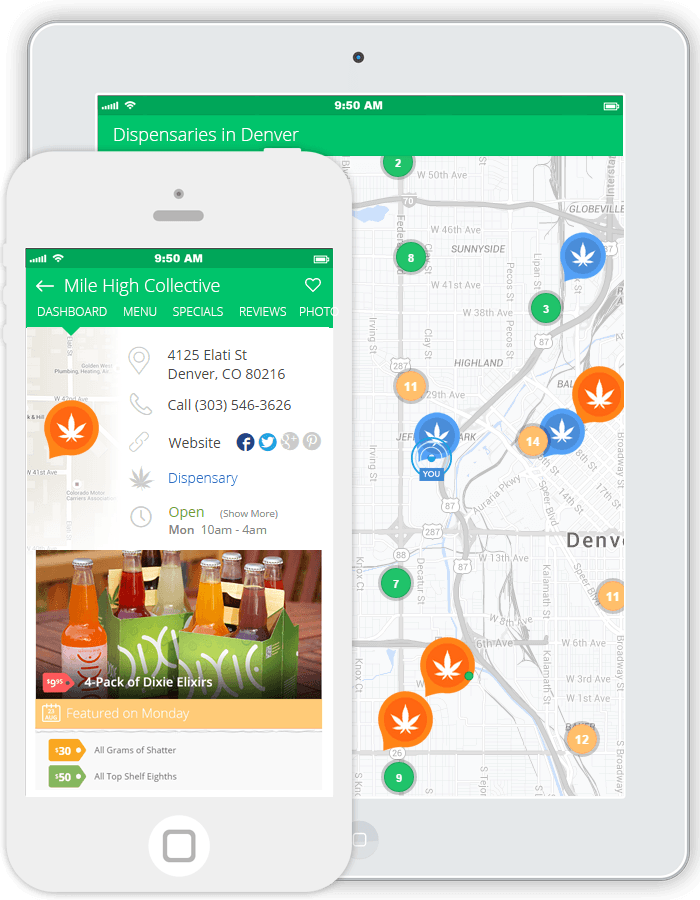 New to Where's Weed?
Where's Weed helps you search, discover and share marijuana businesses in Canada. Whether you're looking for a dispensary in Canada, marijuana doctor or even a place to connect with local marijuana users, you've come to the right site!
Create an account
Discover local dispensaries, deliveries, doctors and more
Pre-order your purchases online
Search local specials and events
Review, favorite & share your favorite businesses
Canada
Dispensary Reviews
Great service, friendly people, premium quality, professional drivers, great price! Best prices in DC!

They sell blasted buds do not buy. look at the stems. Not one trichome. avoid their "black business" how one of them described it.

SkyHigh is awesome to work with and extremely pleasant throughout the process. The quality was much better than the first vendor used. Super clean distillate and shatter was gifted upon me and I will be coming back. Love the 2for80.

Great service and quality in my opinion! And in our area!

These guys are incredible I now will not donation to anyone else I love what they're doing their driver was all awome and fast very good people

got the mega wellness, peanut butter, silver kush, and mac1. it's all good. i really like the peanut butter tho. this is medical grade stuff with med labels. real gassy smell once u open up the bag/bottles. i can't tell if mega wellness matches pic but it's fire either way. the price to quality ratio is outstanding with 1/8s running 35/40. honestly probably the best 1/8's price for the level of quality in DC. probably wont stay this way i'm guessing either.... dispatcher was easy to work with and driver was cool. Will likely use again soon...

If I could give this review no stars, that would be too many. To echo the sentiments below (Mattyggg), THIS PRODUCT IS A COMPLETE RIP OFF. I genuinely wish there was a way for me to get my money back. $60 down the drain. I rolled 3 joints and I didn't even get a slight head buzz. Please - you've been forewarned: DO NOT PURCHASE FROM THIS COMPANY. I don't even think what they gave me was mid. What's below mid? I'm not a regular smoker, but I smoke enough to know when I'm high and this was the worst experience I have ever had with a delivery service, ever. I bought this deal, 1/4th. Came in two bags. I have literally completed the first bag and neither I, nor the person with me, got a SINGLE BUZZ. It's incredible the way they rip people off. Please take heed to these reviews and move onto another seller. You will NOT get high - this shit is literally grass. I am PISSED.

Good gas, most def coming back

They had me waiting and never came - I could've been order with another company wasting people time bro

They got the Best bud in town!!! amazing price also very speedy! Defiantly ordering again!

Best cartridges and shatter in the city period and the best prices period!!!! The off-white carts are stupid fire and the staff chill asf! Whether you live here or your visiting from out of town hit these guys up for that real deal gas ⛽️ 💯💯

WOW. Excellent experience with Highendquality. Fast, friendly, good prices and quality. Totally recommend to everyone. Definitely will be trying them out again.

Totally unprofessional, don't do business with these clowns. Lack of communication. Must have a bunch of stupid monkeys running this shit. Don't do business with little ass boys who don't know how to communicate with their customers.

Dirty straight bs Yeah two different strains no smell no tease seeds popping out everywhere like some mis two different strains no smell tease seeds popping out everywhere place in mid grade grade Would not recommend

I don't know what they're doing over there but if yours going to be a business who's name is "Mr Nice Guy" . But then don't tell your customers that your driver will call you when he's there. Then you call and he tells you he tried calling you several times. When he actual didnt , so you wasted 1hr of your time but then he tells you to put it in again so he can send the driver immediately. You wait another hr and in total you've waited over 2hrs and the so called mr nice guy is being a major jackass. Never got the weed but definitely collect my time wasted. Wouldn't recommend to my worst enemy

I made an account just to leave this review. Just picked up a few carts and the exchange was great. They were very patient with my questions as a first time buyer. Much appreciated!

First time using this company and I had a great experience. The wait time was less than 90 minutes from the time I placed my order until I had my carts in hand. Immediate response to my order and good communication.

A1 quality friendly service

This place is the best in city.. from the prices to the quality...this is your spot indeed to go too....

I have been here two times. Beautiful place with a colorful mural on the outside of the building. Inside is a clean refreshing delight. The tall handsome man at the front door is so friendly and helpful. The goddess behind the counter was perfect helping me choose what would work for me and my pain. The vib in the store is so energetic and positive it just lifts you up. I plan to return as often as possible and hope you too will visit.

First time ordering with this company. Pretty straightforward menu. Ended up going with the Jack Herer Sativa and a few edibles. Flower is killer but I haven't tried the edible yet tho. they came when they said they would . Definitely recommend to all my friends.

For the first time in my life I'm 100% Satisfied with my donation 💯💯. The Quality and passion that this Delivery service produces is immaculate. Thank you so much for the unexpected surprises that my wife found and was happier than a kid on Christmas morning. All the other delivery services need to step their game up. Area71 keep doing what your doing and I'll keep supporting the cause. Thank you so much for you patients and Knowledge That you have gave me. We will be in touch.