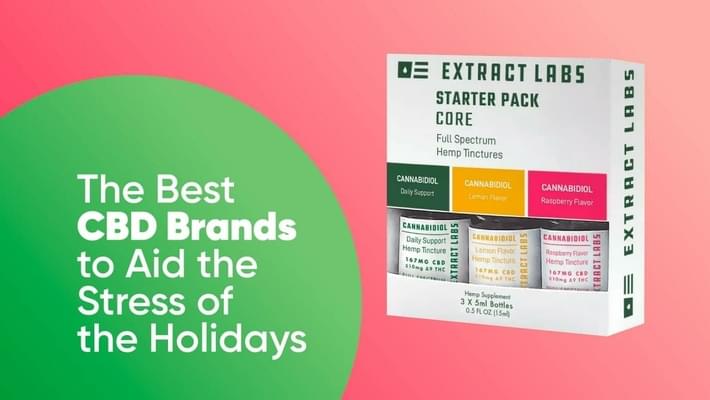 The Best CBD Brands to Aid the Stress of the Holidays
The holidays should be a time of joy and togetherness. But the season can be stressful with all that shopping, cooking, decorating, gift wrapping, and traveling.
Studies have investigated CBD for stress and anxiety, finding that CBD might promote a greater sense of calm. If the holiday rush has you stressed, CBD can be a great way to enjoy a laid-back season without a "high." But if you don't want to be completely sober either, there are options for that too.
Here are some of the best CBD gifts for yourself or anyone who could use some stress relief by the tree.
Restart CBD

Restart CBD is an Austin-based chain offering CBD oils, topicals, and capsules. They also feature unique selections you won't find in many other online stores, like CBD flower (buds from the hemp plant).
Their CBD hemp flower smalls feature 14 grams of premium, non-psychoactive flower buds for $25. They're perfect for smoking, vaping, or grinding and come in indica and sativa strains. You could also toss them into cookie dough and infuse your holiday baking. Just make sure you decarboxylate them first to activate the CBD.
Dad Grass

You don't have to be a dad to enjoy Dad Grass. But if your own dad happens to be into the stoner scene, they have awesome CBD gifts for him.
Dad Grass is famous for their smokable hemp CBD joints, which come from organic hemp flower grown in the United States. With less than 0.3% THC, by law, they won't get you stoned. Instead, the joints offer smooth and mellow relaxation reminiscent of the milder joints of yesteryear.
You can grab a five-pack of CBD pre-rolls for $35. And yes, they're legal to ship nationwide. You can also check out their Mom Grass line, which features CBG as the star cannabinoid. CBG is the building block for CBD and THC, offering mild psychoactive effects.
Mendi CBD

Mendi CBD offers CBD for stress relief, energy, sleep, and pain relief. If you're shopping for an athlete, they have excellent balms, creams, and energy drinks designed to boost plant-based recovery. But you don't need to be an athlete to reap the benefits.
Their CBD energy drink tablets blend 25 mg of broad-spectrum CBD with plant adaptogens and herbs for energy and focus. They're also portable and TSA-friendly so that you can bring your energy boost along during holiday travels.
Extract Labs

Extract Labs was founded by a combat veteran who wanted to make CBD products for everyone. They own and operate every part of their extraction process, from plant to product. There's also a 50% discount program for veterans, first responders, teachers, and low-income individuals. Their lineup is accessible to just about everyone.
Their core starter CBD pack features three full-spectrum flavored CBD tinctures for $29. You can also shop hemp-based Delta 8, Delta 9, and CBG goodies if you want something a little stronger.
Equilibria

Equilibria is a unique by-women, for-women CBD brand with a great lineup of high-quality CBD products. They also offer free consultations with CBD experts to help you find the right product or dose. And if you're buying as a gift, the recipient gets a complimentary session.
Their Essential+ Bundle lets you sample three of their best-selling CBD products for $130.50. The bundle includes the Daily Drops oil tincture, a 30-count bottle of soft gels, and a 30-count bottle of gummies. That's more than enough CBD for stress for the holiday season and beyond.
Charlotte's Web

Charlotte's Web is one of the original CBD brands. They helped pioneer the industry and still lead today's market with high-quality, trustworthy products. They're also the official CBD partner of Major League Baseball, which is perfect if you're shopping for a baseball fan.
Their 17 mg CBD oil features a minimal ingredient list and a gentle dose of CBD that's great for beginners. The oil also comes in natural flavors that help the plant medicine go down - like orange blossom, mint chocolate, and lemon twist. Grab it online for $59.99 for a 100ml bottle.
Prismatic Plants

If you're after CBD oil for stress relief, Prismatic Plants has your back. They blend adaptogens and nootropic herbs with USDA organic hemp for a high-free calm.
Their Good Day tincture promotes concentration and clarity during the day, while the Good Night counterpart supports restful sleep. The Mini Day and Night starter kit offers the best of both worlds at $35, which makes a perfect CBD gift box or personal pick-me-up for beginners.
Recess Hemp Beverages

Want a more soothing holiday drink to replace your eggnog? Recess makes hemp-infused beverages and drink mixes to help you feel calm, cool, and collected amid all the stress.
Their canned hemp-extract drinks blend sparkling water and calm-promoting adaptogens with fruity flavors - like blood orange, peach ginger, and coconut lime. You can grab a six-pack Recess Sampler for $29.99.
oHHo

Pets get stressed too. oHHo makes oils, topicals, and edibles for humans, but they also have goodies for dogs! They stand by their integrity from genuine full-spectrum extracts containing a naturally beneficial compound.
oHHo's CBD Dog Biscuits are made with full spectrum CBD, organic peanut butter, oats, organic egg replacement, and coconut oil. These treats offer a boosted whole body and mind relief for your pet. A box of 30 treats (5mg CBD per treat) costs $25 - less than $1 per treat!
EMERA

If you've ever had your scalp massaged, you know it feels great and relieves stress. Well, how about nourishing your hair follicles with CBD shampoo?
EMERA's luxurious vegan formula is a blend of hemp seed and avocado oils that restores moisture to help your hair become strong and thick. At $24.99 a bottle, EMERA is the #1 best-selling CBD shampoo in U.S. hair salons.