6 Amazing Musicians Who Have Influenced Cannabis Culture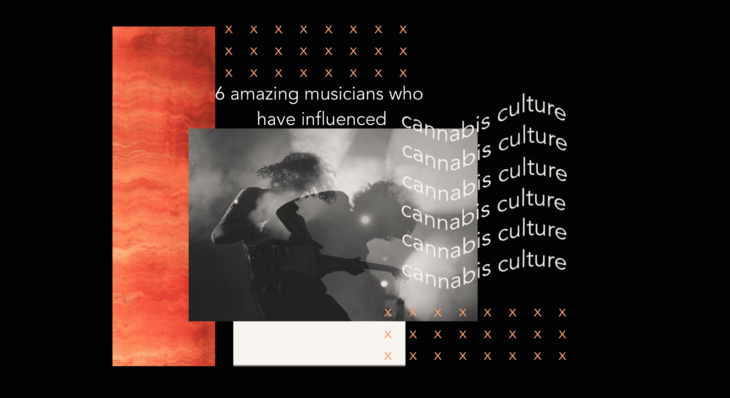 Published on Aug 15, 2020

Making your way through packed crowds at music festivals, you're bound to have the delicious aroma of weed smoke in the air waft up to your nostrils at one point or another. Not every stoner has the same taste in music, but one thing we can definitely agree on is that lighting up some cannabis while bopping your head to good tunes makes for a killer combination. Whether you prefer chilling at home with your bong and favorite album or passing around a blunt with a group of friends at a concert, there's just something about weed and music put together that makes it an even better combo than peanut butter and jelly.
Society used to view marijuana as such a taboo topic, and those who chose to indulge in it had to be discreet and lowkey about their usage. Times are quickly changing though, with the number of celebrities that smoke weed and are publicly outspoken about it increasing in recent years. Many renowned musicians have even credited marijuana with being an enormous part of their craft, praising the plant for its creativity-inducing abilities while also advocating for its legalization. Let's take a look at some of the weed smoking musicians who have been at the forefront of cannabis culture as well as the legalization movement.
Bob Marley

We can't talk about marijuana music without mentioning the pioneer of reggae and one of the most notable singers who smoke weed - Mr. Bob Marley. However, a lesser-known fact about Marley's passion for cannabis was that he did not use it recreationally and instead saw it as a holy ritual. He belonged to the Rastafari religion, in which the practice of smoking marijuana was a holy sacrament and reserved only for medicinal and religious purposes. Marley avidly believed that cannabis granted him access through a spiritual door, allowing him to grow into the poet and artist he was. He famously said, "when you smoke the herb, it reveals you to yourself."
Louis Armstrong
For black jazz musicians, marijuana is historically a big part of their lifestyle. The man considered to be the father of jazz music, Louis Armstrong, first started partaking in cannabis in the 1920s and continued blazing throughout his entire life. He would even smoke before his recording sessions and live performances. Along with Armstrong's importance to cannabis music culture, he also helped turn Allen Ginsberg and the Beat Generation to the versatile plant, which in turn spread to the hippie and anti-war movement of the 1960s. Louis also advocated for legalization, saying "It really puzzles me to see marijuana connected with narcotics: dope and all that crap. It's a thousand times better than whiskey - it's an assistant - a friend."
Willie Nelson

A living, breathing testament to the power of cannabis, Willie Nelson is the United States' most legendary stoner in addition to being a country artist, actor, poet, and author. Willie is also a passionate advocate for the legalization of marijuana and has always been extremely outspoken about the medical benefits. He's also a big believer in the potential economic advantages of it being taxed, with the revenue being funneled into benefits for the community such as education. When he gave up whiskey and cigarettes around 1978, cannabis transitioned into being his drug of choice. Although Willie has plenty of great quotes, we love it when he said, "The biggest killer on the planet is stress, and I still think the best medicine is and always has been cannabis."
Snoop Dogg
You've probably seen the iconic Snoop Dogg proudly puffing on a blunt on stage at his shows or basically in all of his music videos, as he is particularly vocal and public about his love for pot even before it was legal in any capacity. Best known for lighting up, Snoop Dogg's entire persona pretty much revolves around marijuana. He is the co-founder of a venture fund that raised $45 million for various cannabis investments and even has his own branded line of weed called Leafs by Snoop. One of our favorite Snoop quotes on cannabis is, "So what if I'm smokin' weed onstage and doing what I gotta do? It's not me shooting nobody, stabbing nobody, killing nobody. It's a peaceful gesture and they have to respect that and appreciate that."
Melissa Etheridge
After she got diagnosed with breast cancer in her 40s and severe cancer treatments endangered the use of her precious music-making fingers, Melissa Etheridge made the conscious decision to give medical cannabis a try. She actually got arrested by federal agents for marijuana possession after her tour bus was stopped and searched in North Dakota following her Canadian tour. However, that experience didn't scare her nor steer her away from cannabis; it was quite the opposite reaction. This arrest instead propelled Etheridge to continue advocating for fellow ganja users and educating the masses about the plant's therapeutic and medicinal potential. She's quoted saying, "Instead of taking 5 or 6 of the prescriptions, I decided to go a natural route and smoke marijuana."
Wiz Khalifa

Last, but not least, Wiz Khalifa may also be another prominent person your mind drifts to when music and weed are mentioned. Even if you've never given any of his music a listen, you still probably know one specific characteristic about him: this dude loves smoking pot. After all, the whole Wiz Khalifa brand revolves around weed. The cannabis rapper developed his own strain called Khalifa Kush, and one of his mixtapes that grew famous was called "Kush and OJ". Wiz is outspoken about how cannabis helped him, saying, "Weed helped me get through high school. I ain't gonna say that for everyone, but it helped me."
Do you know of any other musicians that smoke weed and have influenced cannabis culture? Share with us in the comments below!