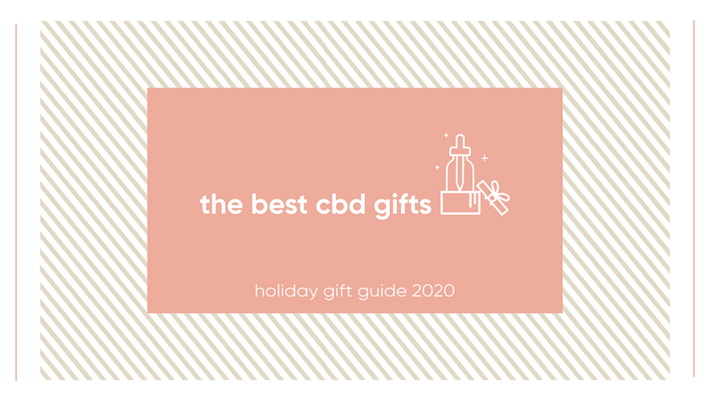 Holiday Gift Guide 2020: The Best CBD Gifts
The holidays are right around the corner! If you're looking for some unique gift ideas, we might just a few for you to consider. CBD has become increasingly popular over the last few years and has been federally legal since the Farm Bill of 2018, which means you're good to put CBD products on your 2020 gift list no matter where you are!
Cannabidiol (CBD) is one of the two most prominent chemical compounds found in cannabis, along with THC. CBD does not have the same psychoactive effects and will not get you high, and it is commonly derived from the hemp plant. There is no evidence of health-related issues stemming from CBD use, and it is commonly used to alleviate depression, anxiety, insomnia, chronic pain, inflammation, and even seizures. Because it is now legal, CBD has become one of the hottest alternative medicines on the market and has been infused with most everything. Here are some of our top CBD gift ideas for 2020:
Need more gift ideas? Check out our other gift guides:

Price: $10
This discreet CBD patch is an amazing alternative application method, and it's ideal for anyone who enjoys a good self-care night or prioritizes daily health. Each patch is packed with 15mg of CBD that slowly releases over an 8-12 hour window, offering the day-long calming comfort of CBD. It's all-natural and can be used anytime anywhere! We love the Calm patch, but Good Patch offers plenty of other products to best fit any need.

Price: $17.99
These drinks are made with all-natural ingredients, contain 20mg of CBD, and make for some of the most delicious afternoon refreshers. Collective Project's most popular flavor is Cucumber Lemon & Lime, but they also have a thirst-quenching Mango Pineapple & Coconut. A 4-pack of this drink along with a variety of stoner gifts is the perfect idea for any 420-friendly friend.

Price: $18
If you're looking for CBD gifts for dad or mom, you should give this one a try. This CBD oil is specifically made to be used for cooking. Bold and nutty, spicy but balanced, this cooking companion is the perfect gift for any adventurous, health-conscious cook!

Price: $25.50
This coffee is a perfect morning blend, medium roast coffee. Its primary tasting notes are deep chocolate and orange zest, and it also offers the benefit of being CBD-infused. The average cup of coffee from this blend will contain roughly 15mg of CBD, which is an ideal dosage for a morning pick-me-up. This gift is great for both coffee and CBD lovers (and it's one of the essential things every stoner needs).

Price: $29.99
Sageley's Roll-On CBD oil is probably one of the best portable CBD oils on the market. It easily fits in your pocket, has an easy-seal cap, and contains 50mg of CBD per vial. Not only this roll-on offer topical CBD-treatment, but it smells delicious and tingles with essential flavors such as peppermint, rosemary, eucalyptus, and menthol. Not only is this one of our favorite Christmas gift ideas, but it's one of our go-to 420 gifts.

Price: $19.95 | $34.95
Bluebird Botanicals makes high-quality CBD oil for your furry friend (yes, these oils can also be safely given to cats). This CBD oil comes in a tincture ($19.95) or tablet form ($34.95) So, if you're looking for a gift for your canine (or feline) friend, or if you know someone that loves their pets like crazy, you should consider gifting them this pet-friendly CBD oil.

Price: $65
These handcrafted bath salts help create the most soothing bathing experience. One scoop of these wonderful salts contains roughly 20mg of CBD, infused into pink Himalayan and Epsom salts. Aromatically pleasing, these salts are essential for someone looking to further their well-being and heighten their nightly relaxation ritual. Lord Jones also offers body lotions and creams if you're looking to gift someone the complete home-spa CBD package.

Price: $27
CBD oil tinctures are perfect for adding CBD to your favorite foods and drinks. With CBD Infusionz Full Spectrum Oil tincture, you can choose your own potency, ranging from 300 mg to a whopping 5820 mg of CBD! Depending on your potency, servings range from 10.3 mg to 182 mg per dropper, allowing you to perfectly dose whatever your heart desires! Portable and easy to use, this gift is perfect for someone wanting a more accessible, versatile CBD experience.

Price: $84
This sampler pack comes with 12 CBD-infused drinks in three delicious flavors: Peach Ginger, Strawberry Lavender, and Blueberry Mint. Each drink has 25mg of CBD and is best used to relax both physically and mentally. Rave reviews praise Vybes drinks for their flavor and their therapeutic effectiveness. This is a great introduction to the world of CBD-infused drinks!

Price: $85
This perfume is a perfect gift for your significant other. Not only is it infused with CBD for its therapeutic, calming properties, but this fragrance is a tantalizing balance of nutmeg, black pepper, patchouli, and vanilla. Irresistible and calming at the same time, this scent is gender-neutral and is one of our favorite gifts for men and women - it should definitely be a top contender if you're looking for romantic Christmas gift ideas.
Know of any other CBD products that you think deserve to be on this list? Let us know and comment below!