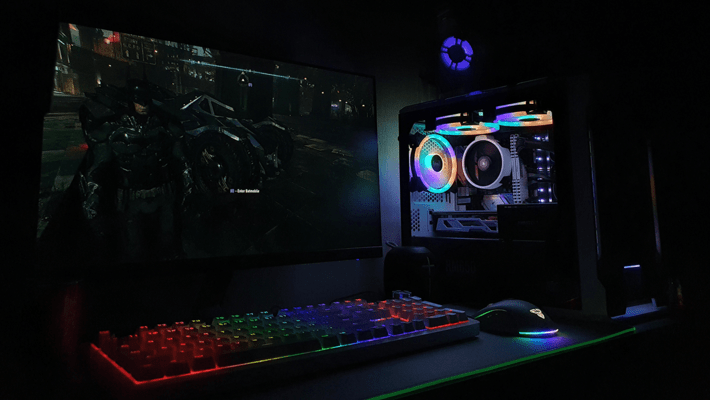 Top 6 PC Games to Play High
Peanut butter and jelly; sports and beer; dogs and hikes. Some combinations are better than the sum of their parts and when it comes to cannabis, no hobby is as ubiquitous as video games. If you have burned through the offerings on Netflix and are looking for new opportunities for your free time, the best PC games pair great with a smoking session. Not all games are a great match (imagine playing Ikaruga while baked) but there are plenty of immersive, beautiful titles that suck you in: you'll start playing in the evening and the next time you look out the window the sun is peeking up.
Remember that preparation is the key for both gaming and smoking. Make sure you have the right strains on hand, pace your consumption, get snacks and drinks for when the urge hits, and find a great set of tunes to keep your blood pumping.
Recommended pairing: Royal Gorilla, a strain clocking in at a whopping 27% THC for the greatest immersion.
On the surface, the Witcher 3 is a garden-variety fantasy game where you use swordplay and magic to complete quests and defeat foes. Where it differs from a list of PC games in fantasy settings like Skyrim or Dragon Age, however, is in the uniqueness of its enemies. The game has dwarves, vampires and trolls, yes, but it also has monsters you'll not find anywhere else in the video game world: hamadryads linked to tree spirits; vexling shapeshifters that use confusion as a weapon; bat-like katakans that cannot be detected by magic. Each enemy requires a specific strategy and each encounter in the game demands a unique approach. So much of the enjoyment of the Witcher 3 is finding new sidequests or contracts that introduce a new monster and a new challenge, an experience that makes it one of the best video games to play high.

Recommended pairing: Super Silver Haze, the perfect strain for going back in time.
Dinosaurs are awesome but finding a good dinosaur video game is far easier said than done. The gold standard is still the Lost World arcade game, but plenty of other Jurassic Park or Dino Crisis titles fall flat as an experience. Though famously buggy on console releases, Ark has been lauded as one of the most intriguing new PC games on the market today, combining a stunningly beautiful landscape with the opportunity to catch, tame, ride, and battle both dinosaurs and other prehistoric beasts. While the purpose of the game's plotline is to escape this fantastic island, Ark is a game where you want to spend as much time in the setting as possible, drinking in the details and the dinosaurs alike.
Recommended pairing: AC/DC, a strain that will have you smelling the pines of the Old West.
Great things grow from humble origins, be they great cannabis buds or be they top PC games. The 2004 release of Red Dead Revolver went all but unnoticed by critics and gamers alike, selling fewer than a million copies and collecting middling reviews. It might have been forgotten by time except for a sequel-of-sorts, Red Dead Redemption, which launched in 2010, is universally considered one of the best PC games of all time. The latest title in the series, Red Dead Redemption II, pushed the envelope even further and won multiple games of the year titles; the New York Times called it true art. A few minutes in the world of the wild west shows why: RDR2 lets you do just about anything, from hunting bears to feeding your enemies to alligators. Gorgeous scenery and music, as well as a thrilling storyline of an outlaw gang's rise and fall, make it a title you can easily spend hundreds or even thousands of hours in.

Recommended pairing: Blueberry indica, the perfect relaxation smoke.
Lightning-fast reflexes will help you win plenty of PC games, but some of the best games to play while high are those that make you comfortable instead of requiring you to blast out 400 actions per minute. Few games are comfier than Hearthstone, Blizzard's answer to Magic: The Gathering, a collectible card game that pits you against an adversary and their deck of minions and spells. It's a free PC game that doesn't require a high-end computer (easily playable on a smartphone) or a lot of time dedication. There are multiple game modes, furthermore, including Arena where you draft a deck from random cards and see how far it takes you.
Recommended pairing: Bubba Kush, the great classic strain for laughing until it hurts.
If you like to laugh at the TV show while high, there's no better choice than South Park when you're looking for games to play when high. The Fractured But Whole, the sequel to 2014's Stick of Truth, puts you right in the midst of an episode of our four favorite foul-mouthed tykes in the fictional Colorado town. There's a semblance of a plot, you join Cartman's hero persona Coon Man to fight Butters' Professor Chaos, but let's face it, you're not playing this game for the plot. The laughs are primarily low-brow, although there's occasionally a witty joke that can surprise you, and just like the show, it succeeds at making you crack up at all manner of jokes ridiculous and obscene.
Recommended pairing: Peanut Butter Cup for a chill, relaxed flight.
So many of the best PC games of all time require you to attack and kill opponents, whether with guns or grenades or arrows or spells or your bare hands. So often in a game, the essence of the action is violence, but a game without headshots or combos or health potions can be a gem that provides an entirely different sense of entertainment. Such is the appeal of Microsoft Flight Simulator 2020, the newest generation of a classic game that is easily one of the best games to play while high. We are separated from the 1990s, and the golden age of flight simulators like X-Wing or Wing Commander, by four decades, five presidents and three popes. Yet the appeal of flight simulators hasn't changed since the earliest pixelated cockpits: fire up the engines, prepare for a takeoff in any type of weather, get up to cruising speed, take in the views, and land the plane safely. Microsoft Flight Simulator is by far the most popular in part because of its real-to-life experience (pilots in training actually use the game to learn the ropes of an aircraft) and in part because it's just a beautiful, serene game. They even adjust the in-game world to reflect real-world events, like the trapped ship in the Suez Canal.
What has your experience of video games to play while high? What are the titles that you always keep coming back to? Tell us about your favorites, or ones you don't recommend when buzzed!