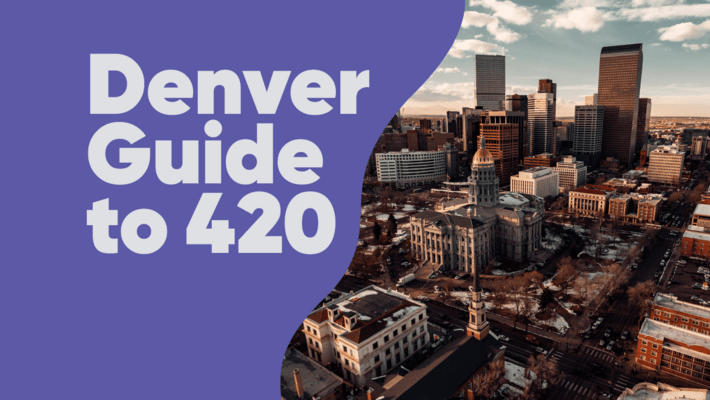 Denver Guide to 420 2022
420 is coming in hot, and if you like to celebrate, it's time to start getting excited. Cannabis - and the culture - have come such a long way in recent times in the wake of legalization, as marijuana is now a household substance in some shape or form for many. If you're lucky enough to live in a state with legalized recreational cannabis, such as Colorado, we've broken down some of the best 420 events, 2022 edition. We'll also look at some of the best brands to celebrate with and which dispensaries you'll have to check out to get in the holiday spirit.
A Hazy 420 History & Why It Matters
When it comes to cannabis, there are many myths and urban legends that surround the substance, and one hot topic around cannabis debates the history and origins of 420. Some say 420 is a reference to Hitler, a Bob Dylan song, or is an old police code used by the LAPD and NYPD. However, 420 was started by a group of high school boys in San Rafael, California. Initially, as a code for smoking weed on school grounds, the term was eventually catapulted into stardom through the band The Grateful Dead, whom the boys had a close connection with.
Initially, as an act of rebellion, 420 is now a celebrated event for the favorite stoner in your life.
Denver 420 Events
Here's an event that is considered one of the world's largest free gatherings that celebrate 420. Taking place in the vibrant city center of Civic Center Park in Denver, Colorado, on April 20th, 2022, you can expect 50,000 other ganja enthusiasts to party with as you catch a live DJ set by Lil Jon or hit the local music stage for some home-grown Colorado performers. For this 420 festival, Denver brings in advocates from around the world to fight the stigmas that still surround cannabis and legalization efforts.
There is no secret that Colorado has a strong weed culture, and Red Rocks is one of the most sought-after music venues in the world, so why not bring those two things together? Catch Pepper and Method Man + Redman, among others, on one of the biggest stages in the country. This is an all-ages show, with tickets ranging from $50-$150. To celebrate 420, Denver is the place to be.
Brands & Products to Celebrate With

This Colorado cannabis brand is bringing a fresh take on edibles. Available in 315 dispensaries across the sunny state of Colorado, this brand is all about exciting flavor combinations such as sour apple + starfruit and cherry limeade + watermelon breeze. With 100mg per pack, these retail for $24.99.
A brand with an eye for marketing and packaging, 1906 edibles are sure to deliver every kind of high you're after. Whether it's a much-needed boost of energy, happiness, or brainpower - 1906 has an edible for you. Grab drops, beans, or chocolates with prices ranging around $20-$30 throughout Colorado and several other states.

Here's a passion project that is all about the quest for making the best flower on the market. With in-house genetics and an expert grow team, purchasing this flower means you're getting a premium smoking experience and flavor in every hit. Located throughout the state, find pre-rolls for $12 with prices for an eighth at $50.
This brand hopes to achieve the most consistent, terpene-rich flower with one goal of quality over everything. With a diverse catalog of indica, hybrid, and sativa strains, Veritas is sure to deliver whatever your mind and body need. Find the flower throughout Colorado, starting at $40 for an eighth.

Here's a Colorado-based cultivator that says their imagination, passion, and devotion applied to their products is what puts them ahead of the game. Based in the heart of Boulder, Colorado, you can find flower, concentrates, and vapes at every price point. Shop 14er to see the future of cannabis.
This brand prides themselves on hand-crafted, small-batch cannabis products. Batch specializes in extracts which only contain high-quality cannabis distillate and natural terpenes. In dispensaries across the Denver metro area, Batch products start at $20.

This grower was on the front lines of cannabis legalization in 2014 and hasn't looked back since. Dedicated to the highest grade of cannabis possible and creating a home for research, Seed & Smith provides top-of-the-line concentrates, flower, and much more. Find their products in the Denver area at every price point.
If you're looking for premium, high-quality baked cannabis goods - this is the brand for you. With cookies, brownies, and pies, this award-winning brand will satisfy every craving possible, with some added cannabis to the mix. Find Sweet Grass across the state, with prices on cannabutter and baked goods for $20.

Widely considered the best tasting gummies in the industry, Kanha is all about a safe and reliable experience, with an adventure in flavor every single time. With flavors like passionfruit paradise and blood orange and a diversity of highs you can achieve, these affordable gummies start at $16 throughout Colorado.
Denver Dispensaries to Visit on 420
This dispensary is all about the finest quality cannabis grown exclusively in soil, hand-watered and hand-pruned. Silver Stem is more than just a dispensary, they are a professional grower that consistently provides more than 25 strains of cannabis. With 10 locations throughout Colorado, stop in for some of the finest bud around. ($)

The founders of Green Man are all about comfort. With a knowledgeable staff and inviting atmosphere, every type of cannabis patient will feel at home in their dispensaries. Striving to make cannabis an integral part of anyone's daily wellness routine, Green Man aims to educate everyone who walks through its doors. Find Green Man at their two locations in the Denver Metro area. ($$)
OG is actively trying to "Make It Better." They have been pushing the envelope on quality, consistency, science, and passion each day since the early days of 2016. As a medicinal, recreational, and wholesale operation, the company boasts 50+ Cannabis Cup Awards and is famously known for the WestSide OG and EastSide OG strains, clocking 36% THC. This dispensary is conveniently located miles from the Denver International Airport. ($$)

If you've ever been to Denver, chances are you've seen one of the many Lightshade dispensaries. It is a household name in the Mile High City, and for good reason. From the expert budtenders to the curated in-store experience, veteran and novice consumers will always feel right at home. With a great loyalty program, check out Lightshade in practically every corner of the Denver Metro Area and beyond. ($-$$$)
Happy 4/20, friends! We hope you have a great time celebrating. Stay safe & consume responsibly.