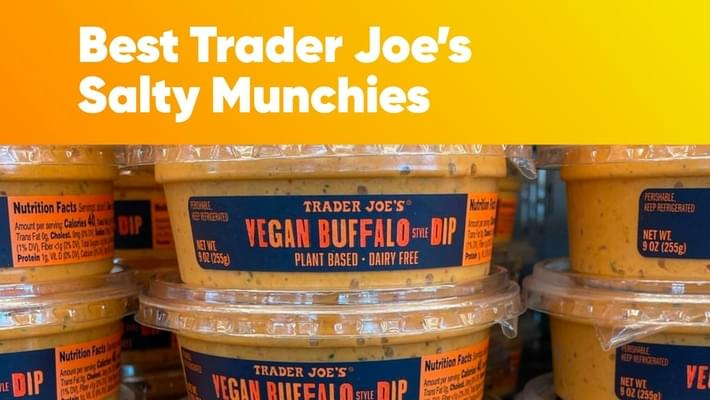 The Best Trader Joe's Salty Munchies
It can be a dangerous thing for a stoner to step into a grocery store and be confronted with all the delicious things in this world. Being hungry when high, colloquially known as the munchies, results from the THC binding to our brains and increasing our physical sensations, including hunger. Sometimes, the munchies can only be conquered with whatever few snacks you have on hand, requiring a bit of stoner engineering to make good stuff from basic ingredients. Other times, however, you may live close enough to a great store to enjoy all the best treats available to the public. Trader Joe's is perhaps the closest thing to a stoner paradise, a reflection of their diverse tasty treats brimming with flavor. Here is a short list of the best Trader Joe's snacks that are salty in taste.
Peanut Butter Filled Pretzel Nuggets

Few treats are better for potheads than peanut butter. Not only does it taste great on its own, but it can be combined with countless other ingredients to create a fantastic snack that combines saltiness and sweetness. What's more, peanut butter can be infused with cannabis to be an edible all on its own.
Peanut butter-filled pretzel nuggets top the list of Trader Joe's snacks because they are a surefire crowd-pleaser. Even a Trader Joe's manager's questionnaire revealed that these are in the top ten favorite items. Available in 1lb bags for under three dollars, they are both plentiful and inexpensive.
White Cheddar Corn Puffs

Why is popcorn such a great go-to snack? Is it because we associate it with the joys of movie theaters or zoos, or amusement parks? Or is it because you can add endless toppings to the simple, tasty base? Whatever the reason, white cheddar corn puffs (or sour cream corn puffs) are among the best Trader Joe's munchies options. The delectable white cheddar coating sticks to your fingertips, making for a satisfying second taste. These light, airy snacks come in at under 200 calories per serving, so they won't weigh you down when you want something quick and easy.
Jerk-Style Plantain Chips

One of the great things about Trader Joe's is that you are sure to find more unique and diverse items than you could find at a 7-11 or a Walmart. Their Jerk-Style Plantain chips are proof positive of the value of new experiences. If you have never had banana chips, let alone plantain chips, you are missing out on an incredible marriage between savory and sweet. The flavoring of these particular chips is why they sit near the top of the list of good Trader Joe's snacks. The spicy, intense Caribbean flavoring is so vivid that you might think you are on a cannabis vacation. These are seasonal treats, however, so you may have limited options to try them.
Spicy Porkless Plant-based Snack Rinds

The food revolution has delivered many new, intriguing meat-free options for avid vegetarians and guilty carnivores alike. Gone are the starchy tofu and lentil meat-free snacks of yesteryear. Today's guiltless plant-based options are nearly indistinguishable from the real thing. Trader Joe's spicy porkless plant-based snack rinds may sound like a leap, but taste just one, and you will be kicking yourself for not trying it earlier. Their light, crispy "skin" has the exact texture of an actual pork rind, with more than enough flavor to make you dive back into the bag for just one more.
Vegan Buffalo Dip

You could come up with a hundred different options for the best Trader Joe's dips that match their scrumptious chips, crackers, and cheeses. At the top, however, is the vegan Buffalo dip, a tangy and irresistible array of flavors that have great taste without any animal products. Vegan munchies are increasingly popular in the cannabis community, reflecting how social and environmental consciousness is ingrained in stoner ideals. Grab a tub of this dip and a bag of chips, and you will find yourself perfectly ready for a movie session.
Chicken Tikka Masala Samosas

Chicken tikka masala is often the entry point to Indian food, much like shawarma is the entry point to Middle Eastern food. This particular food is a bit hard to make, however, requiring a long simmer for the curry to hit its perfect array of flavor and texture. Head into a Trader Joe's when you do not have the energy to make it from scratch and pick up a package of chicken tikka masala samosas from the freezer section. These microwavable appetizers are an excellent way to get a taste of India without needing to order delivery. At ten samosas per package, they are a perfect treat to share or a perfect substitute for dinner if you want them all to yourself.