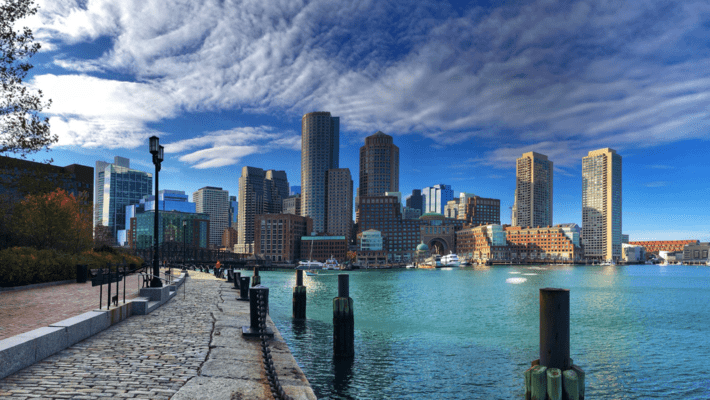 Top 7 Things To Do While High In Boston
When one thinks about New England, especially the city of Boston in Massachusetts - a few distinct things will likely come to mind. You may think about the brash attitude of the city, that thick, unique-sounding accent or the rich history that the city is filled with. While there are so many distinct qualities that make Boston what it is today, the city is making a name for itself in a whole new venture and industry, and that is cannabis.
Boston Cannabis Laws: Medical
Just like in several states (and hopefully many more to come), cannabis has come a very long way in Massachusetts. Believe it or not, this state was the first to criminalize recreational cannabis back in the early 1900s. Almost a century later, medicinal cannabis would be brought onto the scene via a ballot measure in 2012, resulting in Massachusetts becoming the 18th state to legalize medical marijuana.
The stipulations of medical weed in the Boston area are pretty in line with other states. You'll need to be 18+ and can possess up to a 60-day supply of cannabis while growing up to 6 plants if you're on your own and up to 12 plants for two or more adults.
Boston Cannabis Laws: Recreational
Recreational cannabis finally became legalized in 2016 via a ballot initiative. While this was a huge win for cannabis everywhere, it was a bit of a slow start for the industry to take off in the state and had everyone thinking, "When will recreational dispensaries open in Massachusetts?" The stoners had to wait until November 20th, 2018, when the first sales kicked off in the state. Boston marijuana laws recreationally fall in line with the rest of the country. You'll need to be 21+ to buy or sell and can possess up to one ounce of flower or up to 5 grams of concentrate.
Cannabis is flourishing, as the state saw $170 million in state tax revenue by the end of 2020 after hitting $1 billion in retail sales.
Boston, MA Attractions
Freedom Trail

If you're a stoner who likes to be outside, taking in your surroundings while smoking - this is the activity for you. The Freedom Trail is a 2.5-mile trail that connects 16 nationally significant historical sites of the American Revolution. Follow US history down a brick path (literally) and check out the museums, shops and bakeries along the way.
Faneuil Hall Marketplace
This downtown promenade will give you an authentic feel of the city. Shop high-end fashion or antiques, watch street performers, or just sit back and do some excellent people watching. Hungry with the munchies? Grab all the New England delicacies in this historic building known as the "Cradle of Liberty."
Boston Common

There is just something about sitting in the grass, taking in nature - all while stoned. Not only is Boston Common a beautiful park to sit back and hang in, just know that you'll be enjoying your high in the oldest city park in America, dating back to 1634. Need free things to do in Boston? Look no further than this downtown hangout spot. Plus, Chinatown is just steps away if you need some afternoon fuel.
New England Aquarium Whale Watch Tours
If you're in need of unique things to do in Boston today, we recommend getting on a boat. Leaving from Central Wharf on the east side of the city, you are guaranteed to see some whales, one of the ocean's most fascinating creatures. You'll catch other marine life too from guided tours by expert naturalists and can even cruise along the harbor afterwards for some excellent outside time. Tickets are $60.
Explore the North End

This neighborhood in Boston is not only picturesque but is home to some of the oldest buildings in the country. If you're not getting lost in the maze of narrow streets, you'll realize this is Boston's Little Italy, so take it all in with the best oysters and bakeries around.
Bow Market
Located in the Northwest part of Boston in Somerville, this market is a hub for city life. You'll find creatives of all sorts, from chefs to comics and DJs to designers. It's a one-stop-shop for shopping small and trying the best eats in the whole city. We don't think that you'll need to venture out, but if you do, the impeccable grounds of Harvard aren't too far away.
Get Spooky in Salem
If you're a sucker for a good small town, make your way directly north to this somewhat infamous city. Home to the Salem witch trials, it's now a massive fall destination for all things scary and witchy. Experience the sights and history while you get a feel for small-town New England. You'll find the arts, psychics and good tours at every turn.
Recreational Dispensaries in Boston

Not only was this the first rec dispensary in Boston, but it has also continued to be one of the best. Voted "Best of Boston" for the last few years, this black-owned shop stays ahead of the curve with high-end products in every form with impeccable and friendly service.

With a "seed to table" approach, how can one not stop at this spot. With delivery and local pickup, including the finest wax, vape cartridges, and flower, you'll find that this dispensary doesn't cut corners anywhere. A bonus? They are particularly passionate about helping those disproportionately affected by marijuana, such as the homeless and veterans.

Here's a dispensary that leads with lab-tested results. You know that you're shopping the best quality products that include the likes of tinctures, vape pods and edibles. At Sanctuary, it's all about your well-being, and they have the professional staff to get you what you need.
Have you visited Boston? What do you think of our list of things to do while stoned? Give us your New England recs below.