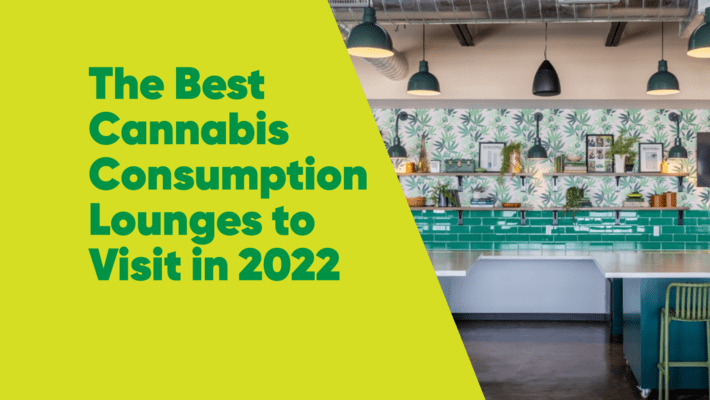 The Best Cannabis Consumption Lounges to Visit in 2022
It's 2022, and we're happy to say that marijuana continues to push further into the mainstream. With legalization efforts throughout the states and on a federal level ramping up, it's time to start thinking about how cannabis can be incorporated into our daily routine. The idea of the cannabis consumption lounge is on the rise and is making impressive waves throughout the nation. Keep reading for the latest on these lounges below.
The New Smoke Spot
According to a Gallup poll, today, cannabis is not only widely accepted on some level but has also been dabbled with by nearly half of the adults in the United States.
This exciting change in perspective has given rise to the cannabis consumption lounge. These lounges are safe, enclosed spaces where cannabis can be smoked freely and enjoyed if you're of legal age. Think of a cannabis lounge as a bar - a place to gather, socialize, and enjoy a tasty spirit.
How Do Cannabis Lounges Work?
Lounges are BYOP - bring your own pot. Before hitting up your favorite lounge, make sure to hit the dispensary for all your favorite goodies, and the lounge will provide many necessary accessories. Some vary in how long you can stay, and some states have the dispensary & consumption site rolled all into one.
These lounges will often have a music, art, and event element to further the sense of community that many of these lounges hope to cultivate. Alcohol is not permitted (as of right now) at these lounges, and daily entry fees can vary from $4.20 - $20.
What States Have Approved These Lounges?
Not all US states with legal recreational cannabis have permitted the creation of social consumption lounges. Without federal legalization, states are tasked with regulating their cannabis markets. For some states, it is a blanketed decision by the state legislature, for others - it is up to each municipality to decide for their communities.
The states that have these lounges/that have the laws to support them include the likes of Nevada, New Jersey, New York, Illinois, Colorado, Michigan, and California.
Is There a Dab Lounge Near Me?
A new, safe place to toke up may be right around the corner from you.
Tetra Lounge

This Colorado cannabis lounge is located in the trendy, artistic neighborhood of RiNo and has continued to make a name for itself since 2018. As a premier social club, Tetra Lounge boasts a range of private cannabis-related events and an unmatched smoking space. Tetra offers daily, monthly, and yearly memberships to ensure that any smoker can get in on the fun. Come roll a joint and have yourself a day for $20.
The Coffee Joint
As Denver's first consumption lounge, The Coffee Joint strives to destigmatize the use of cannabis while also educating every person that comes through its doors. Inside this spot, you can consume concentrates, vape, and enjoy cannabis-infused products. What isn't allowed? You won't be able to light and smoke the joint, blunt, or bowl inside. There is no entry fee.
Luna Lounge

For a cannabis consumption lounge, Illinois is raising the bar. This lounge and smoke shop transports you to the 1920s and provides a lush and luxurious way to consume your favorite herb in style. Located in Sesser, Illinois, and providing the ultimate smoking experience since 2021, expect comedy shows, yoga, trivia, and more. The house fee is $4.20 to visit daily and will range in price depending on what event is occurring.
Green Thumb Industries Consumption Lounge
This company, which is a leading national cannabis consumer packaged goods company and owner of Rise Dispensaries, is looking to create an elevated experience for its consumers in Mundelein, Illinois. Green Thumb has eyes on the future, which includes a brand-new retail space with an open concept bar for individualized consultations, interactive displays, and legal on-site purchase and consumption through reservations as of October 2021. These "smokeasy" reservations can be made online.
NuWu - Vegas Tasting Room

Sin City has it all, right? Here's a premier spot for tourists to consume legally and enjoy their favorite herb in an elevated way. NuWu provides a VIP bottle service experience, but it's cannabis-themed. Expect canna-infused cocktails, a DJ playing your favorite tunes, and having the chance to puff on your favorite pre-roll. The Tasting Room, which started in 2019, has an array of equipment to rent, and walk-up packages include a pre-roll and infused cocktail for $50.
Planet 13
This well-known dispensary plans to build a massive 20,000 square-foot lounge with an indoor splash pool and 5,000 square-foot outdoor balcony just west of the Las Vegas strip. According to an MJ Biz Daily report, the lounge and dispensary will be connected. Vegas is built on entertainment, and this will be no different. The lounge should be coming soon, and it is important to note that guests won't be allowed to bring in cannabis from other retailers.
Hot Box Social

For its first-ever cannabis consumption lounge, Michigan is making waves in the industry. Located in the Hazel Park neighborhood of Detroit, Hot Box opened Spring of 2022 for private events. The 3,000-square-foot lounge aims for a relaxing, safe, and supportive environment to consume and should be open to the public later in the summer. With a beautiful and functional design, Hot Box sees through the hazy smoke to a clear, focused future of cannabis. The team is currently undecided if it will charge patrons or not in the future.
The Vault
Located in California's Coachella Valley, The Vault is an elite cannabis destination that combines the concept of dispensary and lounge - all into one package. With an emphasis on education, the expert budtenders are sure to guide you through their extensive menu so you can tailor your experience exactly to your liking. The Vault opened in 2019 and has been a pioneer ever since.
Cookies
Here's another household name in cannabis. Created by two visionaries who brought the iconic strain Girl Scout Cookies to the market comes a cannabis consumption lounge in Coalinga, California. Simply peruse and choose one of their high-quality products from their dispensary menu, grab a reservation, and get smoking. Initiated in 2021 - expect a curated, seed-to-table experience every single time with luxury seating and a top-of-the-line air filtration system.
Urbana
This San Francisco-based dispensary and lounge is all about a simple and approachable experience. Shop their vast array of products and enjoy some modern comfort and friendly amenities that Urbana will always offer. This is your space, whether you are hosting an event or looking to kick back and catch a game. While there is no entry fee, one must purchase their goods on-site on the day of smoke.