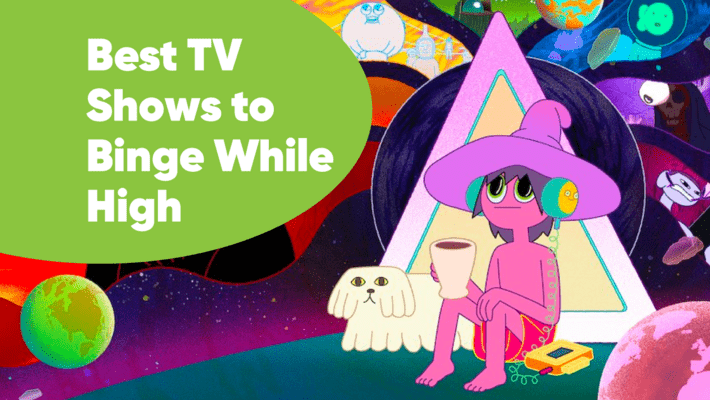 Best TV Shows to Binge While High
There are no couch potatoes quite like stoner couch potatoes, who can happily watch toddler's shows or political debates from the 1970s so long as there is lots of great bud on hand. When it comes to modern television, we're spoiled for choice: there are countless options out there, and nobody will ever be able to watch them all. What should I binge watch in 2022? You've got plenty of options, including a dozen different platforms dedicated to providing great quality TV. That's why it's so much fun to get a show you truly love and binge it, taking an evening or even a whole weekend with good strains that put you in the mood for comedy, drama, or action. Here are the best shows to watch high for 2022.
Ozark

With no fewer than 32 Primetime Emmy Award nominations, including best series, best actor, and best director, you don't need to know anything about the Netflix show Ozark going in except that you're in for a great show. This crime drama focuses on money laundering, that great bridge between criminals and the everyday world, and like "Breaking Bad," gives you a crash course on how to break the law in many different (and lucrative) ways. Starring Jason Bateman as the accountant who crunches numbers for Mexican cartels, Ozark takes its name from the setting in central Missouri, where the family must contend with both petty criminals and larger organized crime activities in their backyard. It's one of the best shows 2022 Netflix has to offer.
Recommended pairing: a Sour Diesel that is strong enough to make you root for the bad guys.
Curb Your Enthusiasm

Larry David is a man that many of us wish we could be, one who speaks his mind, no matter the (disastrous) consequences. While the average person keeps their opinions in check so they aren't a social outcast, the hilarious appeal of Curb Your Enthusiasm on HBO is that the protagonist never does so. After a decade-long run, the show has been rebooted with very little change to the main premise: Larry goes about his business, offending everyone in earshot or misinterpreting situations to his severe fault. Curb is easily one of the best shows to watch when high, in no small part because just about every stoner can see themselves in the characters.
Recommended pairing: a Starburst strain will make you laugh harder at all the best jokes.
Euphoria

A teen drama set in high school may be just your cup of tea in terms of shows to watch when high since you can probably get baked enough to remember your own experiences among your teenage brethren. Euphoria is an HBO series that's far more than a standard story of awkward encounters and is easily one of the best shows 2022 has to offer. Like any HBO show, the tone and the themes are adult even if the characters are (mostly) children; issues ranging from addiction to suicide to teen pregnancies pop up, and not in a lighthearted manner.
Recommended pairing: a Cookie Monster strain that will make you feel feels you may have forgotten you even had.
The Midnight Gospel

Of all the best stoner shows of the past decade, Adventure Time may be the very best. If you loved the saga of Jake the Dog and Finn the Human, you'll love the next venture by the showrunners: The Midnight Gospel, a psychedelic view of the multiverse where comedy has no limits. The Midnight Gospel often pops up on the list of Netflix recommendation series because it appeals to pretty much everyone, thanks to its vibrant colors, intense sense of imagination, and amusing scenarios.
Recommended pairing: a Berry White, a fantastic (and tasty) hybrid strain that helps you unwind your brain.
The Cleaning Lady

Many of the best binge-worthy shows of 2022 put a new spin on an old tale. That's certainly the case with Fox's The Cleaning Lady, the story of a doctor-turned-cleaner who finds herself in deep with the sharks (she lives in Las Vegas, after all) and has to put both talents - medicine and the custodial arts - to the task. As in every story, getting in with the mafia is the easy part; getting out is a far more tricky objective.
Recommended pairing: a Sour Maui strain that will make your emotions swell so much that you find yourself wondering what could happen next.
The White Lotus

Do you remember the movie Forgetting Sarah Marshall? Can you imagine a TV show about the workers at that Hawaiian resort, focusing not just on silly hijinks but their darker links to drugs, sex, and violence? If so, take a puff of something good and put on The White Lotus, a comedy-drama on HBO that promises a lot of laughs and a lot of gasps. This is one of the best shows to watch high for several reasons, including its rapid change of pace and tone and its many bizarre circumstances that leave your head spinning.
Recommended pairing: a nice White Widow strain. What else?
Do you like to binge watch TV while high as a kite? What are your favorite shows, and what are you excited for in 2022? Let us know in the comments below!