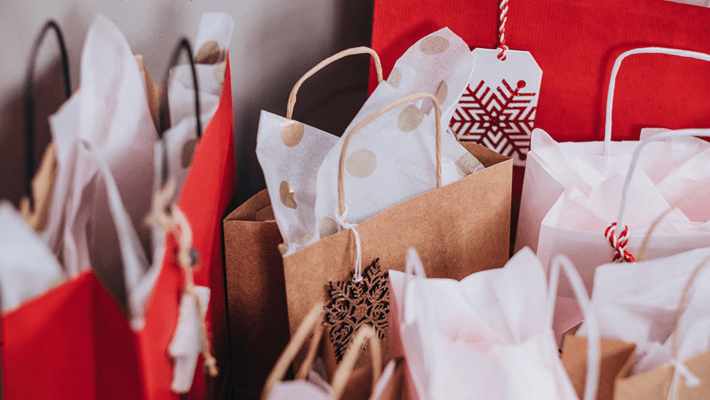 How to Prepare for the Holidays as a Dispensary
The holidays are always a busy time for businesses, and dispensaries could be seeing a lot of extra traffic because of the stress COVID has added to the holiday season. Since it could be an especially important year for dispensaries to tailor to the holiday crowd, we've put together this list of tips and tricks for making sure your dispensary is prepped with holiday vibes for a lucrative season.
Holiday Inclusion

When stores prepare for the "holiday season," they often just put up Christmas decorations - and while Christmas is the most recognized, widely-practiced winter holiday in America, it's not the only one. Inclusion is important, and the cannabis industry has the chance to stand on the right side of representation. Considering other holidays during the upcoming season is a small but worthwhile way to acknowledge your entire customer base and the diversity of your community. Think about Christmas, Hanukkah and Kwanzaa. Decorate and market to each holiday so that no one is left out this year. Here's a list of the main holidays you should probably be considering:
Hanukkah (November 28-December 6)
Christmas Eve (December 24)
Christmas Day (December 25)
Kwanzaa (December 26-January 1)
New Year's Eve (December 31)
New Year's Day (January 1)
Capitalizing on Merchandising Opportunities
Black Friday is a big day for holiday sales, but it's not the only day. Each holiday presents a new opportunity for you to market unique seasonal sales and promotions. We highly recommend making a calendar for every holiday you want to build sales and marketing materials around and then dedicate resources to each one. In the days and weeks before a specific holiday, use social media, emails, and texts (if you have a database of your customers' information) to promote your sales - don't just wait until the day of. Be creative and tie each of your offers to a holiday. Christmas, Hanukkah, and New Year's should all have different sales and different marketing materials to keep people coming in!
Be Present on Social Media

Social media is the easiest way for you to market your store and connect with your customer base. It's a great way to build your brand, advertise your promotions and create a voice within the community. Use this during the holidays and be festive! Create posts for each holiday that use bright, iconic imagery to catch your customers' attention and draw them in. Post consistently (the same time once or twice a day, each day of the week), use hashtags, tag relevant people or partners and be creative with your content. If you can, consider influencer marketing to achieve maximum exposure. Additionally, don't just focus on promoting your sales - highlight the holidays and the emotions behind each one - social media is about building your brand as much as it is about driving sales. Spread holiday cheer and bring more customers to your dispensary!
Make Bundle Offers and Gift Sets
When you've decided the details of how you're going to market your store throughout the holidays, you should then come up with ways to bundle products and give holiday-centric incentives for customers to shop at your dispensary. There are several ways you can bundle offers to make enticing deals for your customers:
Bundle by brand
Bundle by product type
Bundle by strain
When you create your special offers, you can either place them together in your dispensary so people can actually see them as a package deal, or you can give your customers more control over how they bundle and allow them to mix and match within certain sales parameters. You might also want to consider a promotional gift offer that rewards customers for shopping at your store. If a customer spends a certain amount or buys a specific product, advertise that you'll gift them something for free, like a bag of edibles or an infused lotion. Especially during the holidays, your customers will respond to free stuff.
Create a Gift Buying Guide
Gift buying guides can be an invaluable tool to help direct customers in the right direction. During the holidays, people are often overwhelmed by what to buy, so they are frequently open to suggestions your business puts on an official buying guide. You can create both an in-store copy for people to look at while their shopping and an online version you can send out via email and present on your website. When you put the guide together, highlight your various bundle offers and gift sets - put those front and center and give brief descriptions that detail the value of a package deal. The guide can also have a more detailed section where you highlight different types of product with a few options for each category.
Holiday Decorations

Simply decorating your store can make a huge difference in whether people shop at your dispensary throughout the holidays. Much like when restaurants or bars go all out on holiday decorations, being the "holiday dispensary" could be enough of a novelty to bring in a lot of foot traffic. If it's something that fits your brand's overall vibe, give holiday decorating everything you've got. String lights everywhere, put up a Christmas tree, decorate with Hanukkah and Kwanzaa candles, use holiday colors, hang garlands and wreaths, and do anything else you can think of! Then, if you get your store decked out enough, take pictures of it and advertise on social media and through email blasts. Get your customers intrigued - make them want to come in just to see how you've decorated, and then they'll also grab some holiday weed while they're at it.
There are many ways to make your dispensary stand out amongst all the holiday sales and compete within an increasingly competitive market - let us know if there are other ways dispensaries can make the most of the holidays. Comment below!