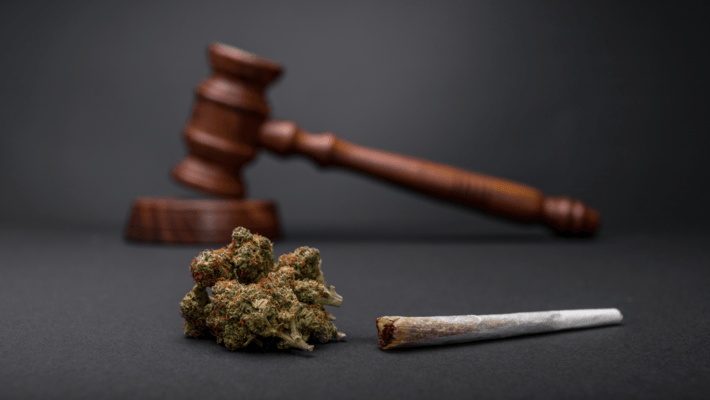 Who Still Opposes Cannabis Legalization?
Cannabis is now legal for recreational use in 18 states and the District of Columbia, and available for medical use in 37 states, yet it remains illegal at the federal level. Although most adults in the U.S. think that it should be legal to all for medical and adult use, federal legalization continues to face insurmountable hurdles. Legislation introduced in Congress repeatedly hits walls or simply peters out. The legacy of the federally funded War on Drugs, the tortoise-like pace of any real reform on Capitol Hill, and the exorbitant amount of lobbying spending by entities with vested interests in keeping weed illegal.
Lobbying for Cannabis

The Center for Responsive Politics reported that $5,760,500 was spent on pro-marijuana lobbying concerns in 2019 with 92 marijuana lobbyists working on Capitol Hill. Some legislators heard the lobbyists' concerns, and as recently as July 14, 2021, Senators Cory Booker, Chuck Schumer and Ron Wyden presented a discussion draft of a bill that would legalize cannabis and allow adults to possess marijuana and purchase it from dispensaries. The Cannabis Administration and Opportunity Act would completely remove marijuana from the Controlled Substances Act (CSA) and allow states to enact their own cannabis laws. Money from federal taxes on cannabis would be used to support restorative justice and public health and safety research. Chances of the bill becoming law are slim, however, due to resistance from Republicans in the Senate.
Another bill that was recently reintroduced (it failed in the Senate previously) to Congress by House Judiciary Chair Jerry Nadler is the MORE Act (Marijuana Opportunity Reinvestment and Expungement Act). If it makes it past the Senate, it would legalize and remove cannabis from the CSA, expunge cannabis convictions, and establish a federal tax on marijuana to be used for community reinvestment programs.
Lobbying Against Cannabis
Capitol Hill cannabis opinions may trend toward legalization for the most part, but for every marijuana lobbyist working for reform of the restrictive federal laws, there is another, usually better funded, whose sole purpose is to keep the Capitol Hill marijuana legalization votes in the "NO" category. Those lobbyists are constantly attempting to influence members of congress via meetings, persuasive letters and phone calls. The most powerful lobbyists tend to work for corporations or associations that represent entrenched industries that do not want to see any changes that might put a dent in their bottom line or make it more difficult to do business. Lobbyists are very well paid for their work and often have established relationships with lawmakers that provide them with the access and influence that can decide whether a bill fails or becomes law.
Groups Against Cannabis Legalization

The industries and associations that oppose cannabis legalization are extremely powerful and very wealthy. As such, their influence on cannabis Capitol Hill policy is profound. Here are some of the largest.
The Pharmaceutical Industry
"Big Pharma" companies and trade groups have long worked to keep cannabis illegal at the federal level. They fear that they will lose customers who use their products for pain relief, seizure mitigation, weight loss, anxiety, nausea and the dozens of other issues that cannabis can also address (without the dangerous side effects or high addiction rates) were it to be legal across the country. Fewer pills means fewer profits.
The most glaring instance of pharmaceutical influence was in 2016 when the DEA-approved maker of synthetic THC and drugs with opiates and the pain killer fentanyl, Insys Therapeutics, gave $500,000 to Arizonans for Responsible Drug Policy, the key group opposing a legalization bill in that state. The measure on the ballot was subsequently defeated. Other prominent corporations who actively lobby against legalization include the highly controversial Purdue Pharmaceuticals. That company makes OxyContin.
Police

"Probable Cause" is the main reason for the anti-legalization efforts of police unions and law enforcement groups like state associations of chiefs of police. Sure, money is a factor. More arrests for weed create the need for more cops which means for money (again, from taxpayers) for police.
But the real issue for law enforcement is the ability to use the smell (or perceived smell) of marijuana to search or simply harass people on the street, raid homes and businesses, and look for other things that might be deemed illegal in the eyes of the State.
It makes the life of an officer easier if the idea of cannabis can be used as a crutch to facilitate their work. If nothing else is found, they can still arrest the individual involved. Police arrested 545,602 people for cannabis-related crimes in 2019. Arrests for possession accounted for 92% of the arrests.
Prisons
It is a sad indication of the state of our society, but the for-profit prison industry in the U.S. is growing, and it needs prisoners to keep the cash rolling in. Private prison companies like CoreCivic that operate under government contracts (yes, using your tax dollars) lobby to keep marijuana illegal so they can maintain their "customer" base. This is capitalism at its worst. Private prisons rake in over $7 billion per year and there are approximately 40,000 Americans still in jail because of cannabis....nbsp;
Other prominent groups and industries that fear and work against federal cannabis legalization include casinos, addiction groups like Alcoholics Anonymous, religious organizations like Focus on the Family, Partnership for a Drug-Free America, and conservative think tanks like The Heritage Foundation. Within the Federal Government, the Drug Enforcement Agency, the National Institute on Drug Abuse, and the Office of National Drug Control Policy are the most influential.
Even President Joe Biden still opposes marijuana legalization. Unlike his Democratic partners on Capitol Hill, he does not agree with legislation to end the federal prohibition on pot. His prominent role in the War on Drugs in the 1980s and 90s and his current opinion place him sadly at odds with the current climate.
Do you think the U.S. will federally legalize cannabis in the near future? Share your thoughts in the comments below....nbsp;