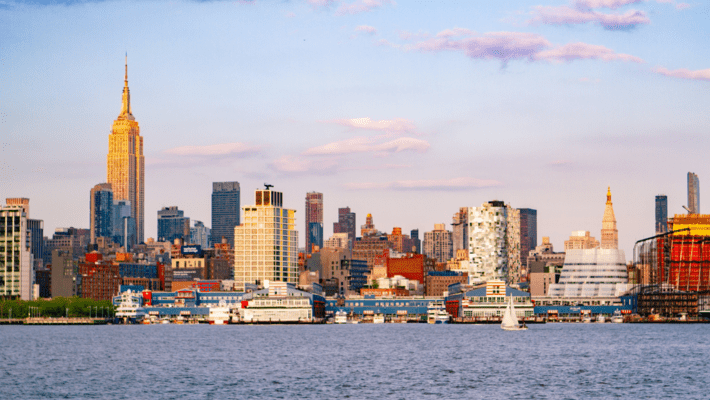 New Jersey Legalized Cannabis & Opening Day Crowds Topped 12,000
Legalization efforts continue to ramp up around the country, and whether you are on the side of cannabis or against it, weed is here to stay in the mainstream. Even though we may be ways away from federal legalization, markets are continuing to open - and the latest market to give the green light to customers is cannabis in New Jersey. The state has had a long, complicated relationship with marijuana, but it's 2022, and they are turning over a new leaf.
The History of New Jersey Cannabis
New Jersey wasn't at the forefront of the medicinal movement, but it surely wasn't the last to jump on the train. New Jersey became the 14th state to legalize cannabis for medical use when the legislature passed the New Jersey Compassionate Use Medical Marijuana Act (CUMMA) in January of 2010. While it was signed into law by Governor Jon Corzine on his last day in office, Chris Christie abruptly halted it when he took office the following day. Eventually, the patient registry reopened on August 9th of 2012, and the rest is history.
While it may be easy for people to get behind cannabis for medicinal uses, recreational use is a whole separate game. When it came to cannabis, New Jersey had a plethora of issues with possession and other cannabis offenses. At one point, New Jersey was arresting more people than any other state in the nation. Cannabis regulations weren't sticking, and citizens and lawmakers alike were tired of seeing the failed War on Drugs and ultimately fought to bring recreational legal cannabis to the market after many failed attempts.
In 2020 a referendum was placed on the ballot to legalize weed, and 67% voted yes. For New Jersey, cannabis legalization also meant cannabis decriminalization, as Governor Phil Murphy signed both into law. The New Jersey cannabis laws, specifically those about decriminalizing possession, are a sign that the state is trying to move past the War on Drugs - hoping that no young person gets "tangled up in our criminal justice system."
NJ Dispensaries - A Closer Look
While it's exciting that a new market is forming in the state, there may already not be any room for the local "mom n' pop" shop to find its place in the weed market. MSOs, or multi-state operators, are already taking control and are most of the New Jersey cannabis licenses. The NJ markets opened on 4/21, so let's take a closer look.
The Botanist by CCF - Egg Harbor Township & Williamstown

With locations located just outside of Philadelphia and Atlantic City, these dispensaries are all about fostering discovery and guiding you through the best possible cannabis experience. The Botanist has locations all over the east coast and the midwest and is run by the MSO Acreage Holdings. The Botanist can be your one-stop-shop for all things vape, flower, and more.
Ascend New Jersey - Rochelle Park
Located in the suburbs of NYC, this dispensary is home to a wide selection of cannabis brands - all at affordable prices. With knowledgeable budtenders, you're in good hands every single time. Ascend is an MSO known as Ascend Wellness and has locations in Illinois, Massachusetts, Ohio, and Michigan.
The Cannabist - Vineland & Deptford

This New Jersey cannabis dispensary is all about having an uncomplicated shopping experience, even if you consider yourself the most novice of the consumer. Whether you're a medicinal or recreational user, the team will help lead you to your higher calling with the highest quality bud. The Cannabist is owned by the MSO Columbia Care, which rival Cresco Labs just bought out for $2 billion.
Curaleaf - Bellmawr & Edgewater Park
With both dispensaries located just outside of Philadelphia, Curaleaf hopes to improve lives by providing clarity around cannabis and confidence around consumption. Operating in 23 states, there is no secret that Curaleaf Holdings is an MSO looking to further its reach in the industry within this New Jersey market. Few others know how to cultivate like Curaleaf.
RISE Dispensaries - Patterson & Bloomfield

Among New Jersey cannabis companies, few others place such importance on inclusivity as RISE. They believe that the plant is for everyone, no matter what your lifestyle or wellness level is. RISE Dispensaries is owned by Green Thumb Industries, a national cannabis consumer packaged goods company and retailer.
The Apothecarium - Maplewood & Phillipsburg
With locations just outside of New York City, The Apothecarium is all about putting its patients first. With a highly trained wellness staff, in-depth consultations, and free educational events - this dispensary is here to serve you. This spot is owned by the MSO TerrAscend, a leading North American cannabis operator in NJ, Pennsylvania, Michigan, and California.
Zen Leaf - Elizabeth & Lawrence

Located throughout the state, this dispensary surely lives up to its name. Zen Leaf's top priority is to be a place of comfort and care while delivering premium products to the customer. Zen Leaf is owned by Verano Holdings, a vertically integrated operator of licensed cannabis cultivation, manufacturing, and retail facilities.
First Week Sales & The Future of Weed in NJ
According to an article from the Philadelphia Inquirer, more than 12,000 customers spent nearly $1.9 million on recreational cannabis on 4/21, which was the first day of legal sales. That total works out to an average of about $150 per shopper, which is higher than some leaders were even hoping for.
Dispensaries grossed $1.9 million from those first-day sales, and this data shows that the market effectively serves both adult consumers and patients alike. It was a big first day for New Jersey and should continue to be on the up and up as more players enter the game, and more licenses are granted throughout the state.
What do you think of the New Jersey market? Will it blossom like the rest of the country? Tell us your thoughts below.