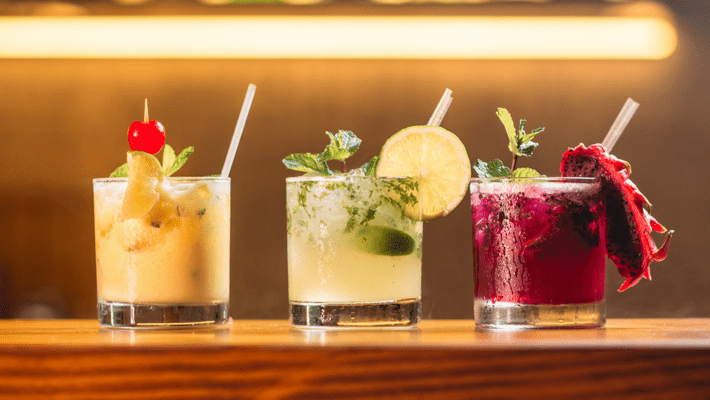 How to Make Tasty Cannabis Cocktails
The truth is, many people tend to turn to alcohol almost always when it comes to social situations, whether it be to ease their minds or to be more fun. However, drinking has its many pitfalls and shortcomings. Want to switch things up sometimes? With legalization taking over the country, breaking down stigma after stigma, cannabis is more mainstream than ever. If you still want to be social with everyone and ditch the alcohol, try some cannabis-infused beverages next time and we promise youll have just as much fun without the headache the morning after.
Ways to Infuse Your Cannabis
As everyone knows very well, we spent last year inside. Within that last year, people turned to DIY home projects like never before. One of those projects was cooking in the kitchen with marijuana, creating everything cannabis like edibles, bath bombs and THC-infused honey. When it comes to infusing cannabis, two great mediums for it are coconut oil and simple syrup, which will work especially well when it comes to the creation of your 420 drinks.
Coconut Oil, Who Knew?

Believe it or not, but this oil is all the rage right now and it has plenty of health benefits. Its dairy-free, vegan-friendly, contains fatty acids that provide energy and boost metabolism, heart-healthy and above all, delicious. Other than that, its an excellent way to carry cannabis due to the high-fat content, as THC and CBD easily bind to fat. Did we mention that its solid at room temperature?
Canna-cocktails & Coconut Oil
When it comes to edibles of any sort, the word decarboxylation is going to be your best friend. What does this even mean, you ask? Decarboxylation is a chemical conversion caused by heat to turn THCa into THC. When you have a raw nug of weed in your hand it isnt going to get you stoned. This process of specific heat, light and time is going to turn your THCa, which is the precursor to THC, into delta-9-tetrahydrocannabinol, which is the psychoactive property that allows you to get absolutely baked.
How to Infuse Coconut Oil
Weve got about every weed recipe you can think of, and how to infuse coconut oil is no different. For an in-depth explanation on how to infuse with coconut oil, reference this article for the canna-coconut oil of your dreams. Its the perfect medium for providing functionality, flavor and an excellent high.
How to Infuse Simple Syrup
Simple syrup is often an ingredient you find in many cocktails, so why not infuse it with THC? Just like coconut oil, you are going to go through the process of decarboxylation as we have noted above, which turns your THC into the lovely, psychoactive compound that you can enjoy. The precursor to THC, THCa, has a shape and size that doesnt allow for the endocannabinoid system to absorb it, so this step is something to not miss.
When it comes to simple syrup, the infusion process uses some other key ingredients than coconut oil. Our favorite recipe calls for misting the baked cannabis with Everclear. This misting process will break down the cellulose in the plant material, helping the cannabinoids migrate to the lipids. The lipid in this case, which is a natural emulsifier, will be liquid sunflower lecithin. One misted and all simmered together, youll find yourself with a delicious simple syrup just waiting to be used in your next cannabis cocktail recipe.
How to Make Cannabis-Infused Drinks: Recipes

Weve just taught you how to infuse cannabis into coconut oil or simple syrup, which is the hardest part. The rest that follows is quite simple.
Malibu Mule
This cocktail, hailing from Los Angeles, typically calls for ginger beer or ale, but for a fresher take we have switched it up so you can really taste the cannabis and receive the medicinal properties from the ginger. Combine:
4 tbsp cannabis simple syrup
2 tbsp fresh lime juice
1 tbsp ginger syrup
1 cup club soda.
Drink up.
Mint Lemonade
Heres a bit of a twist on a classic to balance the cannabis flavor and tartness of lemons, youll need:
cup of whole, fresh mint leaves
5-6 lemons
3 cups cold water
1 cup cannabis simple syrup
Grab a pitcher and add your simple syrup. Juice your lemons and bring the lemon juice and mint leaves into a blender. Once blended, add mix to simple syrup and stir. Finally, add water to your mixture and stir again, and add iced tea if you want an Arnold Palmer.
Cannabis Cosmo
Have your Sex in the City moment, without the hangover in the morning. Youll need:
1 oz cranberry juice
oz triple sec
oz fresh lime juice
oz cannabis simple syrup
Orange twist to garnish
Place all these ingredients into a shaker tin and shake well. Add ice and shake again. Then, strain into a martini glass, garnish and enjoy!
What About CBD Oil Cocktails?

Sure, THC cocktails are fun if you are looking to get a little stoned while sipping. But what if you dont want that? If you want to ditch the psychoactive properties altogether and are looking for something a little more anti-anxiety, consider CBD-infused cocktails instead. Here, youll just swap out the cannabis flower for hemp flower instead. If youre feeling even lazier than that, many recipes call for simply adding tinctures into the cocktails.
Have you ever experimented with cannabis cocktails before? Are these worth the hype or should we just stick to the beer next time? Let us know what you think below.