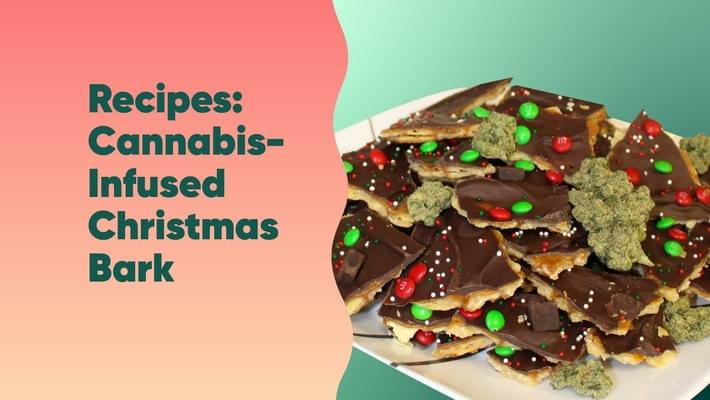 Holiday Recipe 2023: Cannabis-Infused Christmas Toffee Bark
The holidays are right around the corner, and we hope you can spend time with your friends and loved ones, relax, and take a break from the day-to-day grind. While you're enjoying some well-deserved downtime this holiday season, there are many things you can do that you might not usually consider - like baking! We have a special Christmas toffee bark recipe that one of our Where's Weed team members makes for our holiday parties. Yes, it is infused with cannabis butter. Yes, we all absolutely love it, which is why we're sharing it with you here! Let's dive into this delicious, cannabis-infused holiday treat.
Heighten Your Holiday with Cannabis-Infused Baking
As we mentioned above, the holidays are an excellent time to try baking with cannabis and work on your infusion skills. Whether it's for a holiday party or to have around your place on cozy nights in, there are plenty of things you can bake that are delicious and have a cannabis kick. Cookies, brownies, toffee, caramels, fudge - if you can bake it, you can make it a cannabis treat. Here are a few of our favorite cannabutter baking recipes for the holidays:
As with this Christmas Crack recipe, you can choose just how homemade you want your treats to be. If you're new to cannabis, you may consider buying cannabutter at a dispensary (we highly recommend Sweet Grass butter). If you want to go all-in, check out our cannabutter recipe to make it yourself! Making cannabis-infused treats might seem like a daunting task at first, but it's not that difficult and is well worth it. Recipes like this Christmas toffee bark are perfect for throwing holiday parties if you have a handful of cannabis enthusiasts friends and family members.
How to Make Cannabis-Infused Christmas Toffee Bark

Supplies Needed:
Sheet Pan
Tin Foil
Spatula
Cooking Spray
Medium Saucepan
Ingredients Needed:
40 Saltine Crackers
1 Stick of Regular Butter
1 Stick of Cannabutter (we highly recommend Sweet Grass Butter)
1 Cup of Brown Sugar (packed)
2 Cups of Semisweet Chocolate Chips (we recommend Ghirardelli chocolate chips)
1/2 Cup of Holiday Sprinkles
1/2 Cup of mini M&Ms
Step-by-Step Instructions:

If you are making your Christmas Bark with homemade cannabutter, make that before you begin anything else.
Preheat your oven to 400 degrees Fahrenheit.
Place all 40 saltine crackers in a single layer on the bottom of your baking sheet.
Put both sticks of butter and your brown sugar into a medium saucepan. As the butter melts, stir until it's a smooth and creamy mixture, bringing it to a boil for 3 minutes.
When you've brought your mixture to a boil, stir diligently again. This is a critical step for ensuring the cannabutter is properly infused throughout the mixture. If you don't properly infuse, the THC dosages will vary with each bite (and the subsequent effects will be unpredictable).
Pour your brown sugar cannabutter mixture over the saltine crackers and spread with a spatula, so it coats evenly.
Place the baking sheet in the oven and let it bake for three to five minutes (or until bubbling).
Take the pan out of the oven and quickly sprinkle your chocolate chips evenly across the top of your bubbling Christmas Bark.
Place the pan back in the oven for another two or three minutes, then take it out of the oven and spread the chocolate evenly over the top with a spatula.
While still hot, scatter your sprinkles and M&Ms across the top of the melted chocolate.
Let your Christmas toffee bark sit and cool.

If you want to serve your Christmas bark warm, serve it immediately. If you prefer it cold and more brittle, freeze or refrigerate for up to five days before serving. When you serve, cut it into even pieces to make sure the dosage is as even as possible for every bite. All you have left to do at that point is enjoy (the deliciousness and the effects)!
If you follow our instructions exactly, you'll have roughly 15 servings and a total of 100mg of THC. That's about 7.5mg of THC per piece if cut into 15 equal pieces. This is a responsible dosage for individuals new to cannabis or if you want a slight buzz. If you want to add more THC to the mix, you can absolutely do so at your discretion.