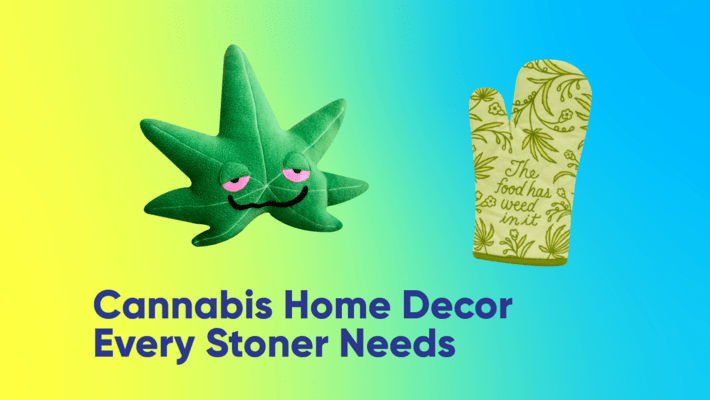 Cannabis Home Decor Every Stoner Needs
Stereotypically, stoner decor was comprised of trippy tapestries and flower power prints. But, as the market grows for cannabis home decor, that style has been brought into the 21st century - along with a renewed interest in mid-century modern and 70s decor staples. Today, home decor dedicated to your favorite plant comes in a wide variety of styles and price points. We rounded up a few of our favorite stoner decor specialties to bring the highest vibes to your home.
Oven Mitt

Whether you're baking your favorite biscuits or just looking for something cute to hang in the kitchen, this oven mitt is the perfect subtle stoner touch. Adorned with the phrase "the food has weed in it," this piece can serve as both a quirky joke and a necessary warning. Just make sure to put them on before you reach for the pan. You can find this Blue Q brand oven mitt from the online boutique BlueQ here for $16.99.
Dish Towel
The perfect pair to your new oven mitt, this tea towel tells all your guests the truth about your home cooking: there might be weed in it. The tea towel also features a botanical print of your favorite leaf in a woven, green-on-green style. A statement hand towel is a must when converting your kitchen into the ultimate stoner room. This Blue Q hand towel is available on BlueQ here for $14.99.
Pot Holder
What's more perfect for a pothead than a pot leaf potholder? Try saying that five times fast. Besides being made of nearly-indestructible silicone to perform at any temperature, the five-point shape makes it easy to grab almost anything you cook up. Both punny and functional, this is the perfect cute home decor for your stoner pal's housewarming party. You can find this potholder from GamaGo on the online boutique Perpetual Kid for $14.99.
Mug

This floral porcelain mug strikes the perfect balance between beautiful and cheeky, nestling perfectly amongst your other unique home furnishings. With the phrase "I might be high" featured in lovely lettering, this mug is perfect for a high tea or a zen moment during a busy morning. The print and phrase are also featured on both sides of the mug, great for both righties and lefties. You can find this mug from Fred & Friends on AlwaysFits here for $18.95.
Tapestry
Hailing back to a classic cannabis decor staple: the stoner tapestry, reinvented. This tapestry can be hung on the wall or taken on the go for an impromptu picnic. With the tongue-in-cheek phrase "Keep Growing" featuring a cannabis nug and leaves, this lime tapestry is perfect for every stoner's den. You can find this tapestry from artist hypnotzd on Society6 here for roughly $27.30.
Posters

Vintage marijuana posters are a perfect, ironic addition to your stoner room essentials. With slogans from "Devil's Harvest" to "Weed With Roots in Hell," this is sure to be a conversation piece amongst your next smoke circle. Even better, you can quickly weed out potential houseguests who aren't down with the plant. You find a variety of vintage marijuana posters at AllPosters here for $20.99 - $45.
Book
In the style of a traditional children's book, this tongue-in-cheek parody is the perfect stoner room decor to make your guests do a double-take. Entitled "If You Give a Bear a Bong," by Sam Miserendino, this book tells the story of a bear who takes one too many bong hits. A charming mix of innocent and provocative, this book is perfect for your at-home smoke spot. This Simon & Schuster book can be found on AlwaysFits for $13.00.
Blanket

This super cute Kawaii blanket is the perfect snuggly addition to make your sesh as cozy as possible. This happy little pot leaf with the slogan "High Maintenance" and subtle pink heart background is sure to become your favorite smoke buddy. You can find this cozy stoner room staple at HighCiti for $55.
Vintage Bong/Bud Vase
My Bud Vase makes gorgeous bongs from vintage ceramics and modern glass that double as bespoke vases for your favorite flowers. Sure to fool even your most judgy house guest, the bud vase combines form and function for a piece you can cherish for years to come. From cutting edge to dainty Victorian, you're sure to find a bong you like from My Bud Vase to fit your cannabis home decor aesthetic. You can shop the entire My Bud Vase collection here on their website for roughly $70 - $300.