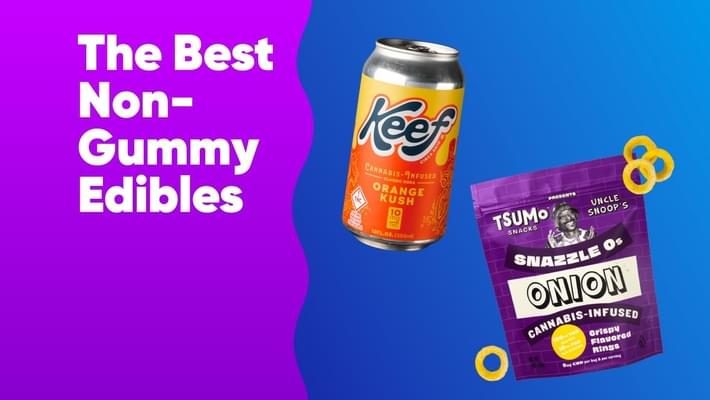 The Best Non-Gummy Edibles of 2023
Are you looking for the best cannabis edibles? It's all too easy to have a limited view of what that means.
Gummies have been thought of as the most common, but people's needs are changing. Thanks to technology, pretty much any meal, snack, or drink can be infused with cannabis. If you love edibles and want something new to try, you'll be glad to know there are many options.
Read on to explore the wide world of edibles that aren't gummies!
Edibles Come in Many Forms
Even though gummies are great, there are other good edible options. Sometimes, the most popular edible types are popular simply because the majority of brands are making them.
More brands are starting to branch out to make a broader range of different edibles. What you consider to be the best kind of edibles might change as you realize that some of your favorite snacks are being turned into incredible edibles.
Some edibles follow the gummy vein with new candies like chocolates, lollipops, and other sugary treats. Others are more luxurious - decadent truffles, incredible baked goods, and even stroopwafels.
Sugary delights are all well and good, but it's important to remember that not all edibles are made for dessert. You might come across savory alternatives like chips or various types of drinks. There are also powders that can be added to any beverage and pills designed to be swallowed.
There are edibles for just about any preference you have.
More Edibles Are on the Way
What makes the world of edibles even better is that new brands are joining the market, and others are innovating. This means there's a steady emergence of new products to enjoy.
As more brands put their personal spin on edibles, you can expect to find even more delicious snacks. Whether you want a cannabis cupcake, a THC juice drop, or an infused pretzel, you'll probably find them if you explore!
7 of the Best Cannabis Edibles That Aren't Gummies
The best-tasting edibles can vary depending on your personal preferences, but there are so many products that you can always find something delicious.
Want something sweet, salty, or both? There's a chance that you can find a product to match. Here are some of the best non-gummy edibles you can buy today.
Cheeba Chews

These award-winning edibles have been around since the first legalization in Colorado. Products are available in California, Colorado, Massachusetts, Nevada, and Oklahoma, but product lines can vary by state.
Cheeba Chews are delicious taffy chews that come in different flavors, like chocolate and strawberry. Prices start around $12. Chews are available in sativa, hybrid, and indica.
Dixie Mints

Dixie Mints are one of the first brands to completely step away from traditional candy edibles and focus more on a favorite classic - the mint. They have mints for every need (awakening, relaxing, synergy) to boost your mood and get you where you need to go.
Available in California, Colorado, Maryland, Michigan, Nevada, and Oklahoma, these microdose edibles offer roughly 5mg of THC in every drop. Want more than mints? Their chocolates, tarts, and elixirs are fun too! Prices start around $15.
Coda Signature Chocolate Bars

As a luxury chocolate lover, you might lose your mind over Coda's amazing chocolate bars. This brand realized that edibles could be paired with decadent, creamy chocolates and brought a chocolatier's touch to the edible market.
Available in Colorado and California, the blended bars range from caramel and corn to coffee and donuts. And the list is growing.
Each individual piece has 5mg of THC wrapped up in fantastic flavor combinations. As a bonus, ethically sourced cacao is used from South America, offering a variety of delicious chocolate types. They've got it all: milk chocolate, white chocolate, and dark chocolate. Prices start around $17.
TSUMo Snacks

TSUMo Snacks are edibles that focus more on snacks than candy, and it's easy to fall in love with them. These cannabis-infused chips taste as good as they make you feel and have something for every flavor preference. From ranch and salsa verde to fiery hot crunchers, savory snack lovers will be obsessed.
This brand saw everyone going for sweet treats and went the other direction, making a salty and savory snack instead. Each bag holds 100mg of THC, with 10mg of THC as the standard serving. Starting at $16, these snacks are only available in California.
Keef THC Beverages

Is snacking not really your thing? Try something a little more casual to nurse. Keef THC beverages are made to meet this need. These infused sodas, sparkling waters, and energy drinks are packed with flavor.
Keef provides a burst of flavor and THC with every sip. Standard cans include 10mg of THC per can, making it easy to microdose. Starting around $5, these are available in Colorado and California.
Canyon Nitro Coffee

Are you looking for THC with an added boost? Canyon Nitro Coffee is for you! Pairing delicious coffee with 10mg of THC, you really can't beat this drink. Coffee not your thing? Don't worry, as they've got lollipops too. Available in Colorado and California, their products start around $5.
Ganjalas

These butter-based edible fruit snacks are packed with flavor and are designed to make you feel like you're on vacation. Offering mango, green apple, blue raspberry, strawberry lemonade, and more, Ganjalas are sure to be a fan favorite.
Each piece provides 5mg of THC, and you can even buy them in party packs to try all the flavors! These snacks are only available in Colorado, but their reach should increase soon enough. Prices start around $5.