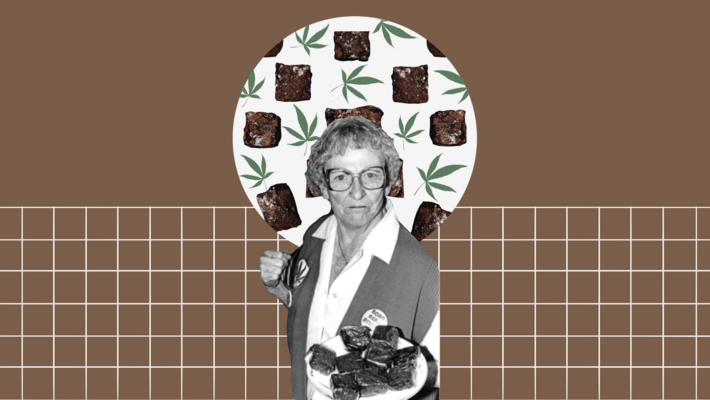 Brownie Mary: Legendary LGBTQ+ Ally & Cannabis Activist
Cannabis has played a central role in many counterculture movements during recent history, from the Vietnam War to prison reform. Some of the most famous protests and activists in American history realized the value of cannabis as a unifying symbol since cannabis legalization ties together with other human-rights pursuits. Today, we remember one famous female cannabis activist nicknamed "Brownie Mary" for her pursuit of cannabis as medicine. Today, we remember her as the "Florence Nightingale of the medical marijuana movement." Her life's work was about much more than just cannabis, however, and as Pride Month approaches, Mary Jane Rathbun deserves reflection for her commitment to justice and equality in an era of American history when both were sadly lacking.
Laws & Outlaws

Born in Chicago in 1922, Mary Jane Rathburn saw a time before prohibition. This era of cannabis history was a dark one: while not yet federally illegal, white Americans associated cannabis use with blacks and Mexicans, giving the cannabis a racial profile at a time of profound racial inequality. The racial profile of cannabis changed little for the first few decades of Mary's life and we do not know whether she ever tried it as a young adult. We do know, however, that she spent much of her youth advocating for civil rights, including union rights and abortion rights.
In the 1970s, Mary Rathbun lived in San Francisco's famous LGBTQ+ Castro district, where she first met cannabis activist Dennis Peron. At the time, she worked as a waitress and began selling cannabis brownies on the side to supplement her income. Her brownies quickly became well-known in the city, available out of her own house or in Peron's business. By the 1980s, she baked as many as 500 cannabis brownies per day, enough to attract the attention of San Francisco law enforcement. A police raid in 1981 turned up 18 pounds of cannabis; when Mary answered the door for their search, she reportedly said she knew they were coming. She received three years' probation, 500 hours of community service (which she completed in just 60 days), and the media nickname "Brownie Mary."
Cannabis & Culture
San Francisco experienced the first wave of HIV outbreaks at about the same time as Brownie Mary's exploits. She first encountered people with the "wasting syndrome", and realized that her brownies helped HIV-positive people with appetite, mood, and nausea. Though still under probation, she returned to baking brownies and giving them away free of charge, famously using donated cannabis and her Social Security income to be able to continue her operations. Although she violated the terms of her probation and went to court, the district attorney dropped the charges, believing that the trial of "the grandmother who bakes pot brownies" would attract too much negative attention nationally.
Brownie Mary continued to grow her efforts at activism by volunteering directly at San Francisco General Hospital's AIDS ward in the 1980s, whose patients she called "my kids", and named "Volunteer of the Year" in 1986. The hospital was one of the first to fund medical marijuana research, in part due to Brownie Mary, earmarking one million dollars per year for research. She further attempted to get public support for cannabis use, speaking at the AIDS Coalition to Unleash Power (ACT UP) about how AIDS patients had decreased symptoms thanks to her brownies. However, both she and ACT UP made little progress at a time when both cannabis use and HIV patients received little sympathy from the American public. She succeeded, however, in helping to promote Proposition P, a San Francisco ballot measure that recommended the state of California make medical cannabis available to patients. The proposition passed in 1991, making it a landmark medical marijuana case in American history. Larry Bitner, a lawyer who campaigned with Brownie Mary at ACT UP, said that she had the strength of 19th-century anti-slavery activists Sojourner Truth and Harriet Tubman.
Laws & Lawmakers

In 1992, Brownie Mary was arrested a third (and final) time, arguing in court about the medical necessity of cannabis. "My kids need this," she said, "and I'm ready to go to jail for my principles. If I go to jail, I go to jail." She acquitted the charges and a month later helped convince the San Francisco city government to de-emphasize arrests for cannabis usage. Later that year, she helped open the first medical cannabis dispensary in the U.S, and in 1996 campaigned for the passage of California Proposition 215, legalizing the possession of medical cannabis.
While Brownie Mary herself was not gay (having married a man and birthed a child), she became an icon for Pride and cannabis because of her commitment to helping AIDS patients in the early 1980s, who were mostly gay men. While broader society ostracized these men, blaming them and their lifestyle for the spread of HIV, Brownie Mary was famous for her compassion and her progressive attitudes. She was named the Grand Marshal of the 1997 San Francisco Gay Pride Parade due to her commitment to helping the gay community address the scourge of HIV at a time when many Americans, including the vast majority of political leaders, were all too happy to sweep it under a table.
Brownie Mary died in 1999. 300 people attended a candlelight vigil for her in the Castro district. August 25th, the date of her first appearance in court for cannabis charges, is today known as "Brownie Mary" day in San Francisco and other parts of California.
What have been your experiences with cannabis and social activism? Have you participated in marches, protests, or voting drives? Let us know in the comments below if you believe in civic activism.