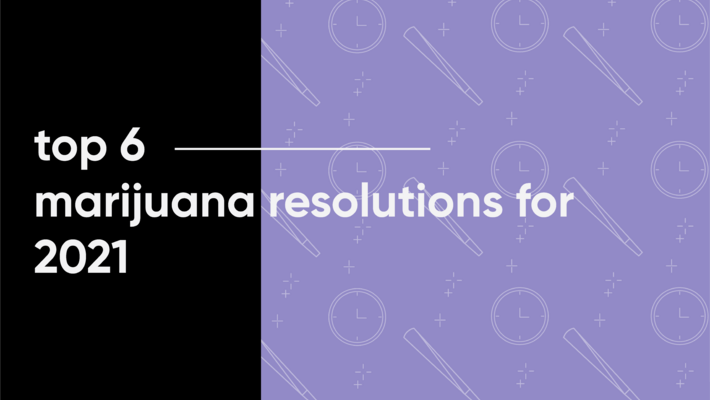 Top 6 Marijuana Resolutions for 2021
We're nearing the end of 2020 and are already looking ahead to 2021, hoping it might unfold as a more hospitable year. More than ever, New Year's resolutions are going to signify a shift in tone and offer a sense of control over the outcome of 2021. Plenty of people are already considering how they're going to eat healthier, work out more, prioritize family and stay current with news and involved in social change. These are amazing goals that we're probably all hoping to stay true to, but we also want to look at the New Year's resolution as a way to rethink our marijuana consumption. Let's take a look at how we can change our relationship with cannabis in 2021.
Marijuana New Year's Resolution Ideas
Try New Consumption Methods

With increased legalization, the amount of quality marijuana products on the market is more impressive than ever - make 2021 the year you explore different ways to consume marijuana. Each consumption method offers a different high and each method affects people differently. If you usually vape or use a bong, perhaps you're missing out on a consumption method that agrees with you more - try dabbing, gummies, or a hand pipe. Talk to a budtender at your local dispensary, tell them what type of product you like and ask if there are other methods of using cannabis that have similar qualities. The cannabis industry is booming and there are new products on the market all the time - mix it up, stay connected with newer trends and make 2021 an entirely new experience.
Try New Strains
As with consumption methods, there are now more strains of weed easily available than ever before. New strains are showing up all the time and there are countless online resources for learning what's out there and what makes it unique. If you want a more exciting, diverse year, have your New Year's resolution 2021 center around experimenting with different types of strains. News stains mean new experiences and a better understanding of what cannabis can be. Check out various online resources, including Where's Weed and talk with budtenders at local dispensaries - these are the best ways to learn what strains are out there, what type of high they provide and why you should try them!
Do More While You're High

Getting high is a blast and there are numerous ways to enjoy that experience. In 2021, shake up what you do while high. Being high offers a new mindset - a new perspective on life and day-to-day activities. If you usually use marijuana to be creative throughout the day, try to use it to fall asleep, or chill and play different video games and watch television. Being high while consuming media can completely change the way you perceive certain stories. Or, if you usually chill while high, use it to be a little more creative. Consider reading, writing, drawing, or even going outdoors and camping! Just make sure to be safe, no matter what you do - never drive under the influence and abide by local laws.
Support Cannabis Businesses Owned by Underrepresented Community Members
When we look at New Year's resolutions, they often center around either making healthier choices for ourselves or our communities - cannabis offers plenty of opportunities for you to drive change in a socially meaningful way. Especially in the wake of 2020, it's more important than ever to carry what we've learned and worked through into the new year. As with almost every aspect of our society, there needs to be more diversity in the cannabis industry. You can help support these efforts by finding cannabis businesses owned and operated by underrepresented community members. Shop at their shops, help spread the word about their product and be mindful of whose weed you're consuming - only through active support on an individual level will we actually see the industry change for the better. Let's all make sure we use 2021 to fix the problems addressed in 2020.
Shop Local

Where do you buy your weed? Do you know if it's locally owned or if it's a larger chain? Do you know who owns it and what their mission is outside of selling weed? Where we spend our money says a great deal about who we are. The businesses we choose to support can be a statement, both politically and socially. When you shop local, you choose to put money back into your community and support Ideally, you can find where to shop local and also support cannabis businesses owned by underrepresented community members. Actively deciding to buy your weed locally is the best way to give back to your immediate cannabis community and help ensure that the cannabis industry remains innovated, fresh and local.
Get Involved with Legalization Efforts
Make it a 2021 New Year's resolution to become a cannabis activist. Whether you're living in a state where weed is legal or if you're still waiting for your state to loosen up its marijuana policy, there are numerous ways to easily be more involved in legalization efforts and support the social justice issues that surround marijuana law enforcement. If you use cannabis, you belong to a much larger community of people - give back and help that community grow and build legitimacy. You can reach out to organizations like the National Cannabis Industry Association and Marijuana Majority, attend local events and rallies, donate to local and national groups, or simply shop local and support businesses you know are fighting the good fight. What you choose to do matters, even in cannabis - and there has never been a better year than 2021 to get involved.
What's your New Year's resolution? Let us know what changes you're planning on making and how cannabis plays into the picture by commenting below!