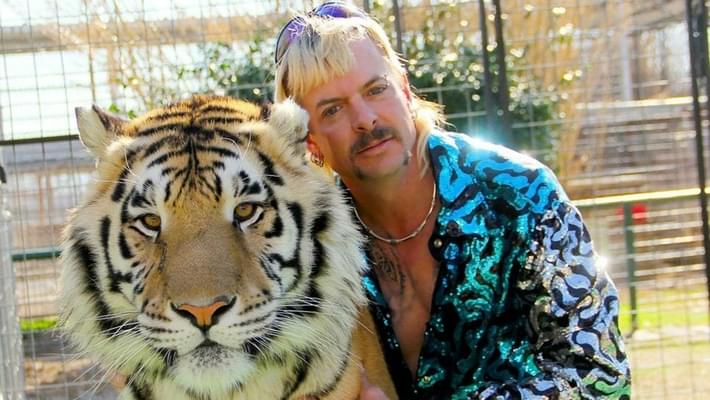 Tiger King of Weed: Joe Exotic Starts His Own Cannabis Line From Jail
When people think about the early stages of the pandemic in America, we often think about the lack of toilet paper, impending doom and where we were when we watched the first episode of the chaotic Netflix series that is none other than Tiger King. Joe Exotic has a love for big cats and murder-for-hire plots and now it's time that he sets his sights on his next scheme, cannabis. He's yet another celebrity looking to cash in on the booming weed market, but for reasons all his own.
Who is Joe Exotic?

One could argue that virtually every single person in America sat down in front of their TVs in March 2020 because that was the only thing we could do, and watched this chaotic, too-good-to-be-true Netflix documentary about a zookeeper. Joseph Allen Maldonado-Passage, otherwise known as Joe Exotic, otherwise known as the Tiger King, is an American tv personality hailing from Garden City, Kansas. He operated the now infamous Greater Wynnewood Exotic Animal Park from 1998 to 2018 and claims to be a knowledgeable tiger breeder and expert on big cats.
In 2018, Joe was arrested on suspicion of hiring two men to kill a business rival, Carole Baskin, who has a big cat rescue of her own. He was convicted on 17 counts of animal abuse and two counts of attempted murder.
This true crime documentary that followed his trials and tribulations is one of Netflix's most successful releases to date, with 34.3 million tuning in within the first 10 days, according to Nielsen Ratings.
The Tiger King's Weed Venture
When initially convicted, Joe received a 22-year sentence to serve in a prison in Fort Worth, Texas. Within the last few months, the US Court of Appeals ruled that his sentence wasn't calculated correctly and found that the sentence was longer than it should be. While he is awaiting a resentencing, he set his goals on a brand-new business.

His cannabis business, Joe's Exotics, will come about in two separate phases. His first phase will focus on Delta-8 products, which is a separate cannabis compound that practically mirrors delta-9 THC, the compound that gets you high, euphoric, alters perception and so much more. These Delta-8 products will include pre-rolls, gummies and cannabinoid-infused seltzers, with gimmicky names like "Tiger Piss". Due to the wonky legality of Delta-8 and the fact that it can be derived from hemp, you'll be able to grab these products from Joe Exotic in 37 states, even where cannabis is not legal just yet.
The second phase for Joe's Exotics will be none other than THC-focused products. These will be available for cannabis lovers everywhere in California, with thoughts to expand into Nevada and then onto where he once resided in Oklahoma. You can expect the typical roll out from any celeb cannabis venture, and products that will be available will be the likes of flowers, vapes and joints. The brand doesn't shy away from the rivalry with enemy Carole Baskins, and has even named their prized indica strain, with 30% THC, Baskinz. The company sees it as "tongue-in-cheek" and nothing more than that.

You won't find that Joe Exotic is growing it all himself, however. The company Xotic Flavorz will be growing everything for the Tiger King in California weed country, specifically the Honeydew Valley in Humboldt County.
Why Cannabis for Joe?

Some celebrities join the booming cannabis market because they truly believe in the healing powers of the substance, and some simply join because it is a cash cow in today's times. Joe Exotic falls into the latter category since he needs the money to pay for his legal bills. While things are looking up for Joe as he waits for a lower resentencing, he is still fighting quite the expensive cause.
Joe Exotic effectively sold his name for a hefty cash advance and a stake in the business venture, and only time will tell to see if it all pays off. The brand should be hitting the shelves sometime this year.
Other Celebs in The Weed Game
Joe Exotic isn't the first into the cannabis business, and he certainly won't be the last. Celebs from every corner of the market have cashed in, including Martha Stewart, Megan Rapinoe, John Legend, Wiz Khalifa and Willie Nelson, just to name a few.
Some experts have mixed signals on these people jumping onto the bandwagon, but overall, most believe that this is a great omen for the space. The rush of celebrities into the market is demonstrating just how mainstream of a product cannabis is becoming and how this is only the beginning for the market. Celebrities who are reaching further out demographics, such as Willie Nelson and Martha Stewart, are aiding in breaking down the stigma cannabis still holds. With the help of these big names, cannabis is only becoming more approachable as federal legalization looms in the background (hopefully).
Would you buy Joe's Exotics? Do you find it too gimmicky? Which celeb has the best brand? Tell us who we should buy into and who we shouldn't below.