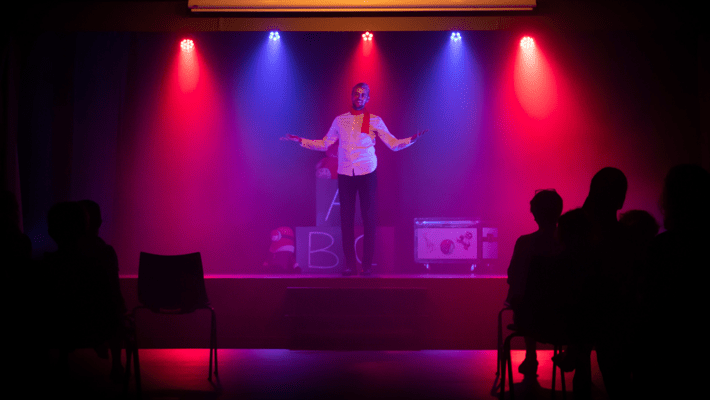 Top 8 Comedy Specials to Watch While High
Cannabis is something different for everyone. For some, cannabis is a relief from chronic pain, stresses, anxiety, and the daily things that bring a person down. For some, that's the 9-to-5 daily grind. For others, weed consumption is their key to quicker recovery from a hard workout, sore muscles or lingering injuries. For others, however, puffing on some quality weed might just be the gateway to a stress-free night in with friends or loved ones. After all, there's nothing better than a movie night being enhanced by some top-notch ganja.
But one question still remains: What to watch when high? Well, thankfully we're here to break down some of the best movies to watch stoned. Thankfully we here at Where's Weed are your one-stop place for a fantastic movie night-in filled with joints, bong rips and tasty THC-infused snacks! We even have a comprehensive guide of which strains are best for browsing your streaming service of choice! If you live somewhere that has a thriving legal cannabis market, like Colorado, Washington, Oregon or California, you'll likely be able to get delicious edibles delivered to you! If you live in a state where only medical cannabis is permitted, we suggest getting creative with your medicine in the form of brownies and other scrumptious baked goods!

With all of that in mind, let's check out our list of some of the funniest movies to watch high!
John Mulaney: New in Town

Whether you're an old-school comedy fan or an edgy Gen Z viewer, John Mulaney has a little something for everyone. You might remember Mulaney from his time as a writer on Saturday Night Live, but his stand up specials are pure comedy gold. John Mulaney features an array of stories from his personal life while creating vivid characters that the audience goes crazy for. His brand of hilarious, self-conscious comedy makes it a perfect addition to our list of funny movies to watch high. Check out all of Mulaney's specials on Netflix.
Ali Wong: Baby Cobra


Can we finally put to bed the outdated and incorrect question among dude-bros everywhere that women aren't funny? If any of you still need proof, check Ali Wong's Baby Cobra, one of the best movies to watch high on Netflix. Not only does Wong hilariously cover about sex, parenting, relationships and life as a second-generation American, but she does it while very, very pregnant. It honestly adds a layer of hilarity to the stuff she's saying, especially while you're high. Wong's Baby Cobra special is available for streaming on Netflix.
Dave Chappelle: Killin' Them Softly

Not only is Dave Chappelle one of the funniest actors to watch when high, but he's also one of the funniest human beings ever. Dave's body of work is second to none. Whether you're talking about his stoner comedy classic Half-Baked which is easily one of the best high comedy movies ever, his classic sketch comedy from the Chappelle Show era, or his handful of incredible stand-up specials like this entry, it's absolute gold. If you're looking for movies to watch when high, it's hard to go wrong with anything that has Dave's fingerprints on it. You can stream Chappelle's Killin' Them Softly on Hulu, Amazon Prime and HBO Max.
Chris Rock: Kill the Messenger
Another entry on this list, another legend of the comedy game. Chris Rock is a comedian's comic, a guy who can show up at the open mic and tear the room down with seemingly no prepared material or effect put in. While the younger readers of this list might need to dig into the archives to check out Rock's early work, they can check this one out on streaming services. Rock's work, wit, and spot-on observations make his specials easily one of the best movies to watch high on Netflix. When you're deciding what to watch when high, you can't go wrong with a comedy legend like Chris Rock. You can find Kill the Messenger, one of Rock's best movies to watch stoned, for streaming on Hulu, Amazon Prime and HBO Max.
Donald Glover: Weirdo


For those hip-hop lovers out there, this next entry on the list will likely look pretty familiar. Donald Glover is the name of rapper Childish Gambino, who actually got his start in the entertainment industry as a comedic actor and writer. He's truly a jack of all trades, but don't worry if you don't know him. His music is a hit with younger audiences, but also stars in The Lion King, Atlanta, Community and Solo: A Star Wars Story. In 2012, he put out a hilarious stand-up special called Weirdo you have to check out on Netflix. His high-energy sense of humor and sharp joke writing make this special one of the best movies to watch stoned to enhance your overall experience. If that doesn't work to keep your attention, you can always set the vibes up properly with one of his 14 mixtapes and 4 studio albums.
Chelsea Peretti: One of the Greats


Speaking of comedians who made their names on hit network TV comedies, let's talk about Chelsea Peretti. For those who pay close attention to the comedy scene, Peretti has been consistently hilarious for years now. The Brooklyn Nine-Nine star has been involved with other smash hits like Saturday Night Live and Parks and Recreation, so she has a long track record of quality creative work aside from her stand-up specials. Her witty joke writing and amusing takes make her most recent special One of the Greats one of the go-to movies to watch when high. Find Peretti's special available for streaming on Netflix.
Doug Benson: Doug Dynasty


There are fewer names in comedy more synonymous with stoners and cannabis culture overall than Doug Benson. After all, the guy loves smoking weed so much that he dedicated a month of his life to smoking as much as he possibly could for the love of science! If you can't find his 2014 special Doug Dynasty on Netflix for whatever reason, you should absolutely check out Super High Me, which is easily one of the classic funny movies to watch high.
Bo Burnham: Inside


Now that quarantine is pretty much over, we can look back and reflect on how much 2020 sucked for many people. Written, filmed, edited and starring Bo Burnham all by himself, Inside is the 2021 Netflix comedy special that everyone is talking about. This isn't your traditional comedy special by any means, but rather a one-man musical bordering on experimental film. Inside does an incredible job of showing what being incredibly online felt like over the course of the pandemic, without ever actually mentioning the word. Songs like "White Woman's Instagram" are perfectly funny, yet insightful. Even though Bo got his start on YouTube and Vine, Inside is truly one of the best movies to watch high on Netflix!
Have you seen any of these comedy specials or have a different favorite one to watch while high? Share with us in the comments below!