Bay Area Bud: The Ever-Evolving Cannabis Landscape in San Francisco & Oakland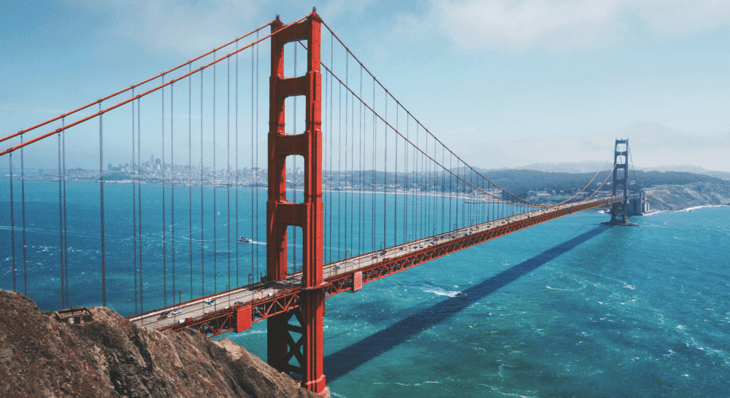 Published on Jul 22, 2020
Cannabis and California go hand-in-hand. After becoming the first state to legalize medicinal marijuana in 1996, the state has been an innovator in all things cannabis. While it took 22 more years to finally legalize recreational marijuana in 2018, California has recently blossomed into a cannabis capital. One of our favorite parts of the Golden State is the Bay Area. With amazing cities like San Francisco and Oakland, beautiful scenery and quality bud, you really can't go wrong. Beyond its top-shelf flower, the Bay Area has also worked hard to provide innovative cannabis experiences which make it a market to watch in the industry.
Although the legal cannabis world is growing in Northern California, there certainly are obstacles to be overcome. Unfortunately, the industry has been hurt by a thriving underground black market, setbacks due to COVID-19 and recent lootings. In this article, we'll explore all of the cannabis innovations helping the Bay Area to bounce back from these difficult circumstances.
The Bay Area Leads in Cannabis Innovation
While it would be easy enough to open up dispensaries and call it a day, Bay Area cannabis businesses are constantly improving and searching for ways to redefine the industry. In a competitive market, industry leaders have risen to the challenge of changing with the needs of consumers. With a Social Equity Program in place, plenty of delivery services and cannabis smoking lounges, Oakland and San Francisco are leading the way for an equitable and profitable industry.
Marijuana Delivery Services

As COVID-19 still runs rampant in the U.S., many consumers have found themselves looking for alternative ways to shop to keep themselves and others safe. Luckily for cannabis customers in the Bay Area, delivery services are easy to come by. For those in Oakland, we love supporting Jingletown Cannabis Club, a locally-owned recreational and medical marijuana delivery service with an attention to great service and amazing products. One customer stated, "I placed an order and a very friendly driver showed up so quickly, it was very convenient. The pricing is very competitive and products are top-notch." Thankfully, consumers can easily order quality bud online or call up to get their favorite products delivered directly to their door.
Oakland's Cannabis Equity Program
Many cities and states that have legalized cannabis prioritize big corporations, but Oakland has laid the groundwork to help locals who have been most affected by the drug war. With the creation of the Social Equity Program, Oakland has paved the way for people of color with previous cannabis possession convictions to receive loans and dispensary licensing. This program helps create a diverse environment for cannabis businesses and cuts down a lot of barriers to entry.
Cannabis Smoking Lounges
When you think of cannabis smoking lounges you likely think of the coffee shops in Amsterdam. However, California is hoping to make a splash in the industry as the first state to approve of marijuana smoking lounges attached to dispensaries. The Bay Area has three total, with two in San Francisco and one in Oakland. If you live in Oakland or are simply visiting, be sure to take a trip to Magnolia Dispensary to check out their Vapor Lounge and Dab Bar. With a variety of dab rigs and vaporizers to choose from and the option to bring your own cannabis, it's a unique experience you won't want to miss out on.
Festival Cannabis Sales

Although most places with recreational marijuana legalization prohibit the consumption of marijuana in public spaces entirely, California has made some exceptions. One notable example is the festival Outsidelands, held annually in San Francisco. In 2019, festival organizers worked with the government to allow on-site cannabis sales and consumption. With the approval, Outsidelands created the space called "Grass Lands," which hosted 12 cannabis companies selling flower and concentrates along with a separate consumption space. We're hopeful that this opens up the doors for future festivals to also allow cannabis sales and consumption!
Overcoming Obstacles to Cannabis Sales
While legalization has helped push the industry forward, some threats and obstacles remain in California. With a growing black market, setbacks due to COVID-19, and looting taking place during recent protests, Oakland and San Francisco have been hit hard but continue to work hard to flourish in these tough times.
Black Market Sales
Even though recreational cannabis has been legal in California since 2018, the black market continues to thrive. Unfortunately, when voters passed adult-use marijuana, they also allowed cities to restrict or entirely prohibit dispensaries and deliveries. In fact, only a quarter of California's cities allow marijuana recreational sales. This lack of supply of legal marijuana to a big portion of the state creates a high demand for black market sales. This in turn hurts the dispensaries that are legally selling cannabis as there are no regulations and taxes on their unlicensed competitors. However, California lawmakers recently introduced legislation that would fine businesses that assist unlicensed dispensaries up to $30,000 a day in hopes of curtailing the black market.
COVID-19
As Shelter-In-Place orders were held in California due to COVID-19, many industries have taken a hit and the cannabis community is no exception. While cannabis is legal in the state, its illegal status federally has prevented marijuana business owners from receiving small business loans. Luckily, California has stepped up to help its dispensaries, distributors, and other cannabis businesses by offering fee deferrals. As many cities struggle financially due to the impacts of the spreading virus, some with marijuana restrictions have started to rethink cannabis as a potential for much-needed tax revenue. This has caused several communities that were once dry to introduce legislation to allow dispensaries and marijuana businesses to open. As new markets are created for cannabis businesses to open, the black market will have new competitors to deal with as well.
Looting

Unfortunately, many dispensaries in California were robbed in the chaos of the recent protests. While this would be a major setback for many, most owners stood in solidarity with the Black Lives Matter movement, understanding that these robberies were separate from the protests. Furthermore, the local community stepped up to help these businesses get back in working order. The owner of Magnolia Dispensary in Oakland stated, "It's been really heartwarming. People let us know they'd help with clean-up. Manufacturers and distributors [are] offering to donate product, so we can start up with enough supply to get the company going."
Future of Cannabis in the Bay Area
While we certainly are facing difficult social and economic times, cannabis businesses in San Francisco and Oakland have proven their adaptability and innovation in an ever-changing market. With new legislation to help cut off the black market, quick delivery options for consumers, unique smoking lounges and increasing cities allowing marijuana sales, we're firm believers in the Bay Area's future in cannabis.