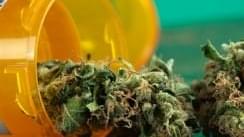 New study says medical marijuana wont boost usage in teens
(CBS News) When it comes to legalizing medical marijuana, federal officials have argued recent increases in pot use among teens might be a result of better access to pot in states where it's legal.
A new study finds there is no evidence that legalization of medical marijuana increases teen drug use.
Marijuana-smoking motorists twice as likely to crash cars
More teens smoke pot than cigarettes, says CDC survey
PICTURES: Medical marijuana: Which 17 states permit pot?
Marijuana use among teens has been on the rise since 2005, according to the researchers. A CDC study from the National Youth Risk Behavior Survey (YBRS) earlier this month found pot smoking increased among teens from 21 percent reported in 2009 to 23 percent in 2011, which suggests more teens currently smoke marijuana than they do cigarettes.
For the new study, economists at three universities analyzed data from the youth risk survey that were collected from 1993 to 2009, and compared those results with when medical marijuana laws were passed. Over the 16-year-period included for analysis, medical marijuana was legalized in 13 states, including Alaska, California, Colorado, Hawaii, Maine, Nevada, Oregon and Washington. Currently 17 states legalize medical marijuana.
Researchers specifically examined the relationship between legalization and marijuana use at school, whether the teen was offered drugs on school property, and alcohol and cocaine use. Their results provided no evidence that medical marijuana legalization led to increases in pot use at school, the likelihood of being offered drugs at school, or the use of other harmful substances. The researchers also looked closely at state surveys of youth risk behavior and didn't find such evidence.
"There is anecdotal evidence that medical marijuana is finding its way into the hands of teenagers, but there's no statistical evidence that legalization increases the probability of use," Daniel I. Rees, a professor of economics at the University of Colorado Denver, said in a written statement.
The study has been made available by the nonprofit Institute for the Study of Labor based on Bonn, Germany. The research is not peer-reviewed.
Last December, Gil Kerlikowske, Director of the Office of National Drug Control Policy, said teen marijuana use was on the rise in part because medical marijuana had been legalized.
"We know that any substance that is legally available is more widely used," he told the Los Angeles Times.
Regardless of teen drug use rates, federal officials have contended marijuana is not a safe or effective medicine and therefore won't legalize it nationwide.
"Simply put, it is not a benign drug," Kerlikowske said in response to a 2011 petition to legalize and regulate marijuana like alcohol. "Like many, we are interested in the potential marijuana may have in providing relief to individuals diagnosed with certain serious illnesses," he said. "To date, however, the FDA nor the Institute of Medicine have found smoked marijuana to meet the modern standard for safe or effective medicine for any condition."
In an emailed statement to HealthPop, the White House Office of National Drug Control Policy said the study was "somewhat problematic," calling the data from the surveys the researchers used "limited" and pointing out some were missing years of data.
"Only two states have two or more years of pre and post law data," they said. "The problem with using such data for analysis of the impact of medical marijuana laws is that one would not expect there to be much of a relationship between the recent enactment of a medical marijuana law and admissions for marijuana treatment since it typically takes several years for a substance use disorder to develop."