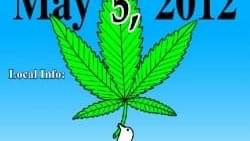 Global Marijuana March 2012: Worldwide Protests For Pot Legalization
CANNABIS CULTURE - The 2012 Global Marijuana March is May 5! Join the world's largest simultaneous pot protest in 153 confirmed cities around the world, or add your city to the list.
Every year, on the first Saturday in May – just after the other global stoner gathering, 4/20 – potheads and drug law reformers gather in cities around the world for the Global Marijuana March (GMM).
Meeting at strategic gathering locations, activists and weed-smokers hit the pavement and march through the city streets, leaving stunned passer-bys and, in many cities, a large cloud of aromatic marijuana smoke.
This year, there are at least 153 confirmed cities (as the time of publication of this article) on the website WeedWiki.
There may be many more unconfirmed cities who will also have protests - to see a larger (and somewhat out-of-date) collection of cities and info, view the Big List at GlobalCannabisMarch.com.
Started in New York in 1999 by legendary pot activist Dana Beal, the March has grown to include 738 cities from 64 different nations over the years, according to to WeedWiki. Beal has had a tough last year, fighting both legal and health issues.
Over the years, Beal and other activists like Marc Emery sent thousands of GMM posters around the world (the same ones published them in the pages of Cannabis Culture).
See coverage of GMM 2011 (and more) from Cannabis Culture.
In some locations, the March is held on days other than May 5, and is known by a number of other names including the Worldwide Marijuana March, Million Marijuana March, World Cannabis Day, Cannabis Liberation Day, Global Space Odyssey, Ganja Day, J Day, Million Blunts March and others.
Read more about the history of the Global Marijuana March.
The scope of the GMM is truly global, with participating cities in Africa, Asia, North and South America, Europe, Australia and New Zealand.
See the list of cities in video form:
Vancouver and other Canadian cities including Montreal, London, and Victoria are on the list (and others – see list below).
Toronto's Global Marijuana March has become the largest marijuana protest in the city, and has for the last five years been held simultaneously with the Toronto Freedom Festival (TFF). The TFF will not be held this year due to construction at its former location, Queen's Park. (More information about Toronto and Vancouver GMM's coming soon on CC)
Click here to go to the GMM 2012 Facebook page for links to more information and flyers, posters, and banners.
View the list of confirmed cities from WeedWiki below:
Global Marijuana March 2012 Confirmed Cities
AFRICA
South Africa
Cape Town, South Africa
ASIA
Indonesia
Jakarta, Indonesia
EUROPE
Austria
Salzburg, Austria
Vienna, Austria
Belgium
Antwerp, Belgium
Czech Republic
Prague, Czech Republic
Denmark
Aarhus, Denmark
Copenhagen, Denmark
France
Bordeaux, France
Clermont-Ferrand, France
Lille, France
Lyon, France
Marseille, France
Paris, France
Reunion, France
Toulouse, France
Tours, France
Germany
Berlin, Germany
Frankfurt, Germany
Hanover, Germany
Potsdam, Germany
Greece
Athens, Greece
Ireland
Cork, Ireland
Dublin, Ireland
Italy
Rome, Italy
Malta
Valletta, Malta
Norway
Bergen, Norway
Oslo, Norway
Stavanger, Norway
Trondheim, Norway
Poland
Poznan, Poland
Warsaw, Poland
Portugal
Lisbon, Portugal
Porto, Portugal
Spain
Madrid, Spain
Switzerland
Bern, Switzerland
United Kingdom
Cardiff, Wales, UK
OCEANIA
Australia
Launceston, Tasmania, Australia
Nimbin, New South Wales, Australia
New Zealand
Auckland, New Zealand
Christchurch, New Zealand
Dunedin, New Zealand
Hamilton, New Zealand
Hastings, New Zealand
Wellington, New Zealand
New Plymouth, New Zealand
LATIN AMERICA
Argentina
Bahia Blanca, Argentina
Bariloche, Argentina
Buenos Aires, Argentina
Comodoro Rivadavia, Argentina
Cordoba, Argentina
El Bolson, Argentina
Formosa, Argentina
La Plata, Argentina
La Rioja, Argentina
Mar del Plata, Argentina
Mendoza, Argentina
Neuquen, Argentina
Posadas, Argentina
Resistencia, Argentina
Rio Grande, Argentina
Rosario, Argentina
Salta, Argentina
San Fernando del Valle de Catamarca, Argentina
San Juan, Argentina
San Luis, Argentina
San Miguel, Tucuman, Argentina
San Pedro, Misiones, Argentina
San Salvador de Jujuy, Argentina
Ushuaia, Argentina
Venado Tuerto, Argentina
Brazil
Aracaju, Brazil
Atibaia, Sao Paulo, Brazil
Belo Horizonte, Minas Gerais, Brazil
Blumenau, Brazil
Brasilia, Brazil
Curitiba, Brazil
Diadema, Sao Paulo, Brazil
Fortaleza, Brazil
Guarulhos, Brazil
Joao Pessoa, Brazil
Joinville, Brazil
Juiz de Fora, Brazil
Jundiai, Sao Paulo, Brazil
Manaus, Brazil
Natal, Brazil
Niteroi, Brazil
Patos, Brazil
Petropolis, Brazil
Presidente Prudente, Brazil
Recife, Pernambuco, Brazil
Rio de Janeiro, Brazil
Salvador, Bahia, Brazil
Sao Jose do Rio Preto, Brazil
Sao Paulo, Brazil
Uberlandia, Brazil
Vitoria, Espirito Santo, Brazil
Chile
Antofagasta, Chile
Calama, Chile
Concepcion, Chile
Iquique, Chile
Santiago, Chile
Valdivia, Chile
Valparaiso, Chile
Colombia
Bogota, Colombia
Cali, Colombia
Medellin, Colombia
Ecuador
Guayaquil, Ecuador
Peru
Lima, Peru
Uruguay
Florida, Uruguay
Fray Bentos, Uruguay
Montevideo, Uruguay
Nearby islands
NORTH AMERICA
Canada
Halifax, Nova Scotia, Canada
London, Ontario, Canada
Montreal, Quebec, Canada
Saskatoon, Saskatchewan, Canada
Toronto, Ontario, Canada
Vancouver, British Columbia,Canada
Victoria, British Columbia, Canada
United States
Phoenix, Arizona, USA
Los Angeles, California, USA
Oakland, California, USA
Sacramento, California, USA
Boulder, Colorado, USA
Jacksonville, Florida, USA
Key West, Florida, USA
Atlanta, Georgia, USA
Boise, Idaho, USA
Chicago, Illinois, USA
Des Moines, Iowa, USA
Topeka, Kansas, USA
Wichita, Kansas, USA
Traverse City, Michigan, USA
Minneapolis, Minnesota, USA
Kansas City, Missouri, USA
St Louis, Missouri, USA
Lincoln, Nebraska, USA
Omaha, Nebraska, USA
Las Vegas, Nevada, USA
Durham, New Hampshire, USA
Albuquerque, New Mexico, USA
New York City, New York, USA
Cleveland, Ohio, USA
Columbus, Ohio, USA
Alva, Oklahoma, USA
Oklahoma City, Oklahoma, USA
Eugene, Oregon, USA
Medford, Oregon, USA
Portland, Oregon, USA
Salem, Oregon, USA
Lebanon, Pennsylvania, USA
Austin, Texas, USA
Dallas, Texas, USA
Spokane, Washington, USA