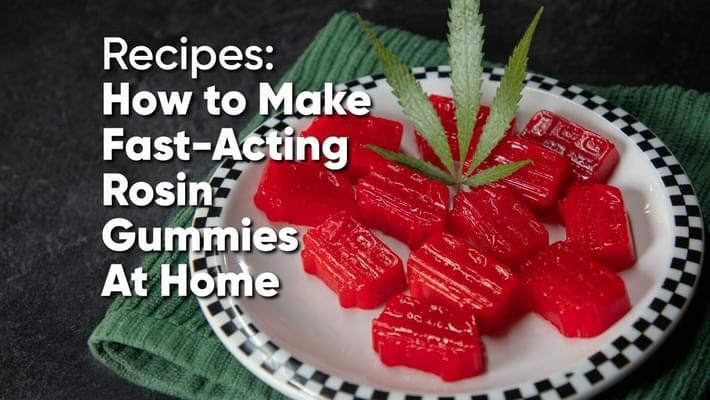 Recipes: How to Make Fast-Acting Rosin Gummies At Home
In today's modern-day age, access to top-notch cannabis is easier than ever before. As long as you live in one of the 19 states and U.S. territories that have legalized recreationally or one of the 38 and counting states that have established some type of medical cannabis program of their own, you should have quick and easy access to some top-shelf weed products. While grabbing some lovely cannabis flower, disposable vapes, or even a reliable topical might be enough for some, others take their crafts seriously. For the past few years, people have spent a lot of time home in their kitchens, so it's only natural that while some people got to work on their sourdough starters, others were decarbing their cannabis and crafting some delicious weed-infused treats!
It's been no secret that edibles have been a hit recently. Cannabis edibles sales have skyrocketed over the past few years, with sales figures spiking by more than 20 percent from 1.15 billion in 2020 to 1.38 billion in 2021 alone. For some perspective, that's a massive 18.4 percent increase amid a global pandemic. According to a recent analysis of edibles sales figures from legal cannabis juggernauts like California, Colorado, Michigan, Nevada, Oregon, and Washington state, gummies are leading the way. One of the hottest new forms of edibles that are capturing consumer attention is the so-called rosin edibles.
Thankfully, we here at Where's Weed have the low-down on what they are, how they compare to your standard edible gummy, and why they're flying off the shelves like hotcakes. So buckle up, relax, and let's break down how and why these new rosin edibles are all the rage for consumers looking for potent, fast-acting, easy-to-dose edibles! Let's get right into it.
Standard Gummies vs. Rosin Gummies
It's very easy to sell to your average legal cannabis consumer, whether seasoned cannabis users or first-timers looking to dip their toes into the culture for the first time. There's a mass appeal to infused gummies.
They're tasty and easy to take, simple and effective to dose, and usually don't feature the ultra-weedy taste often associated with recreational cannabis edibles of all other types. Rosin gummies, however, are a little bit different than the standard cannabis-infused gummy. It's easy to think of them as your standard cannabis-infused gummy on steroids. Since rosin gummies are made from a cannabis concentrate called rosin, they are more potent, have a higher dose, and are faster-acting than your standard edible gummy. Distillates like rosin, for example, have been tested to contain as much as 99 percent activated and bioavailable THC. When that's boiled down into a gummy, it packs quite the punch!
Simply put, if your standard edible gummy can do it, then a rosin gummy gets the job done better in a smaller dose. The only issue with these gummies is that because they're so potent, they fly off the shelves at dispensaries. So many concentrate lovers have resorted to making rosin gummies of their own. Thankfully, we here at Where's Weed have a go-to guide for how to make fast-acting edibles like your typical rosin or nano edible gummy, giving you a go-to guide for how to save some money and do things yourself!
How to Make Nano Edibles
Rosin edibles, or nano edibles, the biggest selling points are their fast-acting qualities and potency. Thankfully, technology has advanced to the point where not just cannabis brands can make them. Today, the technology is available and accessible for the average cannabis consumer with a few extra dollars to get their hands on.
The first step to making some rosin of your own at home is to get your hands on top-quality manual rosin pressing machine. While it might seem like a hefty investment from the jump, this machine will make your life much easier and save you tons of money in the long run. We recommend this NugSmasher Original 12 Ton Manual Rosin Pressing Kit. It comes with various options, accessories, and a massive variety of settings to help you create the best quality rosin. With more than enough pressure and heat to create the best quality rosin, this machine will make your life easier and save some money over time. For a cheaper alternative, you can use a hair straightener and parchment paper to press the rosin. The cheaper the hair straightener, the better. After all, we have seen how expensive concentrates are on the dispensary menu. Making them yourself will save you quite a few bucks.
Once you have the rosin machine kit, the next step is to turn that rosin into edibles at home. Thankfully, the process is pretty simple as long as you have some essential ingredients and tools to craft your own top-notch edible gummies! Let's break it down step-by-step, shall we?
Ingredients/Tools You Will Need to Make Rosin Gummies
Here's a quick breakdown of the supplies and ingredients you'll need to make some fast-acting rosin gummies of your own at home:
10-12 grams of rosin chips
1/2 tsp of sunflower oil
1/4 cup coconut oil
1/2 cup of water
1 oz unflavored gelatin
A 6 oz pack of Jello (any flavor)
Gummy molds
How to Make Rosin Gummies Step-By-Step
Now that you know what ingredients and tools you'll need to make some tasty, fast-acting, and potent gummies of your own, let's break down how to make about 12 gummies of your own in the comfort of your own home!
Step 1: Decarb Your Cannabis

The first step in the edible-making process is to decarb your cannabis. That's right, even a substance like a rosin cannabis concentrate needs to be decarbed and activated. The best way to do this is to put it in a shot glass in a hot oven at about 250 degrees for 30 minutes, stirring every 10 minutes. That should be more than enough for those cannabinoids to get nice and activated.
Step 2: Mix Your Concentrates and Oils

Once your rosin is activated and ready to go, it's time to combine it with other oils. From there, you should throw your rosin, coconut oil, and sunflower oil into an oven-safe container and mix. You'll want to cover that mixture in the dish in a water bath and set it at 250 degrees for two hours. That should be more than enough time to infuse that oil with cannabinoids from the rosin.
Step 3: Make the Gummies Themselves

Combine your water and your now-infused oil into one saucepan, then bring it to a boil. Once that mixture is heated up and good to go, whisk in the unflavored gelatin before continuing to whisk. Once it's thickened up a bit, add the flavored Jello, briefly stir for about five more minutes, and bring the mixture to a rolling boil.
Reduce the heat to low, then add the mix into the gummies mold after each mold is greased with cooking spray. Place the molds into the freezer for about 20 minutes or in the refrigerator for about an hour to cool.
And just like that, you have some tasty cannabis-infused rosin gummies to enjoy!