Top 6 Marijuana Product Launches in 2020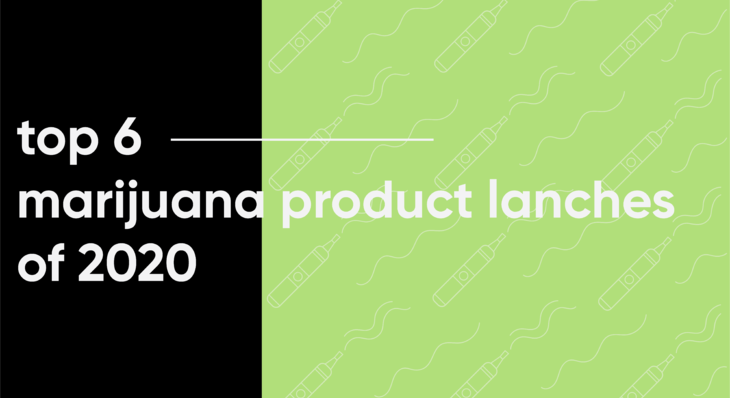 Published on Dec 28, 2020
With the cannabis industry only continuing to gain momentum and with more states legalizing it for recreational purposes, there has been an influx of cool and unique products to the market, especially this past year. These marijuana products range anywhere from household products to beverages and everything in between. We've compiled a list of some of the best launches from this crazy year that are worth trying while noting just how important cannabis is to the economy.
What Cannabis Means to the Economy

It has been no secret to anyone that the marijuana industry has exploded and has only proven to bring in millions at the local and state level where cannabis is legal. With 11 states fully legalized and more that have just passed recreational legalization, cannabis could be the industry to help pull America out of the economic issues that it is currently facing in the light of the global pandemic. Just like ending alcohol prohibition got America out of the Great Depression, marijuana may do the same for us this time around.
The cannabis industry currently employs 250,000 full-time workers, which is 4 times more than those in the coal industry. While two-thirds of Americans currently support legalization at a federal level, a recent study from New Frontier concluded that national legalization would create $128.8 billion in sales to stimulate the economy while creating 1.6 million new jobs. This isn't something to ignore. Marijuana sales have only increased during the pandemic, showing that this industry is here for the long run. It is forecasted that the cannabis economic impact could hit $130 billion by 2024, creating new jobs, fresh business opportunities and other ripple effects across the country.
Top Cannabis Product Launches in 2020
There's another famous musician dipping their toes into the marijuana world, as Jerry Garcia joins the likes of Willie Nelson, Snoop Dogg and even John Legend. This brand was launched by Garcia's family and Holistic Industries and pays homage to one of the greats, Jerry Garcia of The Grateful Dead. This line, which was rolled out in mid-November, has a line of gummies, pre-rolls, edibles and flower. Expect eco-friendly packaging and edibles in the shape of guitar picks from the famed Deadhead. Buyers will even find a curated playlist of Garcia's music to bring forth the best experience from the specific marijuana strain. Garcia Hand Picked can be found in most dispensaries throughout sunny California.

Everyone loves a sweet treat, so why not infuse that with CBD and THC? This Los Angeles-based brand was brought to the market by two entrepreneurs who saw the devastating and painful effects of cancer treatment on their families and wanted a way to ease the pain in a new and creative way. Take your pick between CBD or THC infused ice cream, with delectable flavors that include Tahitian vanilla peanut butter cup, mint chocolate chip and Himalayan sea salt & caramel. If you're not in the mood for a THC/CBD boost, they also sell these flavors without those compounds added. Brought to market in the latter half of 2020, find Mellow Ice Cream across California and hopefully more states to come soon.
This brand, coming to market in December of 2020 is one of the first hemp-infused non-alcoholic spirits that helps to calm and uplift, without the negative effects that accompany alcohol. For those looking for an alternative to the drinking experience, Aplos brings a citrus-forward "spirit", balanced with notes of rosemary and ginger, all with 20 mg of broad-spectrum hemp per serving. Aplos believes in finding the simplicity of life again, offering a way to slow down and enjoy a fine sensory experience. This product can be found and bought through their website.
Immunity support has never been more paramount than today as America is still battling a pandemic. Launched worldwide on December 11th, this product was created to provide a hemp and cannabis-free alternative to CBD. This product is derived from limonene, which is cultivated through citrus peels and is molecularly identical to hemp. CBxShield also combines Reishi mushrooms and vitamin C to provide the user with enhanced antioxidants and immune system benefits. The founders created this product in search of a more stable substance, as they found that CBD can often swing between effective and ineffective, which is how they came to limonene-derived CBD. CBxShield can be purchased online, through their website.

The cannabis beverage market is currently a hot spot, and the new launch of Hemp Tonics is arriving in full force. Created by an herbalist with extensive knowledge of plant-based health and healing, these tonics combine vortex water, organic plant extract, citrus, minerals and broad-spectrum CBD to deliver a social beverage to those who do not drink alcohol. Suu Kuu's Hemp Tonics have flavors such as grapefruit nettle, magnesium mint and celery lime that create feelings of ultra-hydration while also delivering much-needed relaxation to an overworked body and mind. Find these THC-free tonics online through their website.
Launched in February of this year, CBD Pillow was created to deliver something that we all need desperately, a good night's sleep. For those looking for one of the easiest, non-intrusive ways to consume CBD, this is the product for you. This pillow uses a slow-release technology through the use of friction to cause capsules within the pillow to burst and release CBD, which will then be absorbed through your skin and hair follicles. This gel, memory foam pillow will have you wake up feeling refreshed, not groggy, and was created so you don't have to take those mind-numbing sleeping pills. CBD Pillow has a 30-day money-back guarantee, and also a 10-year warranty on the pillow. The pillow can be found on their website.
What were some of your favorite marijuana-related launches of 2020? Let us know below.